ABOUT THE SURF CAMP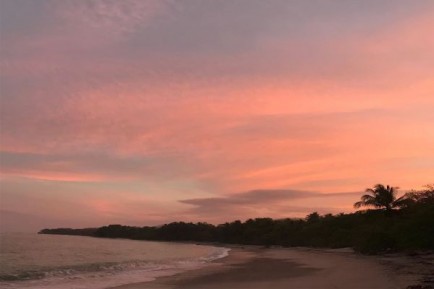 ---
LOCATION

---
Montezuma is in the Pacific Coast of Costa Rica. This village is regarded by all the tourists and Ticos as the best place in the country to enjoy between relax, surf and make a party. This peaceful paradise is surrounded by the Pacific Ocean and the jungle. People from here are friendly. Montezuma is a very safe place. Everything is combined to spend the best time of your holidays !
---
CAMP OPERATOR
---
The Founders:

Nego loves Montezuma and Santa Teresa. He grew up in the peninsula of Nicoya among the tourists to whom he helps discover the most beautiful and unusual places in the peninsula : jungles, waterfalls, natural pools.
He is very proud to create this school which permits him to transmit his passion and sports values : Respect, concentration and self control. His research combination between pleasure and surpassing oneself.

Laura
After earning a Master's degree in digital communication and spending 2 years in Paris working for a national channel TV in France, she decided to go backpacking and travel around the world.
She finally stop in Costa Rica (Montezuma), where she has decided to create Surf School By The Wave with Nego. Responsable of the international communication, she organizes everything to make your travel amazing. Don't hesitate to write her for the organisation of your summer camp !
ACCOMMODATION AND CATERING
---
ACCOMMODATION TYPES
---
6 Nights in a beautiful hotel in the center of the city with breakfast including, hot water, air conditioning, swimming pool...
---
CATERING
---
- Breakfast
- Chill time with fruits
SURF COURSE AND ACTIVITIES
---
SURF COURSE DETAILS
---
Our professional and graduates surf instructors will give you the surf lessons in safety. The place to surf is situated in the beautiful natural reserve of Playa Grande : no roc, white sand, warm water. All the conditions are met to combine sport and relaxation. The surf lessons are in English or Spanish but the explications on the beach could be en French too ! At the end of your surf lessons, you will leave Montezuma with so many memories of this amazing moment (pictures and videos). Our team will do everything to make your summer camp unforgettable !
---
SURF MATERIALS
---
- are provided
---
OTHER ACTIVITIES
---
DISCOVER THE PENINSULA

Your summer camp will be alternated between relax under a palm tree drinking a fresh coconut, take a surf lessons and make some activities to discover the peninsula. Costa Rica is a green paradise with so many floras y faunas, waterfalls, natural pools...  Complete your surf camp with others amazing activites ! Go to Isla Tortuga an island with turquoise and warm water, do snorkelling in the middle of the Pacific Ocean,  see dolphines and whales (depends to the season), make a tour of the peninsula thanks to ATV, discover different beach during a horseriding, protect and release turtles thanks to an NGO ... We will organize together your perfect summer camp ! 
MORE INFO, HOW TO GET THERE & FAQ
---
 SURROUNDINGS / REGION
---
Coming in Montezuma isn't only take a surf lesson. We propose for you a package for 1 week  which everything to spend the best holidays of your life. Incredible landscapes, some secrets from locals people to discover the peninsula and a good organization will permit you to never forget your travel.
---
 JOURNEY
---
Private round trip tickets from the airport to Montezuma
PACKAGES & PRICES
---
PACKAGE A: Discover Montezuma Alone  - from 1499$ per Week / Person
---
You travel alone and you want to discover the peninsula without stress ? This packaging is especially for you !

This package includes:
- 6 Nights in a beautiful hotel in the center of the city with breakfast including, hot water, air conditioning, swimming pool...
- Private round trip tickets from the airport to Montezuma
- 6 Surf lessons in the amazing natural reserve of Playa Grande
- 1 day in Isla Tortuga (an island with blue and warm water) including snorkelling in the center of the Pacific Ocean, meeting with free delphins
- 3 Spanish lessons to meet Costa ricans people
- Discover the waterfalls and the natural pool of the ocean
- Assist to the turtles released on the Pacific Coast
---
PACKAGE B: Discover Montezuma in Couple  - from 1224,5$ per Week / Person
---
For the couple who want to share the secret of the peninsula with only love and good vibes !

This package includes:
- 6 Nights in a beautiful hotel in the center of the city with breakfast including, hot water, air conditioning, swimming pool...
- 2 Private round trip tickets from the airport to Montezuma
- 6 Surf lessons per person in the amazing natural reserve of Playa Grande
- 1 Day in Isla Tortuga for 2 persons (an island with blue and warm water) including snorkelling in the center of the Pacific Ocean, meeting with free delphins
- 3 Spanish lessons per person to meet Costa ricans people
- Discover the waterfalls and the natural pool of the ocean
- Assist to the turtles released on the Pacific Coast
- 1 Romantic dinner on the beach
- 4 hours of ATV to drive around the peninsula with
a private guide