ABOUT THE SURF CAMP
---
LOCATION AND SURF CONDITIONS
---
Our new ocean front Surf Hostel in Porto is located in Foz do Douro, one of Porto's oldest and most beautiful quarters and it is in walking range from all the best surf spots in Porto, where surf lessons take place and which are excellent for beginners to learn how to surf. With just a short distance to the city center you will encounter a wide choice of bars, clubs, restaurants and many cultural attractions, that will make you discover the laid back and friendly lifestyle of the Portuguese!
---
AMENITIES
---
Guests will find all necessary amenities such as a fully equipped kitchen and a dining area, a reception with services like printing, internet, information and more, a cozy living room with ocean view, fire place, TV, Internet and a small library, a sunny terrace and large garden area with shaded seating and hammocks, perfect to chill and relax in the sun. Free Wi-Fi is available in the entire Surf Hostel area.

Camp features:
-Oceanfront location near to best surf spots 
-Only 10 min from Oporto airport with Low Cost flights from Europe 
-Ideal for youngsters, single travelers and couples
-Stylish decorated private rooms and dorm rooms 
-Breakfast buffet from 8:30 – 10:00 
-Communal kitchen fully equipped for self-catering 
-Free Wi-Fi, Cable TV, FUEL TV, Surf movies, Magazines, Games
-Outdoor terrace with shaded seating
-Garden with BBQ, hammocks, tables and games 
-Non-Smoking 
-No pets allowed 
-14 Pax capacity 
-Reception services (Print, Laundry, Train schedules, Yoga, Rent-a-Bike, Wine tours, City tours, Rent-a-car, Souvenirs, General information) 
-Children under 2 years stay free of charge in a baby cot
-Children from 3 - 12 years 50 % off 
---
CAMP OPERATOR
---
Our instructors are trained professionals with years of experience as a surfer and teacher. The teachers have training by the Portuguese, German or British Surfing Association and may hold the course in multiple languages.
ACCOMMODATION AND CATERING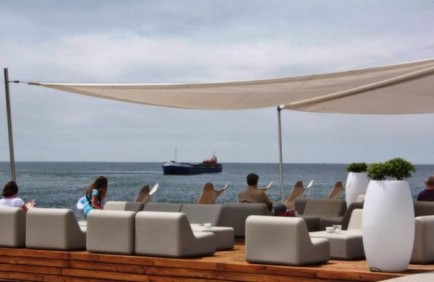 ---
ACCOMMODATION AND CATERING
---
Surfivor Porto Surf Hostel is a newly renovated Portuguese house from the 1940´s, offering accommodation in comfortable private double rooms with ocean view, as well as large dorm rooms for guests on a budget who don't mind sharing the room with other travelers. All our rooms have been individually decorated and present an interesting mixture between stylish classic elements and the modern surfing culture. There are two large bathrooms per floor which suit our guests' needs and all our private rooms include a set of fresh bathing towels per guest. 

Room types:
1. Single / Double:
Comfortable private room with ocean view, ideal for couples or single travelers. Queen size bed, Wi-Fi, breakfast included.

2. Mixed Dorm:
Shared dorm with a great sunny terrace and garden view, ideal for small groups, 4-bed dorm, single beds, Wi-Fi, lockers, breakfast included.
SURF COURSE AND ACTIVITIES
---
SURF COURSE DETAILS
---
Our surf courses are always from Monday – Friday, with two sessions of 2 hours per day. All surfing equipment like surfboards, wetsuits, boots and lycras are included in the package. Our friendly surf instructors are experienced level I and level II professionals, certified by the Portuguese Surfing Federation and renowned surfers in our community. Our instructors speak fluently English and Portuguese. We have a max. ratio of 8x students per instructor, keeping the groups small and increasing significantly the safety and quality of our surf courses. On weekends we organize surf trips with surveillance and extra surf lessons can also be hired at additional cost. Also included in the surf course are two theory and video lessons per week, which are a valuable complement to our surf courses. All surf spot transfers in our surf camp vehicles are included in the package. All students are insured by the Portuguese Surfing Federation!
MORE INFO, HOW TO GET THERE & FAQ
---
ARRIVALS
---
Oporto international Francisco Sa Carneiro airport is only 12 km away and easy to reach by Taxi or public transport. Near the Surfivor Porto Surf Hostel there are bus stations, classic old city trams as well as the Metro. Check In is from 08:00am – 20:00pm! 
PACKAGES & PRICES
---
PACKAGE A - 'SURF CAMP PACKAGE Mixed Dorm' from 400 € per Week / Person
---
This package includes:
7x nights accommodation
7x Breakfast buffet and fully equipped kitchen available for self catering
5x days Surf School - 2x 2h/day, Mon-Fri
1x Surf Trip with surveillance (Saturdays; 3h/day)
2x surf theory & 1x video analyse
7x days Surfboard & Wetsuit - free use during entire stay
Free transfer to other surf spots - occasional service depending on surf conditions
Free use of Skate / Longboards
Free access to Internet point and Wi-Fi  
1. High season(Jun-Sep):        500€
2. Mid season(Apr,May+Oct):  400€  
---
PACKAGE B - 'SURF CAMP PACKAGE Single/Double Room' from 350 € per Week / Person
---
This package includes:
7x nights accommodation
7x Breakfast buffet and fully equipped kitchen available for self catering
5x days Surf School - 2x 2h/day, Mon-Fri
1x Surf Trip with surveillance (Saturdays; 3h/day)
2x surf theory & 1x video analyse
7x days Surfboard & Wetsuit - free use during entire stay
Free transfer to other surf spots - occasional service depending on surf conditions
Free use of Skate / Longboards
Free access to Internet point and Wi-Fi  
1. High season(Jun-Sep):        400€
2. Mid season(Apr,May+Oct):  350€
Single occupation fee +10€  
---
PACKAGE C - 'BED & BREAKFAST Mixed Dorm' from 150 € per Week / Person
---
This package includes:
7x nights accommodation
7x Breakfast buffet and fully equipped kitchen available for self catering
Free access to Internet point and Wi-Fi
Free transfer at arrival + departure from / to train station Esmoriz (from 9:00 – 20:00)
1. High season(Jun-Sep):        200€
2. Mid season(Apr,May+Oct):  150€
3. Low season(Nov-Mar): 90€    
---
PACKAGE D- 'BED & BREAKFAST Single/Double Room' from 200 € per Week / Person
---
This package includes:
7x nights accommodation
7x Breakfast buffet and fully equipped kitchen available for self catering
Free access to Internet point and Wi-Fi
Free transfer at arrival + departure from / to train station Esmoriz (from 9:00 – 20:00)
1. High season(Jun-Sep):        300€
2. Mid season(Apr,May+Oct):  200€
3. Low season(Nov-Mar): 115€
Single occupation fee +10€  
---
PACKAGE E - 'Surf Camp Experience' for 220 € per Week / Person
---
This package includes:
Surf, Yoga and activities, without accommodation, Mon - Fri
---
PACKAGE F - 'Surf Lessons + full day Surf Rental' for 165 € per Week / Person
---
This package includes:
Surf lessons and full day surf equipment rental,  without accommodation, Mon - Fri