ABOUT THE SURF CAMP
---
CAMP AMENITIES
---
Guests staying at Surfivor in Esmoriz will not only be living directly by the sea, but also encounter  the best amenities to make their surf holiday a wonderful experience. There is a fully equipped  kitchen available for self-catering and a dining area with TV, Internet and a small library, a large  sunny garden area with shaded seating and hammocks, perfect to chill and relax in the sun. Free  Wi-Fi is available in the entire Surf Camp area.   
Camp features:
-Beachfront location near to best surf spots 
-Only 30 min from Oporto airport with Low Cost flights from Europe 
-Ideal for single travelers, couples, groups and families 
-Quality and clean accommodation in newly decorated private rooms, private suite, dorm rooms and apartments for groups or families 
-Breakfast buffet from 8:30 – 10:00 
-Communal kitchen fully equipped for self-catering
-Free Wi-Fi, Cable TV, FUEL TV, Surf movies, Magazines, Games 
-Outdoor terrace with shaded seating 
-Garden with BBQ, hammocks, tables and games 
-Non-Smoking 
-No pets allowed 
-25 Pax capacity 
-Reception services (Print, Laundry, Train schedules, Yoga, Rent-a-Bike, Wine tours, City tours,  Rent-a-car, Souvenirs, General information) 
-Children under 2 years stay free of charge in a baby cot 
-Children from 3 - 12 years 50 % off 
---
LOCATION AND SURF CONDITIONS

---
Due to the geographical orientation of the coast between Porto and Aviero is predestined to receive waves from different directions. Sun are surfers of all abilities the various surf spots available. Camp director Miguel grew up in the area and knows what spots to run certain conditions best.
The Surf House is located directly on the beach offers double and family rooms. It has a living room, a shared kitchen, bathroom and a sunny terrace with garden. You have the choice between the tent and the Surf House. Is camped next to the house, then all locations close to each other. With a chill-out area, kitchen, showers and toilets and a well-kept internet you will want for nothing. The burden of survival equipment such as bakery, supermarket, restaurants and cafes are all within walking distance. 


---
CAMP OPERATOR
---
Team
Our instructors are trained professionals with years of experience as a surfer and teacher. The teachers have training by the Portuguese, German or British Surfing Association and may hold the course in multiple languages.
ACCOMMODATION AND CATERING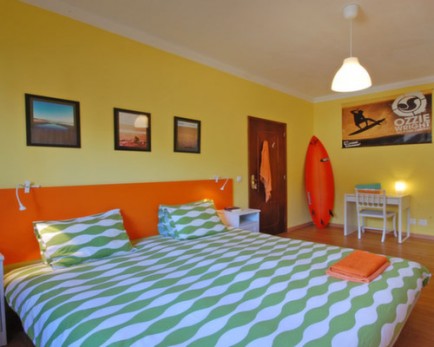 ---
ACCOMODATION AND CATERING
---
Surfivor Surf Camp in Esmoriz follows a modern concept of Surf Camp accommodation, offering quality rooms with generous areas, each one individually decorated and suitable for every taste. Guests who expect the most comfort can stay in one of our private rooms, private suite with bathroom or studios, while guests on a budget have available our female or male dorm rooms. Our private rooms include a set of fresh bathing towels per guest. Fall asleep with the enticing sound of the Atlantic waves and enjoy a drink at sunset on the beach nearby. Tell your stories about the waves you caught while enjoying a delicious BBQ on our outside terrace.
Breakfast is included. For the rest of you are food shopping and a fully equipped kitchen of surf camps. In addition, on several evenings BBQs and culinary trips are in the Portuguese cuisine on the program. 
The supporting program includes excursions to the surrounding environment and Wider sweeping waves around the country and people to get to know better. For example, a port wine tasting and a visit to a traditional market. If that is not enough on a wave-poor day, you can open and has easy access to public transport for shopping and parties to Porto. On organized Porto tour we go to a the traditional Port Wine for tasting, so you tried this world famous wine, ex-libris of the city of Porto.
Then you can visit the old town and who wants to explore the night life of this friendly and beautiful city on the Douro River.


Esmoriz room types: 
1. Single / Double
Comfortable private room, ideal for couples or single travelers. Queen size bed or twin option, WiFi, breakfast included. 
2. Female Dorm 
Just for girls. 7-bed dorm with shared bathroom, single beds, Wi-Fi, lockers, breakfast included. 
3. Male Dorm 
Just for guys. 6-bed dorm, single beds, Wi-Fi, lockers, breakfast included.  
4. Mixed Dorm 
Shared dorm with a great sunny terrace and ocean view, ideal for small groups, 4-bed dorm, single beds, Wi-Fi, lockers, breakfast included. 
5. Private Suite 
Very comfortable double room with extra bed or baby cot and private bathroom. Ideal for small families with 1 child, couples and single travelers who like the idea of a private bathroom. King size bed or twin option, Wi-Fi, breakfast included.  
6. Studio Goreti 
Cozy studio apartment ideal for small families. Double bedroom and extra bed option for children
in same room. Kitchen, BBQ, bathroom and garden terrace. Only 20m from the beach. Queen size bed, DVD with movies, Wi-Fi, breakfast included.
SURF COURSE AND ACTIVITIES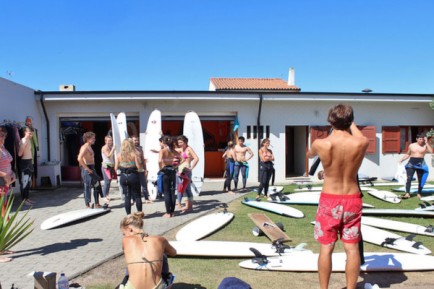 ---
SURF COURSE DETAILS
---
Our surf courses are always from Monday – Friday, with two sessions of 2 hours per day. All surfing equipment like surfboards, wetsuits, boots and lycras are included in the package. Our friendly surf instructors are experienced level I and level II professionals, certified by the Portuguese Surfing Federation and renowned surfers in our community. Our instructors speak fluently English and Portuguese. We have a max. ratio of 8x students per instructor, keeping the  groups small and increasing significantly the safety and quality of our surf courses. On weekends we organize surf trips with surveillance and extra surf lessons can also be hired at additional cost. Also included in the surf course are two theory and video lessons per week, which are a valuable complement to our surf courses. All surf spot transfers in our surf camp vehicles are included in the package. All students are insured by the Portuguese Surfing Federation!
Rental Package

for intermediate and advanced surfers who are not interested in a surf course, it is recommended that low budget variant accommodation and surf equipment book. Here is a selection of fiberglass and shortboards available un there is advice and tips from the surf coach.
MORE INFO, HOW TO GET THERE & FAQ
---
ARRIVALS
---
Oporto international Francisco Sa Carneiro airport is only 35 km away and easy to reach by Taxi or  public transport. Guests also have the possibility to order an airport shuttle on arrival and  departure. Check In is from 08:00am – 20:00pm!   
---
OTHER ACTIVITIES
---
Free yoga sessions
Our yoga teacher Kaisa from Finland is with you in the morning to welcome the sun and is responsible for ensuring that their body and mind fit for the many hours in the waves hold. The yoga program is in the Package A and B are free and others for the price of 5 € / session available.
PACKAGES & PRICES

* Discounts will be calculated in the booking process (first step)


---
PACKAGE A - 'SURF CAMP PACKAGE Mixed Dorm' from 350 € per Week / Person
---
This package includes:

7x nights accommodation
7x Breakfast buffet and fully equipped kitchen available for self catering
5x days Surf School - 3h, Mon-Fri
2x surf theory & 1x video analyse
7x days Surfboard & Wetsuit - free use during entire stay
2x Yoga 2h/day
1x Welcome BBQ on Mondays
Free transfer to other surf spots - occasional service depending on surf conditions
Free extra activities - Oporto city tour, Market, Beach Volley, Party
Free use of Skate / Longboards
Free access to Internet point and Wi-Fi
Free transfer at arrival + departure from / to train station Esmoriz (from 9:00 – 20:00)

1. High season(Jun-Sep):        400€
2. Mid season(Apr,May+Oct):  350€
 
---
PACKAGE B - 'SURF CAMP PACKAGE Single/Double Room' from 400 € per Week / Person
---
This package includes:

7x nights accommodation
7x Breakfast buffet and fully equipped kitchen available for self catering
5x days Surf School - 3h, Mon-Fri
2x surf theory & 1x video analyse
7x days Surfboard & Wetsuit - free use during entire stay
2x Yoga 2h/day
1x Welcome BBQ on Mondays
Free transfer to other surf spots - occasional service depending on surf conditions
Free extra activities - Oporto city tour, Market, Beach Volley, Party
Free use of Skate / Longboards
Free access to Internet point and Wi-Fi
Free transfer at arrival + departure from / to train station Esmoriz (from 9:00 – 20:00)

1. High season(Jun-Sep):        500€
2. Mid season(Apr,May+Oct):  400€
Single occupation fee +10€
---
PACKAGE C - 'SURF CAMP PACKAGE Summer Suite w/ private bathroom' from 450 € per Week / Person
---
This package includes:

7x nights accommodation
7x Breakfast buffet and fully equipped kitchen available for self catering
5x days Surf School - 3h, Mon-Fri
2x surf theory & 1x video analyse
7x days Surfboard & Wetsuit - free use during entire stay
2x Yoga 2h/day
1x Welcome BBQ on Mondays
Free transfer to other surf spots - occasional service depending on surf conditions
Free extra activities - Oporto city tour, Market, Beach Volley, Party
Free use of Skate / Longboards
Free access to Internet point and Wi-Fi
Free transfer at arrival + departure from / to train station Esmoriz (from 9:00 – 20:00)

1. High season(Jun-Sep):        550€
2. Mid season(Apr,May+Oct):  450€
Single occupation fee +10€


---
PACKAGE D - 'BED & BREAKFAST Mixed Dorm' from 150 € per Week / Person
---
This package includes:
7x nights accommodation
7x Breakfast buffet and fully equipped kitchen available for self catering
Free access to Internet point and Wi-Fi
Free transfer at arrival + departure from / to train station Esmoriz (from 9:00 – 20:00)
1. High season(Jun-Sep):        200€
2. Mid season(Apr,May+Oct):  150€


---
PACKAGE E - 'BED & BREAKFAST Single/Double Room' from 200 € per Week / Person
---
This package includes:


7x nights accommodation
7x Breakfast buffet and fully equipped kitchen available for self catering
Free access to Internet point and Wi-Fi
Free transfer at arrival + departure from / to train station Esmoriz (from 9:00 – 20:00)
1. High season(Jun-Sep):        300€
2. Mid season(Apr,May+Oct):  200€
Single occupation fee +10€


---
PACKAGE F - 'BED & BREAKFAST Summer Suite w/ private bathroom' from 250 € per Week / Person
---
This package includes:


7x nights accommodation
7x Breakfast buffet and fully equipped kitchen available for self catering
Free access to Internet point and Wi-Fi
Free transfer at arrival + departure from / to train station Esmoriz (from 9:00 – 20:00)
1. High season(Jun-Sep):        350€
2. Mid season(Apr,May+Oct):  250€
Single occupation fee +10€


---
PACKAGE G - 'Surf Camp Experience' for 220 € per Week / Person

---
This package includes:

Surf, Yoga and activities, without accommodation, Mon - Fri


---
PACKAGE H - 'Surf Lessons + full day Surf Rental' for 165 € per Week / Person

---
This package includes:


Surf lessons and full day surf equipment rental,  without accommodation, Mon - Fri