ABOUT THE SURF CAMP
---
CAMP CHARACTER
---
Surfline Morocco has been built on local values and promises to show you the real secrets of Moroccan surfing. You will stay in a traditional Riad, a Moroccan house with an interior garden or courtyard. We provide you with home cooked local food every morning and evening. Located just minutes from local surf spots, Crocodile Beach and Devil's Rock, Surfline Morocco caters for every type of surfer. Whether you are a professional or a first time surfer Morocco has a wave for you. The local area boasts a variety of different waves from rolling fun beach breaks to the long famous point breaks including Anchor and Killer Point! With so many spots in the area, our guides and coaches are almost always able to find the perfect conditions for your ability (of course weather dependent!). At Surfline Morocco we understand the importance of providing you with high quality coaching and instruction as well as safety whilst in the water, we therefore ensure our instructors are ISA and BSA trained.We offer two Surf Camp Houses in different areas to suit everybody's taste.
Surf Coast Morocco is inspired by all the people we meet every day. So when a day of surfing ends, have a nice chat with us and share your surfing experiences and stories about life.
---
CAMP OPERATOR
---
Surf Coast Morocco is a small Surf Camp with a family-like atmosphere, run by Moroccan and German surfer souls.
Reda – the Moroccan part – worked for several years as a Surf Teacher and Guide in different Surf Camps in Taghazout, Morocco and knows the Atlantic Ocean like the back of his hand.
Julia – the German part – has a diploma degree in social sciences and professional experience in project management and handles the daily business at Surf Coast Morocco.
ACCOMMODATION AND CATERING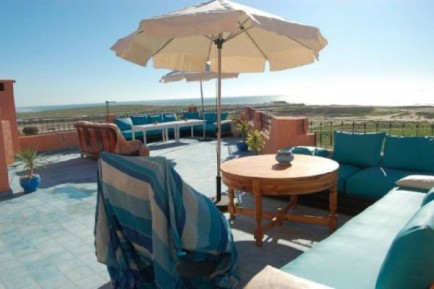 ---
ACCOMMODATION TYPES
---
Auberge Sunset Tamrakht:
Auberge Tilila – surrounded by beautiful nature and far from touristic hustle and bustle – is the perfect place to escape daily life and find tranquility and peace.!
Two large terraces overlooking mountains and lucious green banana gardens.!
The upscale hostel is located near Aourir, Banana Village, with its traditional Cafés & Shops. Have a nice chat with local people and enjoy authentic moroccan culture. Banana Beach is in walking distance.

Coast House Taghazout:
The Surf Coast House with a cool and easy-going atmosphere, surrounded by traditional moroccan houses.
Located in Taghazout – the Surfers Insider Tip – it is perfect for getting in touch with young locals and Surfers from all over the world and chilling in one of the many beachside cafés & restaurants.
A Prime Location with a large beach & ocean view terrace.
---
CATERING
---
Breakfast
Let the sunshine in your heart and start your surfing day with a delicious moroccan and continental breakfast on our terraces: Sweet Moroccan mint tea, fresh coffee and milk, moroccan harira soup, freshly baked bread, omelette, pancakes, honey, jam, fresh fruit,cereals, cheese, olives and eggs.
Lunch
The Lunch package will be served at the beach. Enjoy a fresh made salad or sandwich filled with fish, meat or cheese and vegetables and as dessert delicious fruits. Take a good break and listen to the sound of the waves while eating!
Dinner
After a long day of surfing and activities at the beach a delicious dinner of international and moroccan cuisine with hot tagines, fish or meat, veggies, fresh bread and salads will wait for you on our beautifulterraces.


Once a week all our guests are invited for a barbecue.
Using fresh and healthy ingredients is our priority, so you can start your next day with a smile and full of energy.
If you have any food intolerances or allergies please feel free to inform us.


SURF COURSE AND ACTIVITIES
---
SURF COURSE DETAILS
---
At Surfline Morocco Surf School we offer lessons for all abilities with qualified Surf Instructors (Surfing GB Level 2).
At Surfline Morocco, we provide surf coaching and instruction for those that want to:
Learn how to stand for the first time
Improve their surfing to be able to catch the green waves
Hone their skills in order to surf steeper and more powerful waves.
All of our lessons are provided in one of the best playgrounds in the world for all levels, the Moroccan waves. We pride ourselves on our local knowledge and our ability to find the perfect waves for you to practice on; obviously this does depend on what Mother Nature provides us with.
Whether you have never attempted to surf or have surfed before our instructors will tailor our program of lessons to your needs. Below is a brief outline of the topics we will cover at the different ability levels although these will be fluid and made specific to you, your ability and your trip aims.
---
OTHER ACTIVITIES
---
On those days when the waves don't tempt you there are plenty of things to do and places to go. From hanging out in the riad overlooking the ocean on the terrace to stretching those aching muscles with a yoga lesson, visiting the souk in Agadir or exploring Paradise Valley with its beautiful waterfalls and rivers. Also within the riad we have wifi for guests to use and plenty of surf films for you to watch. 



MORE INFO, HOW TO GET THERE & FAQ
---
SURF CONDITIONS
---
Breaks directly at the main spot and at nearby spots
Taghazout Surf Spots Morocco Agadir bay has long beach break and there are different spots that share the same breaks left & rights; this spot just needs a swell of 1.5 to 2 meters any more than this will cause the waves to close out

Anza
Here is an awesome wave for the left and right hander, they work in low tide & high tide but just in a swell between 1.5 to 1.7 meters the off shore wind from the south is bad for this spot.
km11 & km12
Two spots have the same break and are lefts. They work in low tide and high tide but it's very good when the tide starts to go out and the waves become extremely hollow and fast.
Banana beach
South of the village is Banana beach a mediocre beachbreak that we couldn't bother surfing since most of the waves were either too small or closing out . (Rating 4)
Panorama's
This right hand point break can be find just when you drive into the towns center. It only works well only mid tide, but even then it's very sectioning. When the swell gets bigger the rip gets quit strong here, so you have to maintain paddling to stay in the right spot. Entry is best north of the break from a little cove just around the break, the current will take you to the line-up very quick. (Rating 5.5)
Hash Point
This right hand point is just north of the town's center.It can be good on it's day, but we never really scored it any good. Entry is easy from a little beach. (Rating 6)
Anchor point 
This quality spot that can show perfect lines is about 1 km north of Taghazoute town center. It breaks off a pier and can connect all the way into Taghazoute. This break gets seriously crowded, and the level of surfing here is high. The crowds and the fact the the take off area is small make this for intermediate to expert surfers only. Entry is either done by jumping off the rocks, or paddling in from the beach to the right, but then you have to beware of the strong current that can bring you very close to the pier/rocks. (Rating 8,5)  Taghazout Surf Spots Morocco


Mysteries
Next to Anchors are several break that can be descent. This place seems to pick up more swell than the other spots, but will also start closing out over 5?. Entry is from the beach. Beware that it can be shallow at lower tide. (Rating 6)
Killer Point
This is one of the best waves in the area. It's about 3 km out of Taghazoute so it takes about 30 minutes to walk to this place. Once there prepare yourself for a long paddle to the line-up. It will easily take a fit surfer 10-15 minutes to paddle (it took me longer). The wave is a very long right hander, and on the right day it can be almost perfect. It picks up a fair bit of swell, and can hold waves up to 12?. You need to be fit for the paddle then though. Make sure you have a good leash, because from mid to high tide (when it's best) there's nowhere to swim to when you lose your board. The spot is supposedly named after the killer whales that are sometimes seen there. (Rating 9)
Boilers
Getting to Boilers takes about 25 minutes by car from Taghzaoute. Boilers is a right hand break, that breaks off something that looks like the remaining off a shipwreck. It's a relatively short but fast and barreling type wave. Getting in the water is a bit tricky since it's best done from behind the big rock that is sticking out of the water, but when you are behind it you cannot see if there are any set waves coming, so assistance from the water or land is helpfully. Getting out of the water can be tricky since the rock close to shore are sharp. The wind can be blowing force 6 offshore when there's hardly a breeze at Taghazoute only 20 minutes away. (Rating 7)
Tamri
Another 20 minutes up the coast there are long stretches of beach that pick up most swell when all the other spots are flat. Getting in and out of the water is hard, since here are lots of very sharp rocks. (Rating 5.5)
Further north you can probably find more breaks, but finding access to them is the hardest bit. South of Essaouira are some more surf spots but they are often blown out.
The beaches of Agadir can occasionally be good, but water quality is questionable.
PACKAGES & PRICES
---
PACKAGE A - SURF SCHOOL - from 450 € per week / person
---
This package includes:


Air port transfer in & out
Accommodation with three meals a day
Transport to the beach
Equipment+ Surfing School 2h surf lessons per day with qualified Surf Instructor+photos
1 day trip to immessouwane
---
PACKAGE B - SURF GUIDING - from 300 € per week / person
---
This package includes:

Air port Transfer in & out
Accommodation with three meals a day
Transport to the spots
Surf guiding by expert Surf Guide
Full day surf


---
PACKAGE C - SURF & YOGA - from 600 € per week / person
---
This package includes:

Air port transfer in & out
Accommodation with three meals a day
SURF & YOGA Pack 2h Surf lessons & 1 h yoga per day
transport to the beach+photos
Equipment+qualified Surf Guide


---
PACKAGE D - SURF TRIPS - from 550 € per week / person
---
This package includes:

Air port transfer in & out+ Surf Trips Pack
Accommodation with three meals a day
Every day Surf trip to the best & secret spots the longest trip take 1h driving
Expert Surf Guide
transport to the spots