ABOUT THE SURF CAMP
---
LOCATION AND SURF CONDITION

---
Located in southern Spain, Tarifa is an amazing place to enjoy the beach, sports, and the sunsets. The beach is only 5 min walking and the city center 1 min walking. There are regular services between Tarifa and Algeciras, about 20 km to the northeast, and Seville about 200 km to the north. Direct buses also run to Málaga,whe is the closest airport and Cádiz. In high summer a special bus runs along the A7 between Tarifa bus station and Camping Jardin de las Dunas, stopping at popular hotels and campsites along the route.
---
CAMP CHARACTER
---
Tarifa Kite Hostel is a new luxury Hostel near city center (1 minute walk) and the beach (5 minute walk) and ideal for people who enjoy the beach and sport. It is ideal for kiters, friends and backpackers. We work with several companies in the city, in order to get our customers the best prices for activities: kite surfing, surfing, diving, windsurfing, snorkeling, hiking, whale watching and trips to Morocco.
ACCOMMODATION AND CATERING
---
ACCOMMODATION TYPES
---
Tarifa Kite Hostel has a building that has been renovated to accommodate the needs of customers and practicing water sports. It has a large and well equipped kitchen, large common areas with a practical living room with fireplace for those chilly days ago, free WiFi throughout the house and two terraces with magnificent views of the Strait of Gibraltar. There is a luggage storage area on the day of check out. The Garden is a benchmark rate and includes a bar outdoors and Chill out area. Barbecues are made outside, there are comfortable hammocks and is always very lively. Sheets are included in the price and we offer a laundry service.
We have free maps of the city, and you direct them to rate your experience remarqueble.
Tarifa kite Hostel has 7 large bright south-facing rooms of 4, 6, 8 or 10 beds with large drawers for storage. The bathrooms are outside the rooms are clean, modern and individual for greater privacy. There is a room on the ground floor; The number 2 and an adjoining bathroom; perfectly adapted for disabled guests. We also have a hairdryer.
---
CATERING
---
Breakfast is not included. You can find a Tea and Coffee Machine in our well equipped kitchen.
Meals are available in our restaurant and in the cafeteria.
SURF COURSE AND ACTIVITIES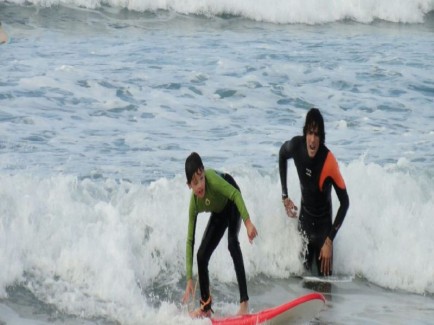 ---
SURF COURSE DETAILS
---
In Tarifa Kite Hostel we want you to have a complete surfing experience. Surfer Tarifa is a school devoted entirely to surf and to share and transmit our experience in this exciting sport.
Our goal is to introduce you to the fascinating world of surfing. In Surfer Tarifa surf School teach people of all ages, children and adults wanting to have fun, meet the sea and make friends.
In Surfer Tarifa we offer fun classes and teach surfing from the start quickly and safely. We combine practice with theory. We have spent many years teaching surfing and guarantee good teaching.
---
SURF MATERIALS
---
You can rent your board by us:

1 hour = 10€
---
OTHER ACTIVITIES
---
KITESURF

Do you want to enjoy the best feelings in the water? do not hesitate, kite surfing is your sport and your school; Tarifa Air Force gateway to this new world of sensations in Tarifa.
To make a kite course, no matter your age or physical condition, even he is having had experience in similar sports. The kite is very easy to learn.
You can make your kite course with your friends, or if you come alone or with a partner, we looked for a group with which to learn, enjoy and share laughs with your school team Kitesurf Tarifa Air Force !!

WINDSURF

We offer Windsurf lessons and rental for all ages. LADUNA Tarifa is located in the best spot for windsurfing and kiteboarding when it blows Levante or poniente in: Valdevaqueros – Punta Paloma-La duna. We have the best brands in the market Quattro, Goya and Loft. Open: March until end of October, daily 10:30am – 07:30pm. (we work all year around under reservation). We speak English, Italian, German and Dutch.

PADDLESURF

In our school Tarifa Air Force we make sure you learn Paddle Surf with the best quality and very good care, focusing primarily on student learning in a fun and entertaining way  to bring you the best experience and the knowledge to enjoy all options gives you the sport. Practicing Paddlesurf you can make beautifull routes and crossings, plus surf waves very easily.

SCUBA DIVING

We dive every day on the island of Las Palomas, located in the Natural Park of the Strait.
Because at this point the confluence of the Atlantic Ocean and the Mediterranean Sea, enjoy a unique diving in the world.
Wildlife of both seas, conger, moray eels, sunfish, barracudas, gorgonians, red coral, kelp, etc etc. In addition to pelagic animals that take advantage of the shelter that gives the island the small fish to come to feed on them.

WHALE WATCHING

TURMARES RATE S.L. is a company created in late 1999 by a group of Tarifean, sea professionals with a deep knowledge of the Strait of Gibraltar. The principal activity is the maritime tourism and, in particular, the activity of whale and Dolphin watching in the Straits of Gibraltar.
Sightings of resident species (common dolphin, striped dolphin, bottlenose dolphin and pilot whale) are possible throughout the season, however those semirresidentes or migratory species are observed at certain times in which they are common in the area.

BIKE RENTAL

We offer Bike Rental in our Hostel.
Explore the city and the region by bike!
MORE INFO, HOW TO GET THERE & FAQ
---
 SURROUNDINGS / REGION
---
Tarifa Kite Hostel is a cozy Hostel located in the center of Tarifa a minute's walk from the center of town. There you will find the nightlife scene in the city, bars, typical restaurants, traditional bars and pubs are very near the hostel. Also here the fashionable shops, kiteboarding and windsurfing. Its features narrow streets, enclosed in the wall, you will remember that we are only 14 kilometers from Morocco.
Tarifa beach, 5 minutes walk from the hostel and classified as one of the most beautiful in Europe will surprise you with its views of Africa, its white sand, clear waters and huge sports activity; Surfing, Kitesurf, Paddlesurf, Windsurfing are the main activities. This is an unexplored paradise.
---
 JOURNEY
---
Important details
Check-in begins 09:00 – 22:00
The departure time is 12:00

Remember that all of our monitors will decide on the fly what is your level and what steps can always seeking student safety and all those who enjoy the beach.

** If weather conditions are not favorable for the course, he or the hours that remain outstanding will be postponed until new dates agreed between client and school.

** If excessive wind or waves or conditions of the sea it's time to go home, you can choose to postpone the hours of outstanding class when you want to return and continue with your learning or if you prefer, refund the amount of hours that you could not enjoy.

** Reservations subject to availability.


PACKAGES & PRICES
---
ACCOMODATION
---
1 week      -    140 €
2 weeks     -    250€
4 weeks     -    425€
---
SURFING
---
Our prices:

1 person                  90 minutes        59€
2-4 people                 2 hours           50€/person
5-8 people                 2 hours           40€/person
9 or more people        2 hour            30€/person