ABOUT THE SURF CAMP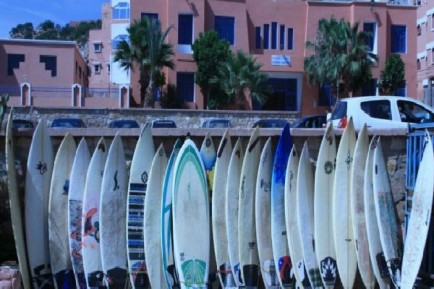 ---
LOCATION AND SURF CONDITIONS
---
Taghazout was once a quiet fishing village undiscovered and under the radar from the international surfing community. Now the waves here are as famous as the town itself with world class waves on your doorstep only meters away from the hostel terrace. The local community are welcoming to travelling surfers creating an amazing atmosphere unrivaled throughout Morocco. Within a short stroll of the hostel, you'll find local shops supplying incredible fresh fruit, veggies and all your other essentials; top quality restaurants to suit any taste, from pizza to freshly caught local seafood and of course a number of surf shops that will repair boards to the highest of standards at a cheap price. Just ask our staff and we'll point you in the right direction for whatever you need.
---
CAMP CHARACTER
---
Here at The Surf Hostel we provide Surf & Yoga lessons, Surf Guiding and Equipment hire all at competitive prices. We have a number of international and local surf instructors, top of the range equipment and a number of local surf guides.


ACCOMMODATION AND CATERING
---
ACCOMMODATION TYPES
---
We believe in providing a home away from home for our guests here at The Surf Hostel. After a big day of surfing come back and kick it on our ocean view terrace; we have beds for sun lounging and a chilled out cabana with a 20 person couch great for meeting new friends. Come night time; enjoy a yoga session with our live-in instructor, Moroccan themed nightly dinners, surf film nights on the projector, BBQ's, poker nights, jam sessions and much more. Smoking is very permitted and we offer complimentary Moroccan tea. We also have two indoor communal lounge areas equipped with TV, movies, board games, a ping pong table, and our fully equipped kitchen is perfect to cook up a tasty meal from the fresh local produce with your new friends. Keep in touch with the world and check the surf reports using the free WiFi which is accessible throughout the hostel.


---
CATERING
---
Enjoy authentic Moroccan cooking with our delicious meals prepared by our very own Moroccan Chefs Youssef and Yassin. Have the freedom to sign up to the evening meals on a daily basis- or choose between full-board (3 meals a day) or half-board (breakfast & dinner) when you book!


SURF COURSE AND ACTIVITIES
---
SURF MATERIALS
---
Some visitors choose to arrive with over 6 boards for all the variety of waves they want to encounter during their stay. We offer board and wetsuit hire for everyone from beginner to pro should you not want to risk damaging your board with the baggage handlers! We recommend using a standard 3/2 full summer suit however this really depends on your own tolerance. You'll be fine in a good summer suit however you may even want to wear a shortie to maximize the tan!

Here at the Surf Hostel you have access to a wide array of surf boards for hire. We have single fins, twin fins, high performance short boards, big wave boards, longboards, fishes, mini-mals and beginner foam boards. All located conveniently right across the street at our family surf shop.


---
OTHER ACTIVITIES
---
Get the most out of your stay in Morocco and join us on our weekly trips to Paradise Valley, the Sahara Desert, Souk tours in Agadir, Hammam, Moroccan Massages, Spear fishing, Moroccan cooking classes, and much more.


MORE INFO, HOW TO GET THERE & FAQ
---
SURF CONDITIONS
---
We are within walking distance to four of Morocco's best surf spots, including the world famous right-hand wave Anchor Point and Killer Point. There are also more manageable waves in the area such as Mysteries and Panoramas and even waves perfect for beginners

This truly is Morocco's surfing paradise and within a short ride you can find empty, perfect waves, both North and South of the Surf Hostel. If it is flat on our doorstep there is always a wave to be found somewhere nearby, join us on our daily surf guide trips to the best spots on any given day!


Anchor Point

The most famous wave in Morocco and one of the best point breaks in the world.
Epically long right hand walls running from the peak down the rocky point all the way to Taghazout. Very consistent during the winter, any solid swell for any direction with any wind and Anchors will work. Best on a north westerly swell with south easterly winds.
On the peak Anchors can throw some pretty heavy barrels, wider and the wall mellows out into a ripable face which peals down the point for around 300 yards. On the inside section on low tide it can wedge off the rocky point and provide really fun tubes.


Panoramas

Popular with beginners when small, this right hander breaks over sand and into Banana Beach, but when the swell is pumping it can be world class! also only a minute's walk form our apartments.


Mysteries y La Source

Mysteries is located just 100m north of Anchor Point, on the next stretch of beach, it breaks over a rock reef. The first take off spot is steep and hollow but quickly mellows out into a ripable right hand wall. Mysteries is suitable for intermediates and advanced surfers. One of the most fun and underated waves in the area, and just 10 minute walk form our accommodation.


The Killers

Our favorite wave to surf in the Tagazout area. Due to the twenty minute paddle out, or the rumours of killer whales you will never see much of a crowd. The swell magnet of the area, always bigger than Anchor Point and works from knee high to double overhead. Also a rock jump option to avoid the paddle, always worth it! When small it A frames and provides a nice left and right hander. or more!


Tamri
Tamri is a swell magnet, If Taghazout is flat we make the drive north to sample one of Morocco's best beach breaks.Mornings are always offshore and low tide provides french style beach break barrels getting mellower as the tide fills in.


Imsouanne

Imsouanne truly provides something for everyone in one small stretch of coast. One of the longest rights in the world breaks into the harbour and provides an awesome wave for longboarders, intermediates and beginners. When the swell is big though it can get world class. Just past the harbour wall and point break is a huge stretch of beach leading as far as you can see. You can often walk the whole stretch and not see another set of footprints, Amazing place to chill out or surf a great variety of waves.

Hash Point

Aptly named, due to its proximity to Tagazout, Hash point is perfect If the five minute walk to Anchors is just too much. There is a special vibe in the water in the evenings, when you are more likely to see surfers gently paddling around with a grin on their face than catching any waves. If you do get Hash Point at its best, it can provide a fun wedgy righthander, and is only a 1 minute walk from our apartment.

Secret spots and more

Sometimes you might get the chance to join us surfing some of our favorite secret spots around the area, within a few miles up and down the coast you are almost guaranteed perfect empty waves. If you want to explore more on your own, car hire can be arranged for as little as £25 per day.




Seasonal conditions
The best time of year for surfing the area is during the winter which is why we have chosen to only be open at this time of year to almost guarantee world class waves and perfect conditions no matter what your ability!

Morocco has over 330 days of sunshine a year so day wear consists of boardies/bikinis and flip flops however it does get chilly the moment the sun comes down so a pair of jeans and a hoody is often worth packing.


---
SURROUNDINGS / REGION
---
Activities and facilities
If you fancy a day off or choose to visit but not surf then there is so much within Taghazout to keep you occupied. We can organize everything from quad biking, therapeutic massages, horse rides, mountain treks to camel rides!


---
JOURNEY
---
Ways to get to the camp
Budget airlines fly into Agadir for as little as £20 return however the average price is between £100 – £200, the best prices are often with thomsonfly who will also carry your board for £15 each way.
Why not fly to Marrakech where we can collect you in our spacious people carrier for £150 each way, this is the price for the journey NOT per person so if you have 6 people the cost is only £25 per head each way. Alternatively we can arrange for four or less people to be picked up by a local driver for £90.
Flying to Marrakech is sometimes a better option as you get to experience the wonderful city of Marrakech and fly with ryanair, easyjet or atlas-blue – potentially saving you a substantial amount. You can also get a coach or train from Marrakech to Agadir where we are also able to collect you. The price varies depending on the operator but is usually around £15 each way please email us for more information.

If you arrive by bus you will be dropped off at the square at the southern end of Taghazout. Walk north through town along the main strip for a couple of minutes, passing most of the shops and restaurants. Look out for the West Coast restaurant on the right hand side, after this take the second turn on the right. Follow the slope up and around to the right. We are the first blue door on the right hand side that says 'The Surf Hostel. Just knock and ask for Mohamed or Youssef Tachroune!


Important details
British passport holders do not need a visa to visit Morocco and are entitled to stay for up to 90 days. It is essential your passport is valid for 6 months from your arrival. For more information please visit: Morocco.com for passport/visa information.

Moroccan currency is the Dirham and is a 'closed currency' meaning you cannot obtain currency outside the country, or take it with you upon departure. It is extremely easy to change any currency upon arrival at the airport and we are also within close proximity to a number of ATM's and banks that will change travelers cheques.

It is a requirement that all guests have their own holiday insurance.
PACKAGES & PRICES
Surf and Zen here at the Surf Hostel, we've designed some package deals for you guys who want to make sure they get they get the most out of their stay in Taghazout for the best price. Whether you want to focus fully on the waves or balance it out with some yoga, we offer a full week of lessons with our live-in fully qualified international instructors.  Hang 10 and downward dog all in one week! You will be provided equipment to use freely throughout your stay and the option to swap out boards at our family surf shop. You will also have 3 delicious meals a day prepared by our Moroccan Chef Youssef & a free trip to Paradise Valley! 


---
PACKAGE A - Surf and Yoga Package from 285 € per Week / Person
---
This package includes:


-7 nights accommodation
-3 meals a day
-3 surf lessons or 3 days surf guiding & 3 yoga lessons
-Equipment hire
-All daily transport
-Laundry services
-1 trip to paradise valley
---
PACKAGE B - Surf Package from 285 € per Week / Person
---
This package includes:


-7 nights accommodation
-3 meals a day
-5 surf lessons or 5 days surf guiding
-Equipment hire
-All daily transport
-Laundry services
-1 trip to paradise valley