ABOUT THE SURF CAMP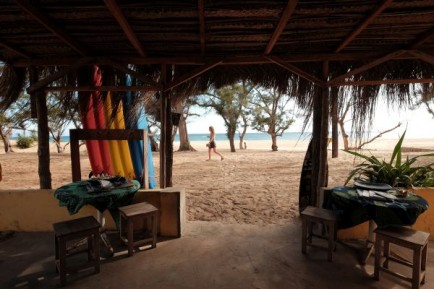 ---
LOCATION AND SURF CONDITIONS
---
The Surf Shack and The Backpacker Wuyani Pariango are located right on the Beachfront in Tofo, Mozambique. It's just a one minute walk to the center of Tofo with restaurants, bars and grocerie shops. There is also a market that sells clothing and souveniers.

There are two main breaks in Tofo:

Tofo Bay
A super relaxed beach break with perfect waves for beginners. Just a 2 minute walk from the Surf Shack and the spot where the lessons take place. 

Tofinho Point
A quality right-hand point break for experienced and advanced surfers. This break works best on the low tide with a south-east swell.
---
CAMP CHARACTER
---
The camp is open to surfers of all levels and ages. This is the perfect place for people who want to surf on a budget and want to get the most out of their surfing holiday
---
CAMP OPERATOR
---
The Surf Shack is owned by an outgoing experienced dutch surfer who came to Tofo 5 years ago, fell in love with the place and never wanted to leave again.
ACCOMMODATION AND CATERING
---
ACCOMMODATION TYPES
---
The accommodation is located right next door to the Surf Shack at the backpacker Wuyani Pariango. You will stay in a clean and safe dorm room. All dorm rooms provide mosquito nets, ceiling ventilators and free wifi. A laundry service can be arranged.
---
CATERING
---
There is a well equiped kitchen in the hostel to provide self catering possibilities. However there are a lot of restaurants and cafes in Tofo where you can enjoy fresh seafood or the local dish, matapa.
SURF COURSE AND ACTIVITIES
---
SURF COURSE DETAILS
---
Group Size:
One instructor is teaching up to 6 people to make sure that you get the best experience possible.

Schedule:
Normally lessons take place around the low tide. However we can always arrange different options with you individually.

Language:
All of our lessons are taught in English.
---
SURF MATERIALS
---
- Surfboards: We provide short boards, Minimals and Long boards in a variety of sizes.
  We also have soft boards for rentals and lessons.
- SUP: We provide 4 SUPs; including a 8'10 carbon wave riding SUP.
- Kayak
- Waveski
- Bodyboards

All of the equipment is included in all of the packages and can be used the whole time during your stay.
---
OTHER ACTIVITIES
---
- Yoga
- Massages
- Horse riding
- Diving
- Hiking
- Fat Bike
- Dhow trip (local sailing experience)
- Snorkeling and Ocean Safari's

All of those activities are not included in the packages but can be arranged upon request.
MORE INFO, HOW TO GET THERE & FAQ
---
 SURF CONDITIONS
---
Breaks directly at the main spot and at nearby spots
Beach break / Point Break
Seasonal conditions
Crystal clear and warm water. Consistent waves all year round. Best time from May till October.
Crowd factor and local people
Uncrowded waves and friendly locals.
---
 SURROUNDINGS / REGION
---
Characterization of surroundings/region
Inhambane province is in the south east corner of Mozambique. Tofo is a small beach town located 23km from Inhambane town. The language in Mozambique is Portuguese. The currency is Meticais. 
---
 JOURNEY
---
Ways to get to the camp
The easiest option to get to Tofo is taking a plane from Maputo to Inhambane and get a taxi or a chapa (local minibus) to Tofo.

Another option is getting a daily bus from Maputo to Tofo.
Important details
Please make sure that you inform yourself about the correct visa before coming to mozambique.
PACKAGES & PRICES
---
The Cruiser  - 110€/Person for 6 days 
---
This package includes:

- 3 surf lessons (2x 1,5 hours +1x 1 hour)
- 5 nights accommodation in a dorm room at the backpacker next door
- Unlimited Usage of water sport equipment (SUP, kayak,bodyboards, waveski)
---
The Carver  - 250€/ Person for 10 days
---
This package includes:

- 7 surf lessons (4x 1,5 hours +3x 1 hour)
- 9 nights accommodation in a dorm room at the backpacker next door
- Unlimited Usage of water sport equipment (SUP, kayak,bodyboards, waveski)
---
The Legend  - from 360€ / Person for 13 days
---
 This package includes:

- 10 surf lessons (4x 1,5 hours +3x 1 hour)
- 12 nights accommodation in a dorm room at the backpacker next door
- Unlimited Usage of water sport equipment (SUP, kayak,bodyboards, waveski)