ABOUT THE SURF CAMP
---
LOCATION AND SURF CONDITIONS
---
With a excellent location, Santa Cruz is located in the west coast of Portugal, known as the European Gold Coast, that offers you unique conditions in Portugal. Here you can surf on deserted beaches with uncrowded waves just for you, at the same time you'll feel and live the true surfing spirit and all this close to the most famous surf spots in Europe, where the World best surfers came to surf every years.


---
CAMP OPERATOR
---
3S Surf School

Renowned for is quality of teaching demonstrated over the years,
3S surf school is located at Praia do Mirante, the "surf beach " in Santa Cruz

It's an eclectic and inclusive school, focusing on the features of each student, in order to provide personalized support. With capacity to teach surfing for all ages 3S has lessons for all levels, from initiation to advanced level, as well as unforgettable surf trips all along the Portuguese coast.
With a team consisting of teachers with over 10 years of experience in surf teaching and surf competition, graduates in Education and Sport and credited by the Portuguese Surfing Federation, the 3S has an education of excellence with the ability to be able to meet all your needs, helping you to achieve the goals and the level of surfing that you want to.
You have at your disposal the best materials in the market, wetsuits, the most appropriate surfboard to your level and leashs. All for you learn in comfort and safety.


Frédéric C. Rebelo

With 31 years of age, 16 as a surfer and 10 of them as surf teacher, Fred, has a degree in Physical Education and Sport, with specialization in water activities and nature. Surf Coach Level 2 and internship coordinator of the Portuguese Surfing Federation since 2009, has in his career as coach surfing competition, with two national championship titles and one as vice national champion. Knower of all the Portuguese coast, also surfed the Maldives, Morocco, Madeira, Spain and France.


Nuno Lucio

With 37 years of age and 24 as a surfer he is surf coach since 2006 and swimming coach since 1993.
Accredited and honored by the Portuguese Surfing Federation with the prize for best trainee in the course of surfing coaches level 1. Born in Torres Vedras and raised in Santa Cruz becomes lifeguard with 18 years old, through diving and sport fishing has spent much of his life on the sea, knowing this piece of coast inside and outside elects the West Coast of Portugal as one of the best areas in Europe to practice surf. Today devotes his life to surfing and its teaching.


3S Surf Competition

This project of 3S is directed to purposes other than the 3S surf school.
In order to be able to offer their players the possibility of being able to take full advantage of this sport, 3S has the project through which competition has won numerous awards and ratings, two national titles to enhance surfing.
This project is dedicated to part of athletes who have characteristics in order to become future professional surfers. The 3S surf competition project develops athletes with the work of technical training, tactical, physical and mental, where the competitions, internships and surf trips (Maldives, Morocco, France, Madeira), are a fundamental part of this study of evolution and growth as athletes.


ACCOMMODATION AND CATERING
---
ACCOMMODATION TYPES
---
Right in the center of the best European locations for surf (European Gold Coast), Santa Cruz is the place to surf and stay in Portugal, with unique and uncrowded beaches with beauty waves.
Located in the center of Santa Cruz and 5 minutes walk from the beach, you have everything you need for a unique surf holiday.
Shared Room
In rooms very spirit of surfing and with all the comfort you need to be able to recover energy , privileging the sharing of moments from surfed well as the exchange of cultural experiences
between surfers from the 4 corners of the world.
Double Room
If you prefer Staying in a more private way, where comfort is also very present, you have the double rooms.
In both cases, you have , many common places of relaxation, where you can listen to music, watch a movie or relax in the large garden after the long day of surf , or if you fancy a dip in the pool to relax from all the adrenaline own kitchen provides surfing , or play tennis or take a bike and ride through Santa Cruz . You have free WIFI internet.
During your stay you can learn or develop your surfing through monitoring done by our team. A team consisting of trainers / teachers with many years of experience, we ll always get the best spot and provide top quality surf lessons, you'll be surprised at how quickly you'll learn to surf or improve your surfing.
You have at your disposal the best materials in the market, the wetsuits, the surfboard and leash's suitable to your surf level, all that to give the conditions and comfort you deserve during your surf lessons.
SURF COURSE AND ACTIVITIES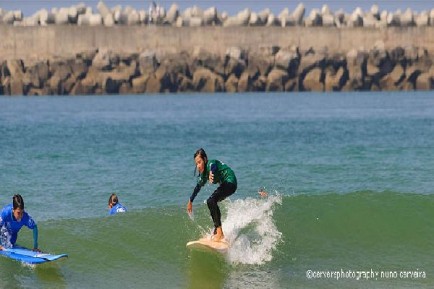 ---
SURF COURSE DETAILS
---
Teaching Methodology

With regard to learning surf, 3S covers the following levels:


Level 1 - Introduction

Objectives:

- Knows material, functions and applications of the same (surfboard, apparel, leash, wax, etc.);
- Minimum autonomy in water with and without board;
- Know safety rules in and out of water;
- Row through the foam;
- Approach the foaming nozzle up and sit back;
- Catch broken waves independently;
- Paddling techniques, sit and turn;
- Autonomy in waves with 0.5 m size
- Perform take-off, with few imbalances in foam waves.


Level 2 - Elementary with little autonomy

Objectives:
Paddles autonomously at sea with swell of 0.5 m and larger sets;
- Catch waves by busting, with and without help;
- Perform take off  and drop the wave in a balanced way;
- After takeoff, slide and cuts the green wave, front and back side;
- Knows and applies whenever necessary safety rules in and out of water;
- Sit on the surf on the outside and makes the selection of waves to catch;
- Approach to break with foam surfboard and start up the turtle;
- Identifies the sea conditions and wind rudimentary


Level 3 - Elementary with total autonomy

Objectives:

- Performs take off smoothly and adjusted;
- Almost total autonomy in the water and under water, inside and outside with waves up to 1m;
- Autonomy in the selection of the waves;
- Sit on the board and correct movements;
- Surfing front and back side of the green wave;
- Performs basic shift in the wave (bottom turn);
- Performs turning green wave (top turn);
- Passes over sessions (floater) and lower (bottom)
- Performs rise and fall of the wave in a balanced way (trimming);
- Performs a duck's bill to pass the waves;
- Identifies sea conditions efficiently


Level 4 - Advanced

Objectives:

- Performs balanced and fluid curves in the top and bottom of the wave;
- Performs curves on the rail of the board front and back side;
- Trimming discharged;
- Performs two maneuvers per wave;
- Performs cutbacks in two directions;
- Performs floaters, passing sections.


Level 5 - Expert

Objectivos:

- Performs sequences of maneuvers;
- Performs reentry and beats;
- Locks and accelerates when the wave requires;
- Performs more than three maneuvers per wave
- Total autonomy in water.



---

OTHER ACTIVITIES




---

 Extras

- Transfers from the airport to surf camp:
-> Lisboa 70 €
-> Porto 280 €
- Photos
- Laundry Service
- Bicycle Rental
- Car rental
- Taxi

Activities
Meeting the needs of all those who seek radical moments with the surf, either occasionally or even regularly, 3S isolated organizes events and activities for various requests from our customers:

- Activities for companies for one or more days;
- Holiday sports;
- Holiday camps;
- Courses surf practical and theoretical workshops and trainings;
- Birthday parties;
- Surf Trips;
- Championships;
- Events;
- Etc.


MORE INFO, HOW TO GET THERE & FAQ
---
SURF CONDITIONS
---
Santa Cruz is a great visit card for waves, beaches and surf in Portugal, have waves for all surfing levels, with point breaks and beach breaks away from the crowd.
In 3S, you will have the opportunity to be on the best spot to surf, regardless of the size of the swell or wind, we take you to the spot for your surf level.
PACKAGES & PRICES
---
PACKAGE A - Light Surf and Sleep from 248 € per Week / Person
---
Shared Room
| | | | | | |
| --- | --- | --- | --- | --- | --- |
| Season |   | Day |   | Week |   |
| July and August |   | 50€ |   | 290€ |   |
| June and September |   | 48€ |   | 276€ |   |
| March, April, May and October |   | 46€ |   | 262€ |   |

Double Room (Price per person)
| | | | | | |
| --- | --- | --- | --- | --- | --- |
| Season |   | Day |   | Week |   |
| July and August |   | 48€ |   | 276€ |   |
| June and September |   | 45.5€ |   | 258€ |   |
| March, April, May and October |   | 44€ |   | 248€ |   |

This package includes:

- 7 nights bed and breakfast (weeks)
- 5 Surf lessons, two lessons per day (week)
- 1 night bed and breakfast (Day)
- 1 Surf Lessons  (Day)
- video analysis sessions (depending on level)
- All necessary transportation for surfing
- All necessary technical equipment (surfboard, wetsuit, leash, lycra, wax)
- Personal accident insurance
- Internet WIFI,
- Pool
- Fully equipped kitchen


---
PACKAGE B - Intensive Surf and Sleep from 348 € per Week / Person
---
Shared Room
| | | | | | |
| --- | --- | --- | --- | --- | --- |
| Season |   | Day |   | Week |   |
| July and August |   | 77.5€ |   | 422€ |   |
| June and September |   | 68€ |   | 376€ |   |
| March, April, May and October |   | 66€ |   | 362€ |   |

Double Room (Price per person)
| | | | | | |
| --- | --- | --- | --- | --- | --- |
| Season |   | Day |   | Week |   |
| July and August |   | 75€ |   | 410€ |   |
| June and September |   | 65.5€ |   | 358€ |   |
| March, April, May and October |   | 64€ |   | 348€ |   |

This package includes:

- 7 nights bed and breakfast (weeks)
- 10 Surf lessons, two lessons per day (week)
- 1 night bed and breakfast (Day)
- 2 Surf Lessons  (Day)
- video analysis sessions (depending on level)
- All necessary transportation for surfing
- All necessary technical equipment (surfboard, wetsuit, leash, lycra, wax)
- Personal accident insurance
- Internet WIFI,
- Pool
- Fully equipped kitchen


---
PACKAGE C - Surf Guide (Accommodation and guide to the best spots) from XXX € per Week / Person
---
Shared Room
| | | | | | |
| --- | --- | --- | --- | --- | --- |
| Season |   | Day |   | Week |   |
| July and August |   | 77.5€ |   | 422€ |   |
| June and September |   | 68€ |   | 376€ |   |
| March, April, May and October |   | 66€ |   | 362€ |   |

Double Room (Price per person)
| | | | | | |
| --- | --- | --- | --- | --- | --- |
| Season |   | Day |   | Week |   |
| July and August |   | 75€ |   | 410€ |   |
| June and September |   | 65.5€ |   | 358€ |   |
| March, April, May and October |   | 64€ |   | 348€ |   |

This package includes:

- 7 nights bed and breakfast (weeks)
- 5 days surf guide to the best spots (Week)
- 1 night bed and breakfast (Day)
- 1 Day Surf guide to the best spots (Day)
- 2 Video Sessions 
- All necessary transportation for surfing
- All necessary technical equipment (wetsuit, leash, lycra, wax)
- Personal accident insurance
- Internet WIFI,
- Pool
- Fully equipped kitchen


---
Only Accommodation - Sleep - from XXX € per Week / Person
---
Shared Room
| | | | | | |
| --- | --- | --- | --- | --- | --- |
| Season |   | Day |   | Week |   |
| July and August |   | 20€ |   | 140€ |   |
| June and September |   | 18€ |   | 126€ |   |
| March, April, May and October |   | 16€ |   | 112€ |   |

Double Room (Price per person)
| | | | | | |
| --- | --- | --- | --- | --- | --- |
| Season |   | Day |   | Week |   |
| July and August |   | 18€ |   | 126€ |   |
| June and September |   | 15.5€ |   | 108.5€ |   |
| March, April, May and October |   | 14€ |   | 98€ |   |

This package includes:

- 7 nights bed and breakfast (weeks)
- 1 nights bed and breakfast (day)
- Internet WIFI
- Pool
- Fully equipped kitchen


---
Student - Surf Lessons
---
| | | | | | |
| --- | --- | --- | --- | --- | --- |
| Season |   | Day |   | Week |   |
| July and August |   | 60€ |   | 300€ |   |
| June and September |   | 50€ |   | 250€ |   |
| March, April, May and October |   | 50€ |   | 250€ |   |

This package includes:

- 10 Surf lessons, two lessons per day (week)
- 2 surf lessons (1 Day)
- video analysis sessions (depending on level)
- All necessary transportation for surfing
- All necessary technical equipment (wetsuit, leash, lycra, wax)
- Personal accident insurance


---
Rent - Surfboard and Wetsuit
---

This package includes:
- 7 days free usage (Week)
- 1 day free to use (Day)