ABOUT THE SURF CAMP
---
LOCATION AND SURF CONDITIONS
---
Our Surf Camp Hotel "The Green Room Canggu" is about 10 km north of the heaving tourist stronghold, Kuta, almost right at the beach.
First-class semi-beach breaks are just waiting for you here, on your own doorstep, so to speak. These are suitable for beginners, intermediates and advanced surfers. It's only a few minutes' walk from the Surf Camp to the perfect reef and beach breaks Echo Beach Canggu, and Perenenan.
Far from the madding crowds of the tourist strongholds, here, surrounded by rice fields and palm groves, it's so easy to slip into an eat-sleep-surf rhythm.
Chilling out with a cold after-surf beer you can enjoy the spectacular sunset from the comfort of our Camp, or if the mood takes you, you can hit Kuta for a spontaneous shopping trip. In the laid-back Canggu Surf Camp Bali you have all the options. If you prefer to be out and about on your own, you can use our minibuses and mountain bikes free of charge – just check with us.


---
CAMP CHARACTER
---
THE TEAM
In 1989 it was "Pencak Silat", a type of martial arts, that brought Ari to a training camp in Indonesia, where he was meant to be preparing for competitions in the homeland of this old Malaysian martial art. However, it wasn't long before he got hooked on something completely different; surfing, and the enchanting way and mentality of the people here. And thus the idea of a Bali Surfari was born. The years that followed saw him laying the foundation for the first Kima Bali Surf Camp along with his best mate, Boris.
Kima Surf has now been organising Surf Camps and Surfaris since 1995. Of course lots of things have changed since then, but one thing still remains: it's a get-together of like-minded people with the one and the same passion - surfing as a life-style.
We all have one commitment: working hard to make the idea of the Bali Surf Camp an unforgettable experience for you.
ACCOMMODATION AND CATERING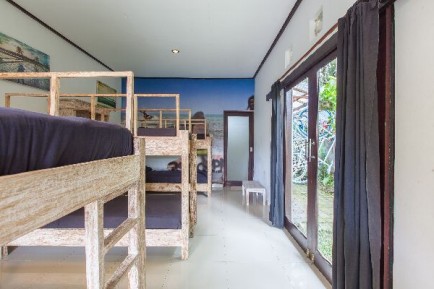 ---
ACCOMMODATION TYPES
---
Green Room Hotel
Our surf hotel The Green Room Canggu is located approx. 10 km north of the pulsating tourism metropolis Kuta and is almost directly on the beach. Several first-class semi beach breaks are waiting for you right outside the door. These are suitable for beginners, intermediates and advanced surfers. The perfect reef and beach breaks of Echo Beach and Perenenan are within close walking distance of the surf camp in Canggu.
Beyond the hectic traffic and touristic centres, you can completely fall into the eat-sleep-surf-repeat rhythm in the Canggu region with its many rice fields only a stone's throw from the water. Enjoy the spectacular sunset with a cool after-surf beer directly from our chilled-out camp, go on a spontaneous shopping trip to Kuta or enjoy the culinary diversity and bars in the surroundings.
For those who like to travel on their own – our cars and mountain bikes are available to all participants for free upon request.
Here's what's waiting for you at our surf camp Canggu
We put particular emphasis on an authentic Bali feeling when choosing the accommodation to guarantee you a particularly comfy holiday. The dapper rooms and surf villas in Canggu for your luxurious surfing holiday are located by a large natural stone pool in a tropical garden. The island lifestyle design of the surf camp with its traditional grass roofs, the restaurant with giant screen, the chill-houses, the sunroof and the lavish pool deck invite you to relax and feast between surfs.
Prices include
- Airport transfers (included from a stay of 5 nights) - Welcome Drink - Free Kima T-shirt (after completed camp feedback) - Accommodation incl. 3-course breakfast menu - Surf Guiding 7 days a week, twice a day, incl. spot transfer, spot instruction, coaching in the water  - 6x Surf video analysis per week  - 6x Surf theory per week - 1x Boat shuttle to the outer reefs (advanced surfers) - Free Yoga class 6x a week (Mon - Sat) - Free use of bikes and Camp vehicles - Camp driver services - Concierge Service (7 a.m. – 11 p.m.) - W-LAN - Free flow coffee & tea (daily up to 6PM)

ROOMS

Deluxe 1-Bedroom Villa

Looking for a genuinely special room in Bali? Our deluxe one-bedroom villa – ideally suited for small families or couples looking for extra comfort, space and privacy – is among the camp's highlights. It comes with one large air-conditioned bedroom with a king-size bed, neat semi-open bathroom with rain shower, free toiletries and hairdryer, a small kitchen, an open living room with TV / hi-fi / DVD and a private pool.   The villa rooms in Bali are meant for two people and can house up to four. All guests enjoy the deluxe breakfast with fine extras.
Deluxe Suite (shared)
We have two air-conditioned deluxe suite rooms in our Bali Canggu surf camp that offer extra comfort. Divided into a bedroom and sitting area, they are equipped with TV/DVD, mini-bar and a spacious en suite bathroom with double washbasin, hairdryer and bathroom amenities. Two safety deposit boxes in each room are there to store your valuables.   The glass front with sliding doors offers a stunning view over the Indian Ocean from the upper floor and the garden and pool area from the lower floor.   The deluxe suite price includes a deluxe version of the breakfast with plenty of delicious extras to choose from.   Unless you book this room type as private, you might be sharing the room and bathroom with your future best friend!

Deluxe Double/Twin Room (shared)
If you prefer things a bit more exclusive, you can book one of the deluxe rooms in Bali with all modern comforts, such as the 32" LED-TV with our surf movie collection and DVD player. Find an extensive library of movies at the front desk. Air conditioning is also included in our deluxe rooms.   Each room features a hairdryer, bathroom amenities, luxury bath towels and deluxe-bedding as well as a big wardrobe with a work desk. All rooms in Bali are situated on the ground floor of the Canggu surf camp main building and feature a semi-open bathroom with a small tropical garden.   Two wicker chairs and a small table are situated in front of each room and this is the perfect place to read or relax between surf sessions. We will also serve breakfast to your room on request. It goes without saying that you will get the deluxe version of the breakfast with plenty of delicious extras to choose from.   Unless you book this room type as private, you might be sharing the room and bathroom with your future best friend!

Standard Double/Twin Room (shared)
The double or twin standard rooms in Bali are situated on the top floor of our two-storey main house with pool view.   All standard rooms in our Bali Canggu surf camp are equipped with safety deposit boxes for each guest, fan cooling and an en-suite bathroom. Mosquito nets are available on request at the front desk.   The small terrace in front of each room has a comfortable sitting area where you can read or relax between surfs.   Unless you book this room type as private, you might be sharing the room and bathroom with your future best friend!

6-bed Dorm Room Surf Lodge
Only a 3-minute walk from the main camp, the surf lodge comes with three dorms, each with six bunk beds and a bathroom per room. The door rooms have air conditioning in the evening and a safety deposit box is provided for each guest. The surf lodge also has a pool, free Wi-Fi and a small kitchen with cooking facilities and a fridge.   During your stay at the surf lodge you can take part in the normal surf camp program of our Bali Canggu surf camp with all the usual services included. You can use the facilities of our camp to have breakfast, lunch & dinner as well as using the pool and chill out areas. Free bikes are available if you prefer not to walk the 200 m to the camp.

Deluxe 2-Bedroom Villa
Our deluxe two-bedroom villa within the Bali Canggu surf camp, is perfect for groups and families who are looking for privacy and extra comfort. The villa comes with a private pool, two large air-conditioned bedrooms. The upstairs room features two twin beds (can be set up as double beds if necessary) and the downstairs room has a king size bed, a semi-open bathroom with a neatly dimensioned rain shower, hairdryer and free toiletries, a small kitchen and open living rooms with two sofa beds and TV plus hi-fi / DVD.   Built for four people, it can accommodate up to six people. Additionally, villa guests enjoy the deluxe version of our breakfast with delicious extras.


Deluxe 2-Bedroom Villa & Deluxe Suite

This group special combines our deluxe two-bedroom villa connected to our downstairs deluxe suite, and is perfect for big groups and families looking for privacy and extra comfort. The Canggu surf camp villa connected to the suite features a private pool, three large air-conditioned bedroom each with a king-size bed, semi-open bathrooms, with a generous-sized rain-shower, hairdryer and free toiletries, a small kitchen, and 2 living rooms with sofa beds and TV, hi-fi / DVD.   Built for six people, it can accommodate up to ten people. Guests receive the deluxe version of the breakfast with tasty extras.
---
CATERING
---
Food & drink
Our Kima Bali surf camp Canggu restaurant is open from 7 am to 11 pm and offers various international and local dishes, created by our internationally experienced chef. We only use fresh ingredients and cater for a variety of options such as vegan and vegetarian.

Breakfast included
Our delicious breakfast options – plus an upgrade to deluxe breakfast – are available from 7 am to 12 pm at the surf hotel in Canggu. Free tea and coffee are available every day until 6 pm. Our standard breakfast with a choice of a fresh fruit juices, a starter such as a fruit salad or pancakes, and a main course like eggs, fried rice or fried noodles, is included in the camp price.

Indonesian cuisine
The cost of living in Bali is fairly low. A healthy and filling meal (e.g. fish with a side dish) costs around 3 €. The obligatory evening beer on the beach is likely to be the most expensive thing on the healthy Indonesian food menu. Fruit salad or Nasi/Mie Goreng (fried rice/noodles) can be found even on the most remote beaches. Our restaurant in the Seminyak surf camp also offers a variety of Indonesian dishes.

International cuisine
In Canggu there are plenty of good restaurants with high-quality food that cater to western tastes. You'll find all sorts of food: German, Persian, Italian, Japanese, Greek and Brazilian, plus international fast food chains.

Add ons 
Deluxe Breakfast 5 EUR/day
Upgrade your standard breakfast to a deluxe spread for little money. You will receive a wider selection of breakfast options such as muesli, bagels, Nutella and more: the perfect start for your surf day. Deluxe breakfast is included in all deluxe room categories.

Halfboard 8 EUR/day
In addition to your standard breakfast you will receive a meal from our menu in our restaurant every day after 5:30 PM.

Kima Refill Bottle 10 EUR/pcs
Use this bottle to refill from our fresh drinking water dispensers in the camp at any time. The enormous amounts of plastic waste are increasingly becoming a problem in Bali. To help keep Bali as plastic-free as possible buy a Kima bottle and unlimited drinking water for only 10 €!
SURF COURSE AND ACTIVITIES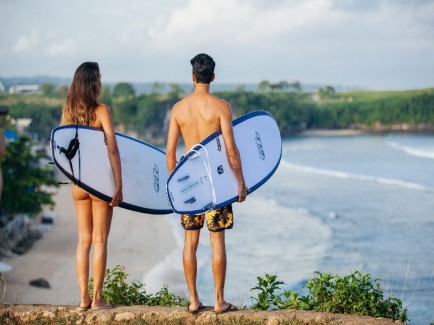 ---
SURF COURSE DETAILS
---
Beginners
For beginners the many semi-beach breaks on our doorstep are ideal for riding your first green wave and improving your take-off.
Total beginners we recommend booking our 3-day learn-to-surf package.

Intermediates
For intermediate surfers Bali has a whole series of soft reef breaks and semi-beach breaks in store.
Many perfect waves nearby or famous spots a bit further away will push your skills and maybe even make you an advanced surfer by the end of your stay.

Advanced
Of course it is also the advanced surfers that really get their money's worth on Bali.
The best waves all around Bali are on our schedule: the legendary Airport breaks, the classic Bali waves such as Dreamland and Balangan or the world famous spots like Padang-Padang, Keramas or Uluwatu.

Surf guiding at the surf camp Canggu
Kima Surf Camps advantage is that surf guiding is included twice a day, seven days a week. We organize up to sixteen trips daily for all surf levels to various breaks around Bali. You can take part in two guided sessions per day.

The surf spots we head to each day will vary based upon the elements and conditions mother nature has provided us as well as our experience of over 25 years Surf Guiding in Bali. The elements to consider are tide, swell size and wind direction. These elements are the components of what will make a surf spot 'surf-able' and being able to identify all these elements ensures the best possible session for Kima surfers.

Our surf guides are here to assist you in taking the best sessions for your current ability and helping ensuring that together we build your core surfing skills first and foremost. Surfers surf because it is fun and we love it. We don't care what level you surf, we just want to be in the water having fun and catching waves. Your safety is paramount to Kima so always listen to your surf guides instructions and advice.

How our surf sessions work
Kima Surfs custom built Six Star Session Planner was built and refined over 25 years of Surf Coaching and Surf Guiding experience in Bali and Indonesia. It's very important when you arrive to be honest and upfront about your prior surf experience when choosing your board and level of your first session.

It's always best if you have had 6 months or more away from the ocean to re-start in the lower star levels to find your groove again. We guarantee you will make faster progress with this method and it will give us a better opportunity to work with you on perfecting the techniques that are essential to mastering the waves.

Always listen attentively to your Surf Guides in the water they are responsible for you and your safety. Our Surf Guides will endeavour to get you into the best waves possible every day and also have the most fun possible.

Video Analysis
We offer video analysis 6 days per week with the exception being Friday which is our weekly camp BBQ. Each day we have two sessions with a videographer and at 7pm we give an analysis of the session. Saturday night video analysis is from Friday surf sessions and Sunday night is from Saturday surf sessions. Watching yourself on film is the best form of self-improvement so if you want to be filmed, sign up for surf sessions marked with CAM on session planner.

Surf Theory & Pool Sessions
Surf Theory and Pool Sessions are scheduled Monday through Saturday. Each alternating day we have a class which educates you about surf equipment, water safety, ocean knowledge and most important surf etiquette. Our pool sessions will focus on finding sweet spot paddling, pop-ups, turtle rolls and duck diving. This is a great opportunity to continually grow your core surf skills and a must attend.

Add ons
Board Rental 10 EUR/day
Don´t worry about bringing your own board, we have it covered. We have shortboards (6'0'' - 7'0''), funshapes and mini-malibus (7'0'' - 7'8'') available for every level and all conditions. Leashes and lycras are included in the rental. Any repairs or loss of equipment need to be paid for.

Board Insurance 50 EUR up to 3 weeks or 10 EUR/day
Be on the safe side and "insure" your rental board. We will carry the costs for any repairs over a period of 1 – 3 weeks, whether it's a tiny dent or a major break. Any damage will be repaired professionally. If the board or parts of it get lost - even if it is in the water - the costs have to be borne by the user.
---
ACTIVITIES

---
Off-road Moto Cross
A must do! Discover Bali's amazing landscape off the beaten track; beginner to advanced tracks, transfer, and equipment included. Price from €82 p.p
Beginner Surf School in Bali
3-day beginner surf school course, perfect preparation for the Kima Surf guided program. Equipment, transfer and insurance included. Price from €79 p.p
Vulcano Trekking Tour

Climb Bali's holy mountain "Gunung Batur" and enjoy a breathtaking view over Bali.
Price from €59 p.p
Private Surfcoaching Bali
Customized surf guiding program with experienced surf guides, without surf camp stay. Hotel transfer included.
From €69 p.p
Scuba Diving
Discover Bali's and Lembongan's underwater world at world-famous diving spots with individual packages, diving licenses, and in small groups.
From €95 p.p
Yoga
Private sessions with experienced and licensed Yogis, optional at the surf camp, on the beach or in a Yoga-centre nearby.
From €32 p.p
Custom Surfboard
Order a custom made surfboard designed for your individual preferences with different shapes and designs from international shapers .
From 339 p.p
---
MORE INFO, HOW TO GET THERE & FAQ
---
JOURNEY
---
Airport Transfer
We are happy to pick you up from the airport and bring you back in time for your departure. If you stay at the surf camp in Canggu for at least five nights, the transfer is included in the package price. For shorter stays, we bill 15€ per person and drive. In case your pick up point or your destination is not the airport or you're already in Bali, please speak to our team during the booking process and we will be happy to assist. Please make sure to inform us about your flight or address minimum 48 hours before that we can make sure to have a driver for you available.
PACKAGES & PRICES
---
PACKAGES
---
Price includes
Airport transfers - from a 5 nights stay
Standard 3 Course Breakfast or Deluxe 5 Course Breakfast - Healthy start of the day
Surf Guiding - 7 days a week, twice a day
Surf video analysis - 6x per week
Surf Theory - 6x per week
Boat Shuttle to outer reefs - 1x per week (advanced surfers)
Concierge services - (7 a.m - 11 p.m)
Use of bicycles - to explore the area
Camp Van - Shuttle Service
Kima T-shirt - for your camp feedback
Free flow coffee & tea (daily up to 6 p.m)
A/C
WIFI
---
Beginner Packages (4 nights + 3 days Learn-to-Surf); price per person
---
Package includes:

4 nights incl. standard/deluxe breakfast (depends on the room booked)
Airport transfer
3-day beginner surf school course
Stay period: now - 30 June 2019
Important: no other service included, means no KIMA advantages / only limited amount available
| | | | | | |
| --- | --- | --- | --- | --- | --- |
| Room |   |   |   |   | 4 nights + 3 day LTS |
|   |   |   |   |   |   |
| Canggu 6-bed Surf Lodge  |   |   |   |   | 179 € |
| Canggu Standard room  |   |   |   |   | 289 € |
| Canggu Deluxe Room  |   |   |   |   | 349 € |
| Canggu Deluxe Suite  |   |   |   |   | 439 € |
| Canggu Deluxe 1-bedroom Villa |   |   |   |   | 599 € (min. 2pax) |
| Canggu Deluxe 2-Bedroom Villa |   |   |   |   | 719 € (min. 4pax) |
Single Surcharge (private room) 40€

---
7 -, 10 -, and 14 - Days; price per Person
---
Room
 
 
Nights
 
 
Low Season
 
Main Season
 
Peak Season
 
 
 
 
 
 
 
 
 
 
 
Canggu 6-bed Surf Lodge
 
 
7
10
14
 
 
299
409
529
 
319
449
569
 
399
559
719
 
 
 
 
 
 
 
 
 
 
 
Canggu Standard Room
 
 
7
10
14
 
 
469
649
829
 
559
779
999
 
669
929
1179
 
 
 
 
 
 
 
 
 
 
 
Canggu Deluxe Room
 
 
7
10
14
 
 
599
829
1059
 
719
989
1259
 
789
1099
1399
 
 
 
 
 
 
 
 
 
 
 
Canggu Deluxe Suite
 
 
7
10
14
 
 
769
1049
1399
 
819
1139
1519
 
909
1259
1679
 
 
 
 
 
 
 
 
 
 
 
Canggu Deluxe 1- bedroom Villa (min. 2 persons booking)
 
 
7
10
14
 
 
1029
1349
1799
 
1109
1459
1949
 
1199
1579
2109
 
 
 
 
 
 
 
 
 
 
 
Canggu Deluxe 2-bedroom Villa (min. 4 persons booking)
 
 
7
10
14
 
 
1239
1629
2179
 
1309
1719
2297
 
1389
1819
2429
 
 
 
 
 
 
 
 
 
 
 
Deluxe 2-bedroom Villa & Deluxe Suite (min. 6 persons booking)
 
 
7
10
14
 
 
1429
1879
2509
 
1489
1959
2619
 
1569
2059
2759
| | | | | | | | | | | |
| --- | --- | --- | --- | --- | --- | --- | --- | --- | --- | --- |
| Low Season |   |   |   | Jan 9th - Apr 6th |   |   | May 31st - Jun 28th |   |   | Nov 16th - 20th  |
| Main Season |   |   |   | Apr 30th - May 31st |   |   | Oct 6th - Nov 16th |   |   |   |
| Peak Season |   |   |   | Apr 6th - Apr 30th |   |   | Jun 28th - Oct 6th |   |   | Dec 20th - Jan 9th |
| | | | | |
| --- | --- | --- | --- | --- |
| Add ons    |   |   |   |             |
| Board Rental |   |   |   | 10 €/day |
| Board Insurance |   |   |   | 50 € up to 3 weeks or 10 €/day |
| Deluxe Breakfast |   |   |   | 5 € / day |
| Halfboard |   |   |   | 8 € / day |
| Kima Refill Bottle |   |   |   | 10 € / pcs |
| Airport Pick-Up |   |   |   | 15 € / person |
| Airport Drop-Off  |   |   |   | 15 € / person |