ABOUT THE SURF CAMP
---
LOCATION AND SURF CONDITIONS
---
Joyo's Camp was founded in 1990 and has built a reputation on providing quality service at affordable prices to surfers for the last 20 years. Come and get the barrels of your life and treated to a jungle experience all the while staying in the comfort of a modern camp. Relax in the quiet surroundings or celebrate a great day of surfing with ya mates by having a few beers and playing pool or ping-pong at our bar area.
---
CAMP OPERATOR
---
Our friendly, experienced staffs will provide you with all the help and info you need to make your stay as pleasurable as possible. With a resident surf guide, doctor, yoga instructor and masseuse you'll be in good hands. We strive to provide you with good times, great waves and lasting memories that will have you coming back for more!!



ACCOMMODATION AND CATERING
---
ACCOMMODATION TYPES
---

G-LAND JOYO'S SURF CAMP  is set amongst a National Park called "Alas Purwo" and is open March to November and located just off the beach line, directly in front of the famous section of reef known as Speedies. With a bungalow style accommodation which is strongly constructed to facilitate the unique lifestyle of most adventurers who love being in the jungle and nature and to provide as much natural element as possible inside the room. Accommodation is in free standing thatched bungalows sleeping for 2 up to 3 adults and equipped with double or 2 single beds with mosquito nets, bed side light, small table inside the room, cool fan, private balcony, comfortable terrace seat, table, water dispenser and board racks. New Air-conditioner are also featured in Speedies bungalow rooms.

There are three (3) categories of accommodation package available namely Speedies, Money Trees, and Kong. There is a separate amenities block with flush toilets and fresh water showers in all bath-rooms. The central relaxation house features a bar with cold beer, and soft drinks like coke. A dining room, leather lounge plus a 36 inch TV with surround sound stereo system to enjoy the latest movies and most prominent channels transmitted by satellite dish. This area also has 2 large pool tables, table tennis (ping-pong), and many more.


Internet
has been facilitated at the camp to serve the guests for checking emails, browsing, searching, sharing, & interact with the outside world using fast-speed broadband internet via satellite. Always keep in touch with friends, family, beloved persons everyday.
Laundry
is also available and just what the guests might need when they are staying for longer time and our house keeping staff will take care of your dirty apparels at ease.
---
CATERING
---
A highlight of guest's visit to G-Land Joyo's Surf Camp. All meals are included in the package price as well as beers per day, soft drinks, fresh juices and mineral water. The daily menu is a good mix of western and Indonesian dishes and very substantial to revitalize your energy. Our chefs have good experience in working on a varied of tasty recipe to assure an intriguing dishes served to the guests. Our resident manager and friendly Indonesian staffs and crews will ensure every comfort of the guests are met and to make their stay at "Joyo's Surf Camp" is considerably memorable and you will long to return again to experience the awesome attraction of G-Land.



SURF COURSE AND ACTIVITIES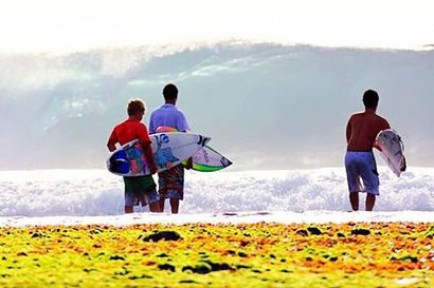 ---
SURF COURSE DETAILS
---
Surf Guide Team :
David Scard (the coordinator)
Cory Byrne
Jamie McCall
Matt Dobell
Ben Silk
Mick Burke
Jamie Willems
Miles Ratima
Sean Kosick
Anthony King
Linton Fafie
Tim 'Bootsy' Geyer
---
OTHER ACTIVITIES
---
YOGA
Benefits of Yoga for Surfers 
* Warms up and prepares the muscles, joints, tendons and ligaments for surf specific movements thus reducing risk of injury during surfing
* Increases flexibility giving your body more movement providing less resistance through turns. This leads to higher performance and increased looseness in your surfing
To take off with speed, position yourself effectively on your board and perform a variety of radical surfing maneuvers your joints (where your bones connect to one another, bend and move) need to compress, rotate and move apart in quick succession and repeatedly. Yoga enhances this joint range of movement opening your body to radical turns you never thought possible.
MORE INFO, HOW TO GET THERE & FAQ
---
SURROUNDINGS / REGION
---
Activities and facilities


Massage
is also catered when the guest need this service.
Safe Deposit Boxes
are provided and highly advisable to keep all valuable things or properties in a safe place while surfing or when the guest leaves the camp for a while.
Surf Guide
Aussie surf-guide has anything you need in understanding and recognizing this unique spot, the best section for surfing, the perfect time, etc. Besides his own mother language, English, they could speak and understanding Indonesian pretty well and often helping out to bridge and intermediate between the guest and the staffs/crews.
Surf Doctor
Our doctor comes from many different parts of the world e.g. Australia, USA, New Zealand, South Africa, Brazil, Germany, and so forth always prepare with comprehensive expertise and skills in surgery, and good stocks of medical supplies to ensure your safety in our top priority at all times.
---
JOURNEY
---
Ways to get to the camp
Fastboat transfers
plus we give Bali VIP Arrival Airport service and Hotel transfer
PACKAGES & PRICES
---
PACKAGE A - PER PERSON RATE WITH FASTBOAT TRIP ( APRIL - OCTOBER ) - from $240 for 3 nights

---
| | | | | | | | | | | | | | | | | |
| --- | --- | --- | --- | --- | --- | --- | --- | --- | --- | --- | --- | --- | --- | --- | --- | --- |
| DURATION |   |   |   | VIP |   |   |   | SUPERIOR |   |   |   | DELUXE |   |   |   | STANDART |
| 3 Nights |   |   |   | $750 |   |   |   | $700 |   |   |   | $625 |   |   |   | $550 |
| 6 Nights |   |   |   | $900 |   |   |   | $850 |   |   |   | $750 |   |   |   | $650 |
| 9 Nights |   |   |   | $1250 |   |   |   | $1150 |   |   |   | $1050 |   |   |   | $920 |
| Over stay 3 nights |   |   |   | $350 |   |   |   | $300 |   |   |   | $270 |   |   |   | $240 |
FEATURES
ACCOMMODATION
 
 
 
VIP
 
SUPERIOR
 
DELUXE
 
STANDART
AC Room
 
 
 
Y
 
Y
 
Y
 
N
Fan Room
 
 
 
Y
 
Y
 
Y
 
Y
Private Bathroom
 
 
 
Y
 
Y
 
Y
 
N
24 Hours Electricity
 
 
 
Y
 
Y
 
N
 
 N
Meals
 
 
 
Y
 
Y
 
Y
 
Y
Beers / Soft Drink
 
 
 

Y

5b / 5s

 

Y

4b / 4s

 

Y

3b / 3s

 

Y

2b / 2s

TV & DVD
 
 
 
Y
 
Y
 
Y
 
 N
Fridge / Water Cooler
 
 
 
Y
 
Y
 
Y
 
 N
VIP Airport Arrival Service
 
 
 
Y
 
N
 
N
 
 N
Yoga Class
 
 
 
Y
 
Y
 
Y
 
 Y
Free WIFI 
 
 
 
Y
 
Y
 
Y
 
 Y
T-Shirt & Sticker
 
 
 
Y
 
Y
 
Y
 
 Y
Fastboat BALI G-LAND
 
 
 
Y
 
Y
 
Y
 
 Y
Zodiac Waves Transfer
 
 
 
EXTRA
 
EXTRA
 
EXTRA
 
EXTRA
---
PACKAGE B - PER PERSON RATE WITH LAND TRIP ( MARCH and NOVEMBER only ) - from $240 for 3 nights
---
| | | | | | | | | | | | | | | | | |
| --- | --- | --- | --- | --- | --- | --- | --- | --- | --- | --- | --- | --- | --- | --- | --- | --- |
| DURATION |   |   |   | VIP |   |   |   | SUPERIOR |   |   |   | DELUXE |   |   |   | STANDART |
| 3 Nights |   |   |   | $600 |   |   |   | $550 |   |   |   | $500 |   |   |   | $425 |
| 6 Nights |   |   |   | $750 |   |   |   | $700 |   |   |   | $650 |   |   |   | $550 |
| 9 Nights |   |   |   | $1100 |   |   |   | $1000 |   |   |   | $900 |   |   |   | $800 |
| ver stay 3 nights |   |   |   | $350 |   |   |   | $300 |   |   |   | $270 |   |   |   | $240 |
FEATURES
ACCOMMODATION
 
 
 
VIP
 
SUPERIOR
 
DELUXE
 
STANDART
AC Room
 
 
 
Y
 
Y
 
Y
 
N
Fan Room
 
 
 
Y
 
Y
 
Y
 
Y
Private Bathroom
 
 
 
Y
 
Y
 
Y
 
N
24 Hours Electricity
 
 
 
Y
 
Y
 
N
 
N
Meals
 
 
 
Y
 
Y
 
Y
 
Y
Beers / Soft Drink
 
 
 

Y

5b / 5s

 

Y

4b / 4s

 

Y

3b / 3s

 

Y

2b / 2s

TV & DVD
 
 
 
Y
 
Y
 
Y
 
N
Fridge / Water Cooler
 
 
 
Y
 
Y
 
Y
 
N
VIP Airport Arrival Service
 
 
 
Y
 
N
 
N
 
N
Yoga Class
 
 
 
Y
 
Y
 
Y
 
Y
Free WIFI 
 
 
 
Y
 
Y
 
Y
 
Y
T-Shirt & Sticker
 
 
 
Y
 
Y
 
Y
 
Y
Fastboat BALI G-LAND
 
 
 
Y
 
Y
 
Y
 
Y
Zodiac Waves Transfer
 
 
 
EXTRA
 
EXTRA
 
EXTRA
 
EXTRA