ABOUT THE SURF CAMP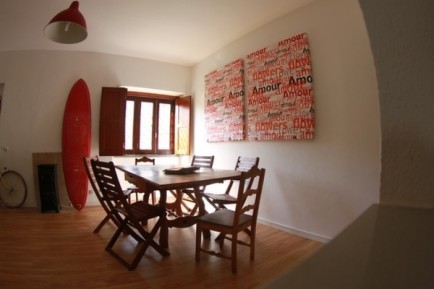 ---
LOCATION AND SURF CONDITIONS
---
4 beach breaks are near to the house, the most famous, Praia Grande is one of the more consistent spots in Portugal due to his location be the more occidental beach of the Europe, if you prefer less crowded one, you have the near beaches like Praia das Maçãs or Praia Pequena where you can surf with 10 to 15 guys in a crowded day. If you come by car you have Ericeira at 20 minutes distance, Peniche at 1.30h, Carcavelos if the conditions are ruff is the place to surf and you can be there at 30 minutes car distance. So With us Surf is guaranteed, join us!!
---
CAMP CHARACTER
---
The house is located at 5 minutes walk to Praia Grande and 10 to Praia das Maçãs,the village where you can find everything you need (market, pharmacy, restaurants, night live...). 15 minutes by car you are in Sintra, one of the most beautiful places in the world that you shouldn't miss, Cascais like Lisbon are close to Sintra by a dozen kilometres. So as you can see you the best of two worlds, a quiet and wonderful place to stay close to one of the best city s to visit. We will be waiting for you.
Surf is everywhere around, you have lot's of wonderful places to visit, close to Lisbon, Cascais, so we are able to provide a great experience and 100% fun guaranteed along your vacations with us.
---
CAMP OPERATOR
---
This project was born from our Surf school (Surf At Praia das Maçãs) that wanted to provide their clients a quality Surf accommodation allied to the already existing surf services that goes from the beginners lessons to the surf guiding to the more experienced Surfers. Casa de Surf is made by surfers to surfers.
ACCOMMODATION AND CATERING
---
ACCOMMODATION TYPES
---
 Casa de Surf is a self catering bifamiliar house with a shared garden with independent entry.
---
CATERING
---
 Self catering house with a full equipped kitchen and barbecue facilities in the outside. Many supermarkets around, a local market where you can buy some fresh products. If you prefer, at a short distance there are many different kinds of restaurants at all prices.
SURF COURSE AND ACTIVITIES
---
SURF COURSE DETAILS
---
Surf is provided by our own surf school, the ratio of all our surf activities is 1 monitor for each 5. We provide all the possible surf services with or without transfer (group lessons, private lessons, beginners or advanced, Surf trips, off road surf trips. While you are staying with us surf is guaranteed because from our location we can easily move to a different conditions spot at a short distance.
---
SURF MATERIALS

---
All equipment is included and we have a large quiver with many different sizes of boards for all levels
---
OTHER ACTIVITIES

---
Many activities can be done around here like, bike rental or tour, walking tour, sightseeing, paintball, ziplinning, horse riding, golf…
MORE INFO, HOW TO GET THERE & FAQ
---
SURF CONDITIONS
---
Breaks directly at the main spot and at nearby spots
Very consistent beach breaks (Praia Grande, Praia das Maçãs) at a walk distance from Casa de Surf , and the great of all is that there is not so much crowded in the water. As this region is the most occidental spot of Europe, if there are no waves breaking here, you will not find them anywhere in Portugal. If it's too big we can always look around for some place like Carcavelos that rarely works during summer time.
Seasonal conditions
At Summer time water temperature should be around 18º to 20º and surf works almost everyday, during winter water can be like 12º and at this season sometimes we take surfing some great spots around that give the best of them at low season and with only a few guys in the water
Crowd factor and local people
As we say, local surfers are quite and peaceful, if you respect them they will respect you as one of them.
---
SURROUNDINGS / REGION
---
Characterization of surroundings/region
Nearby Sintra features renowned national landmarks, such as the Pena National Palace, the Moorish Castle and the Capuchos Convent. Cascais is a 32-minute drive and also has popular beaches. The Lisbon centre is 45 km away with great palces to visit and great night life
Activities and facilities
We are very pleased to show you what a amazing region we live in. Sintra mountains with all the magic and beautiful places to visit, wonderful beaches ,some of them not crowded, with a huge potential for water sports, excellent food with many an different kinds of restaurants. Discover our world!!
---
JOURNEY
---
Ways to get to the camp
You should fly to Portela International Airport that is 37 km from the Casa de Surf, then you can reach us by train or bus, you have a bus stop a 100 meters from the house. We can provide shuttle service from airport or train station to the camp.
PACKAGES & PRICES
---
Full House A - from 160 € per Week / min. 8 people

---
This package includes:

please fill in For a Large group or a family the House offers perfect conditions, with the generous living and dinning area, the kitchen is also prepared for a maximum of 12. So we want you to feel comfortable with us.
---
 6 Person Pack B - from 175 € per Week / min. 6 people

---
This package includes:

If your group or a family is not so large we made a smaller House pack with only 3 bedrooms but with the same house conditions, with the generous living and dinning area, the kitchen also fully equipped. So we want you to feel comfortable with us.
---
4 Person Pack C - from 220 € per Week / min. 4 people

---
This package includes:0

 This 4 person pack is not always available, so if you are thinking about it, please contact us first. It works the same way with the house facilities.
---
 Surf Suite D - from 350 € per Week

---
This package includes:

In the same building but completely independent there is this nice Suite, ideal for a couple with a small kid and for a very nice price.
All Surf packs are available with our Surf school for some very nice prices, all levels lessons, surf trips, surf guiding, rental…