ABOUT THE SURF CAMP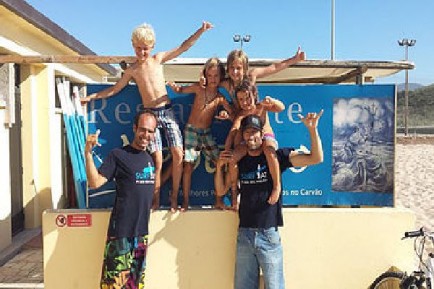 ---
LOCATION AND SURF CONDITIONS
---
Casa de Surf is located in close proximity to 3 beautiful Sintra beaches: Praia Pequena only 3 minutes, Praia Grande and Praia das Maçãs only 5 minutes away.
Restaurants, bars, Market are just at a short walking distance from Casa de Surf.
---
CAMP TEAM
---
Gonçalo Cabral (surf e bodyboard Trainer)
Founding father of Surf At;
Sports graduate by Lusófona University;
Trainer certified by Portuguese Surf Federation;
Sports teacher at official Portuguese School
Pedro Marques (Surf, Bodyboard, SUP, Skimming and Longboard Trainer)
Graduated in Surf & Performance by Lusófona University
Founding father of Surf At;
Life guard graduate
20 years of surf and Bodyboard Experience 
---
CAMP OPERATOR
---
Surf At Praia das Maçãs Surf School was founded in 2013 on two of the most beautiful and emblematic beaches of Sintra – Praia das Maçãs and Praia Grande. Our Surf School offers lessons to experienced and inexperience surfers of all ages and also Surf guide to the surrounding beaches or famous point breaks. Surf At Surf School is flourishing in the local community through his pleasure of teaching every single aspect of surf on the most easy, secure and fun way.  For that propose we have a large quiver adjustable to the level of each surfer and trainers with great surf knowledge and understanding of the ocean conditions to make your experience safe and secure. Our Team will be proud to be the one who pushed you on your first wave and to see your evolution making always sure that what you experience with us will be the one time memory that you will never forget about Portugal. Surf At is certified by the Portuguese Surf Federation. Surf At Surf School looks forward in meeting you.
See you in the water!!
ACCOMMODATION AND CATERING
---
ACCOMMODATION TYPES
---
The house is divided in 4 bedrooms with sleeping possibility up to 12 people, a comfortable and generous living / dining room and a fully equipped kitchen. Outside is a nice and quiet garden and barbecue facilities. 
We provide Free WI-FI and Satellite TV.
---
CATERING
---
fully equipped kitchen, barbecue facilities

Restaurants, bars, Market are just at a short walking distance from Casa de Surf.
SURF COURSE AND ACTIVITIES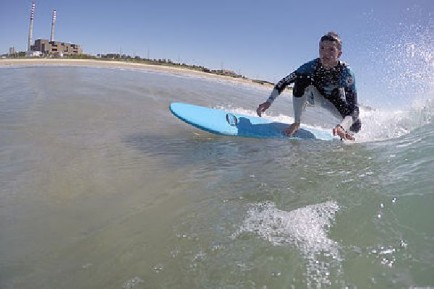 ---
SURF COURSE DETAILS
---
All the year, every day, at a timetable to be determined under the sea condition and tidal time, these lessons have lasting 1h30m and are monitored in the ratio of 1 instructor for every 5 students in order to waive the required attention and instruction to each student. All the equipment is included and adpated to the level of each surfer.
In private lessons, surfers experience all the comfort and enjoyment that result from individualized attention. In this type of class the teacher can give undivided attention to the student, transmitting information to the student's reality, adapting better equipment, sea conditions and your surfing level, in order to achieve results faster and more efficient.
---
SURF MATERIALS
---
Surf material can be provided.
---
OTHER ACTIVITIES
---
Functional Training 
Surf Guiding
MORE INFO, HOW TO GET THERE & FAQ
---
 SURROUNDINGS / REGION
---
Characterization of surroundings/region
Perfectly placed in walking distance to many beaches and to the main village. Only 20 minutes by car from Sintra or Cascais.

Our Surf House specializes in professional Surf Coaching & Guiding. We want you to surf at your best!
However we also offer many other fun activities for your stay with us. The beautiful coast line and Sintra mountains provide a breath taking environment for you to discover. 
Activities and facilities
Cycling, Walking Tours, Painball, Offroad Tours, Horse Riding
---
 JOURNEY
---
Ways to get to the camp
Lisbon and Airport can be reached in 35 minutes.
PACKAGES & PRICES
---
PACKAGE A  - from 560€ € per Week / Person
---
This package includes:

7 nights + Surf School Pack
5  Surf Lessons
includes daily transfer and surf equipment 
---
PACKAGE B  - from 750 € per Week / Person
---
This package includes:

7 nights + Surf School Pack
10 Surf Lessons
includes daily transfer and surf equipment
---
PACKAGE C  - from 550 € per Week / Person
---
 This package includes:

7 nights + Surf Guiding Pack
5 Surf Lessons
includes daily transfer
---
PACKAGE D  - from 650€€ per Week / Person
---
 This package includes:

7 nights + Surf Guiding Pack
5 Surf Lessons
includes daily transfer and surf equipment