ABOUT THE SURF CAMP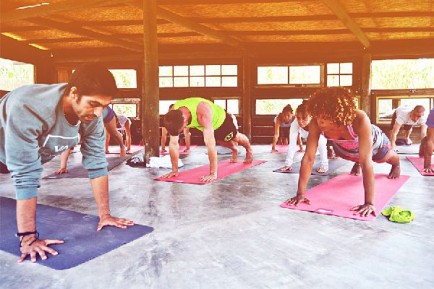 ---
CAMP CHARACTER
---
private classes, small groups
beginners, intermediate, advanced
---
CAMP OPERATOR
---
 Concept
How you put a concept into words that is best explained with a really big smile?
It is simply real happiness that the Star Pine Lodge wants to spread, not more and not less. And we know that everybody's happiness comes from very different impulses. So we tried to find as many positive impulses as possible and joined them together. What came out is the Star Pine Lodge. A place where you can happily be yourself.

 Team
Our team consists of people from all over the world. Some came for the sun, some for the fun, most came because of the different activities we have here. most of who have come to spend a couple of months and ended up staying years because there was just no good reason to leave! The fun we have living and working in this gorgeous part of the world reflects in our friendly, welcoming and caring atmosphere.

 Environmentally friendly
Nowadays it's getting really hard to say "we are eco friendly" as there are a million things we all should do to be really eco friendly. For us eco-friendly or sustainable is not a trend. We see it as a very important part of our lives and we hope you can join us on that journey during you stay. We are trying our best to make it happen but we know there is always room for trying harder.
Here are just some facts:
Our building material is all locally sourced. No long distance transport.
If we could not recycle furniture or wood we bought furniture from certified wood.
All our garbage will be separated and we try to make as little impact as possible.
As much as possible we will buy our ingredients locally, supporting local farmers and avoiding long distance transport. Like this you will find only the freshest and most tasty products on your plate.
If we can afford it we replace any energy consuming device with one that has a better efficiency. But we do not create more waste by replacing old for new just to look better.

Our main idea was to create a happy place where everyone can feel home. We think that an inspiring surrounding helps you to just be yourself and that is what the Star Pine Lodge is. Built by a team of travelers from all over the globe we managed to create a great mix of art and nature, color and forms, materials and styles which go side by side in harmony and make you feel welcome.

- Swimming pool: Refresh in our pool, enjoying a little splash from the waterfall.
- Yoga area: a 70sqm covered and semi-closed yoga area with sea view
-  Garden: relax in the garden, sun-bathing beside the pool or chilling in the shade of the star pines.
- BBQ area: with a daily fish market and several butchers around, feel free to light up a fire and enjoy a BBQ any time.
- Chill-out lounge: a cozy lounge area with comfortable sofas, TV and a fireplace
ACCOMMODATION AND CATERING
---
ACCOMMODATION TYPES
---
All rooms are different and designed with the lowest environmental impact we could do. We up- and recycled most material and used new materials from local producers where possible. All rooms feature high quality anti-allergy mattresses from Molaflex, because we know the importance of a good night's sleep.

double room w/ private bathroom: as double or twin room set up

single room w/ private bathroom

double room w/ shared bathroom: as double or twin room set up

single room w/ shared bathroom

4-bed room w/ private bathroom: as double or twin bed set up + bunk bed
---
CATERING
---
included

Breakfast buffet
: From 8:00 – 11:00 a.m. you´ll find yourself struggling to decide at our rich breakfast buffet: choose between various kinds of fresh bread and rolls, cereals, jams, honey, different kinds of ham and cheese, vegetables, fruit, eggs, yoghurt, milk, soy milk, coffee, tea, water, juices and more. Don´t they say it´s the most important meal of the day?
Lunch pack
: Pack yourself a lunch at our breakfast buffet, including a self made sandwich, a 0,5L drink, a fruit and a cereal bar. Ready for an exciting day!
Fresh fruits and tea all day


Common kitchen: you find a fully equipped communal kitchen at your disposal
not included in the package:BBQ:
Enjoy a nice glass of wine or beer while waiting for fresh fish, tasty meat and fresh vegetables gaining that special BBQ flavor. BBQs connect people.
Dinner:
We can arranged 3 course Dinners for groups of min. 8 Persons. This Service is not always available and need to be booked in advance.
SURF COURSE AND ACTIVITIES
---
SURF COURSE DETAILS
---
We offer surf classes for all levels: complete beginners, intermediate, and advanced. Our certified and experienced instructors will introduce you to the basics of surfing or help you to get your surfing to the next level. Small groups ensure individual coaching.

With many surf spots to choose from, we take you to the best beach of the day, always trying to find the right conditions for you.

Our surf classes run 7 days a week, either as half day classes (one 2 hours session) or full day classes (two 2 hours sessions). Feel free to start any day.

Surf classes at a glance:

-   Classes for all levels (beginner, intermediate, advanced)
-   Half day (1x 2 hrs per day) or full day (2x 2 hrs per day) packages available
-   Certified and experienced local instructors
-   Material included: quality surfboards and wetsuits
-   Transport to and from surf spot included
-   Insurance during surf classes included
---
SURF MATERIALS
---
Material included: quality surfboards and wetsuits
Insurance during surf classes included
---
OTHER ACTIVITIES
---
YOGA
Twice a day we welcome you to join our yoga classes in our spacious yoga pavilion with ocean view that can be opened or closed according to weather conditions. We offer different styles of yoga during the week. The classes are 1 ½ hours in the morning and 1 hour in the afternoon.
Choose between our full yoga package (2 sessions per day) or half yoga package (1 morning session per day), or book our afternoon yoga session as the perfect complement to any other activity whenever you feel like it. Yoga runs 7 days a week, and you are free to start any day. All levels are welcome.

Yoga classes at a glance:

-  experienced instructors
-  1,5 hrs morning class
-  1 hr afternoon class
-  7 days a week
-  start any day
-  yoga mats, blocks and blankets provided
-  all levels
-  perfect to combine with any other sport

The classes provide you with an energetic start into the day and help you to relax your mind and body. Feel free to join them when you feel like it.

CLIMBING
Discover one of Europe`s lesser known yet more diverse climbing areas. Within a radius of 50 km you have more than 40 climbing spots at your disposal, with the majority of them right at our doorstep in the Natural Park of Sintra-Cascais. Our certified and experienced guides will share their profound local knowledge with you and present you a new challenge daily, always according to your personal level. Professional advice will push your climbing to a new level during your stay with us. No matter if it is your first steps outside your local indoor climbing gym or you simply want to improve your rock climbing techniques, our guides will find just the right spot for you.

You can choose between top-rope climbing, bouldering or lead climbing.

Climbing at a glance:
- Certified and experienced local guides
- Half day (+/- 3 hrs) and full day (+/- 6 hrs) available
- Selection of spots and routes according to personal level
- General information about the spot
- Technical advice
- Material provided
- Transport to and from climbing spots
- Insurance during classes/ guiding included

MOUNTAIN BIKING
The Natural Park of Sintra/ Cascais with its 145 km² rises up to 529m (1736ft) to its highest point in the Serra the Sintra, and allows for great mountain biking through its dense forests or along its rugged coastline. The variety of single tracks, easy going forest roads, flow rides and downhill tracks is endless and the diversity of our microclimate will blow your mind.
You can choose between guided tours, GPS tours and downhill.
The guided/ GPS tours will take you along single and double track trails and dirt roads, where breathtaking views and stunning scenery await you.
Our downhill package will take you to the mountain top by shuttle, send you down a large variety of tracks, and give you a lift back up after every adrenaline-filled ride.
Mountainbiking at a glance:
- Certified and experienced local guides
-  Half day (+/- 3 hrs) and full day (+/- 6 hrs) available
-  Guided tours/ downhill according to level
- Technical advice and safety check
-  Insurance for guided tours included
-  Bike shack for safe storage and work station with tools are located at the MTB meeting point (400m up the road)
-  Bikes and protection gear for rent

And many more...

Kitesurf
Windsurf
Hiking
SUP
Horseback Riding
Skateboarding
Golf

MORE INFO, HOW TO GET THERE & FAQ
---
 SURROUNDINGS / REGION
---
Characterization of surroundings/region
Our surrounding is so diverse that we would have to write a book about all the things you can see, experience and discover here. If you cannot find what you are looking for here, then you won't find it anywhere. That we can promise.
Some helpful facts:

Beaches:
- Praia Grande Beach: approx. 500m, 7 min. walking
- Praia Pequena Beach: approx. 400m, 6 min. walking
- Praia das Maçãs Beach: approx 1000m, 15 min walking
- Azenhas do Mar Beach: 3,5km

Towns &Village:
- Praia das Macas: (supermarket, fish market, pharmacy, etc.): 1,5 km
- Colares Village (supermarket, butcher, pharmacy etc.): 3km
- Sintra: 10km, 15min by bus
- Cascais: 20km, 25min by car
- Lisbon Center: 40km, 45min by car/ 35min by train from Sintra
- ATM: 600m, 7min walking
- Lisbon Airport: 40km, 35min by car

Natural Park
The Sintra-Cascais Natural Park has been protected since 1981. Its area is approximately 145 km²and includes the "Serra de Sintra" a Mountain Range that extends all the way the the coast, and Cabo da Roca, continental Europe's westernmost point. It was known to the Ancient World as Lunae Mons (mountains of the Moon).
Its climate is temperate with many oceanic influences. It also has a unique vegetation. About nine hundred plant species are indigenous.
In it are located: the Moorish Castle, the Pena Palace, the Capuchin Convent, the Sintra National Palace, the Palace of Monserrate and the Quinta da Regaleira.
For us it is one of the most divine natural places on the Iberian Peninsula.

Sintra is known for its many 19th-century Romantic architectural monuments, which has resulted in its classification as a UNESCO World Heritage Site. Although its heritage in buildings and nature is the most visible face of the historic individuality of Sintra, a whole literary heritage has made the area a legendary reference in Portuguese culture. In addition to the Sintra Mountains and Sintra-Cascais Nature Park, the parishes of the town of Sintra are dotted with royal retreats, estates, castles and other buildings, including the mediaeval Castelo dos Mouros, the Pena National Palace and the Sintra National Palace.

Cabo da Roca is a cape which forms the westernmost extent of mainland Portugal
and continental Europe(and by definition the Eurasian land mass).
The western coast is a mixture of sand beaches and rocky cliff promontories: around Cabo da Roca, cliffs are more than 100 metres in height, and cut into crystalline rocks, composed of strongly folded and faulted sedimentary units.
Many migratory and marine birds roost temporarily along the cliffs and protected coves of the coastal area.

Cascais/Estoril
It is a cosmopolitan suburb of the Portuguese capital and one of the richest municipalities in Portugal. The former fishing village gained fame as a resort for Portugal's royal family
in the late 19th century and early 20th century. Nowadays, it is a popular vacation spot for both Portuguese and foreign tourists. It is located on the Estoril Coast. It is not only one of the richest areas of Portugal but also one of the nicest and well preserved. The historical town and the old harbor are a perfect place to stroll along.

Lisbon
We will not write much about Lisbon as it is hyped enough. All we can say is that most of the nice things you read about Lisbon are true and after 15 years of living here we still have a smile on our face when we go for a visit.


Activities and facilities
Pool
Yoga & Fitnesspavillion
Garden
Chill-Out Lounge
Massage
Guided Tours

---
 JOURNEY
---
Ways to get to the camp
Taxi, Transfers
Public transportation
Car & Car rental
PACKAGES & PRICES
---
FULL DAY SURF PACKAGE  - from 485 € per Week / Person

---
This package includes:
7 nights in the room of your choice
Breakfast buffet
5 days of surf classes, 2x 2 hrs session per day, 20 hrs in total
Surfboard according to level and appropriate wetsuit
Transport to and from surf spot
Fresh fruits and tea all day
Free use of Pool, Fitness Area, Garden, Chill-out-Lounge
WiFi
Lunch package
If wished you can book as extra evening Yoga session or try our climbing courses and mountain biking
The activities need a minimum of 2 persons. Depending on the capacity there are not always available.

LOW SEASON
double w / private bathroom: 555 € / week
double w/ shared bathroom: 485 € / week

MID SEASON
double w / private bathroom:  625 € / week
double w/ shared bathroom:  555 €/ week

HIGH SEASON
double w / private bathroom: 730 € / week
double w/ shared bathroom: 660 € / week

single room +25,- day, + 175,- week
---
PACKAGE HALF DAY SURF PACKAGE  - from 360 € per Week / Person
---
This package includes:

7 nights in the room of your choice
Breakfast buffet
5 days of surf classes, 1x 2 hrs session per day, 10 hrs in total
Surfboard according to level and appropriate wetsuit
Transport to and from surf spot
Fresh fruits and tea all day
Free use of Pool, Fitness Area, Garden, Chill-out-Lounge
WiFi
Lunch package
If wished you can book as extra evening Yoga session or try our climbing courses and mountain biking
The activities need a minimum of 2 persons. Depending on the capacity there are not always available.

LOW SEASON
double w / private bathroom: 430 € / week
double w/ shared bathroom:  360 €/ week

MID SEASON
double w / private bathroom: 500 € / week
double w/ shared bathroom:  430 € / week

HIGH SEASON
double w / private bathroom: 605 € / week
double w/ shared bathroom:  535 € / week

single room +25,- day, + 175,- week
---
PACKAGE FULL DAY PRIVATE SURF CLASSES / GUIDING  - from 710 € per Week / Person
---
 This package includes:

LOW SEASON
double w / private bathroom:  780 € / week
double w/ shared bathroom: 710 € / week

MID SEASON
double w / private bathroom:  850 € / week
double w/ shared bathroom: 780 € / week

HIGH SEASON
double w / private bathroom:  955€ / week
double w/ shared bathroom: 885 € / week

single room +25,- day, + 175,- week
---
PACKAGE HALF DAY PRIVATE SURF CLASSES / GUIDING  - from 535 € per Week / Person
---
 This package includes:

7 nights in the room of your choice
Breakfast buffet
5 days of surf classes, 1x 2 hrs session per day, 10 hrs in total
Surfboard according to level and appropriate wetsuit
Transport to and from surf spot
Fresh fruits and tea all day
Free use of Pool, Fitness Area, Garden, Chill-out-Lounge
WiFi
Lunch package
If wished you can book as extra evening Yoga session or try our climbing courses and mountain biking
The activities need a minimum of 2 persons. Depending on the capacity there are not always available.

LOW SEASON
double w / private bathroom: 605 € / week
double w/ shared bathroom:  535 € / week

MID SEASON
double w / private bathroom: 675 € / week
double w/ shared bathroom:  605 € / week

HIGH SEASON
double w / private bathroom: 780 € / week
double w/ shared bathroom:  710 € / week
single room +25,- day, + 175,- week