ABOUT THE SURF CAMP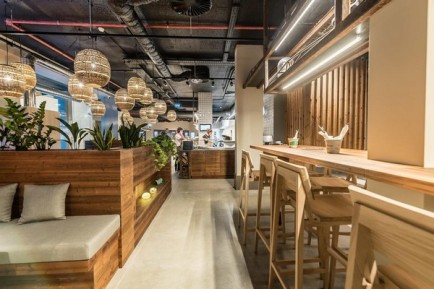 ---
LOCATION AND SURF CONDITIONS
---
You and The Sea is the ideal place for those looking for surf lessons. Ericeira is a world surfing reserve, perfect for both beginner and advanced level surfers. The waves and lines with its team of friendly and highly qualified teachers is our partner school
---
CAMP CHARACTER
---
All level surfers are welcome and you can choose from group lessons to private lessons or to surf guides. We are always ready to welcome you for an unforgettable experience.
---
CAMP OPERATOR
---
Please contact You and the sea in order to organize your activities.
ACCOMMODATION AND CATERING
---
ACCOMMODATION TYPES
---
APARTMENTS
You and the Sea has 35 apartments with daily hotel service. Choose from our studios which comfortably accommodate two people or one of our larger apartments which can be perfect for groups or families.
---
CATERING
---
JANGADA RESTAURANT
The Jangada Restaurant, Infame's youngest brother in Lisbon, is an open space for everyone with a relaxed and familiar atmosphere, an open kitchen and a superb view of the sea.
Jangada's menu, developed by chef André Rebelo, highlights the diversity of the region with fresh and authentic flavors
SURF COURSE AND ACTIVITIES
SURF COURSE DETAILS
---
Please contact You and the sea in order to get information about the surf course details.
---
SURF MATERIALS
---
Participants can bring the surf equipment, or they can rent on the surf camp
---
OTHER ACTIVITIES
---
Ericeira is a coastal village in the western region famous worldwide for the quality of its beaches and perfect waves that are amazing for surfing. It is also in this region of Mafra where nature shows us the beauty and diversity of the landscapes. You and the Sea staff, familiar with the neighbourhood, offers to all its guests various activities and equipment so that they can make the most of their stay and improve their well-being.
MORE INFO, HOW TO GET THERE & FAQ
-
PACKAGES & PRICES
---
PACKAGE A

---
Surf and you
Learn to surf with us on the waves of Ericeira. For two or as a family.
- 2 nights of accommodation with breakfast included
- Welcome drink on arrival day
- Surf class for two with all the included material
- Lunch Box for two with drinks included*
- Visit to a local surfboard factory (except sundays)
*on a selection of soft drinks 
Offer subject to availability at the time of booking. Offer not cumulative with other promotions. Valid only for direct bookings with You and the sea. Also available for families and groups.

Please enquiry for updated prices.