ABOUT THE SURF CAMP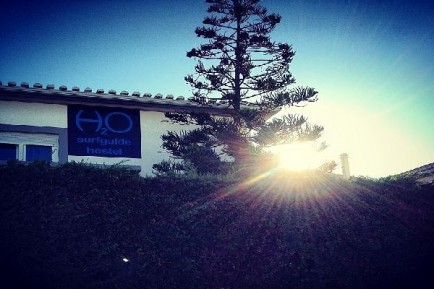 ---
LOCATION AND SURF CONDITIONS
---

Baleal is a real "surf town" with relaxing, peaceful and cheap life style. 
Good vibes are on the air.
Furthermore It is renowened for its beach bars that lively up the night, especially in the summertime. 


ACCOMMODATION AND CATERING
---
ACCOMMODATION TYPES
---

The hostel has a wide ocean-inspired lounge where you relax and catch up with our TV with international channels, chill on the sofa or on the super comfortable XL puff and hammock, enjoy meals on the long dinning table.
There is also a full equipped kitchen to store the food and for self catering. Moreover the hostel is featured by the surfboards room to rest your boards, the wetsuits room with shower to wash and dry your wetsuit, bathroom, toilet, barbecue and an outside area with garden to unwind. 
The hostel offers 3 kinds of accomodation:
A suite with double bed, wardrobe, private bathroom and private terrace for your peaceful moments. 
A twin room with two single beds, wardrobe and view to the garden. 
A quadruple room with two bunk beds, wardrobe and terrace where you can relax under the sun. 
The hostel is 300 meters away from the beach and has free internet WIFI connection.
Sheets and 2 bathroom towels are provided on arrival.


SURF COURSE AND ACTIVITIES
---
SURF COURSE DETAILS
---

The surf lessons are specific for intermediate and advanced level by Instructor qualified with 2 certifications: ISA (International surfing association) license and FPS (Portugal surf federation) license.
The lessons are PRIVATE or SEMIPRIVATE, from 1 to 4 students per lesson depending on the number of reservations.
The lesson includes choice of the best time and best spot of the day, transport to and from the spot, theoretical and pratical support that you need to improve your surfing techniques.
---
OTHER ACTIVITIES
---

Other activities that you can practic in the area are long-skating, skate park skating, tennis, snorkeling, fishing, yoga


MORE INFO, HOW TO GET THERE & FAQ
---
SURF CONDITIONS
---

Peniche has 15 surf spots that develop around the peninsula of Peniche and the peninsula of Baleal in just 10 km. 
Due to this particular geographic conformation the spots have all different direction and type of wave one from the other: powerful and fast beachbreaks, soft and long beachbreaks, reffbreaks. 

Depending on the direction of the wind, swell, taste and skills of the surfer you can choose one spot or the other.


---
SURROUNDINGS / REGION
---

The H2O Surfguide Hostel is located in the beautiful area of Baleal, Peniche.
Both are two peninsulas, within 4 km distance one from each other. 
Baleal is surrounded by blue ocean, waves and its joyful scenery: Golden beaches, reefs, red cliffs and characteristic flora. 
---
JOURNEY
---

The closest airport is Lisbon airport, 90 km from the Hostel
From Lisbon airport you can get here by our shuttle service on request or by bus.


PACKAGES & PRICES
---
Only Accommodation
---
(price per person per night)


| | | | | | | | | | | | | | | | | | | | |
| --- | --- | --- | --- | --- | --- | --- | --- | --- | --- | --- | --- | --- | --- | --- | --- | --- | --- | --- | --- |
|   |   |   |   |   |   | A |   |   |   |   |   | B |   |   |   |   |   | C |   |
|   |   |   |   |   |   |   |   |   |   |   |   |   |   |   |   |   |   |   |   |
| From November to April:  |   |   |   |   |   | 18 € |   |   |   |   |   | 15 € |   |   |   |   |   | 12 €  |   |
|   |   |   |   |   |   |   |   |   |   |   |   |   |   |   |   |   |   |   |   |
| May, June, September, October:   |   |   |   |   |   | 25 €  |   |   |   |   |   | 22 €  |   |   |   |   |   | 18 € |   |
|   |   |   |   |   |   |   |   |   |   |   |   |   |   |   |   |   |   |   |   |
| July, August:  |   |   |   |   |   | 30 € |   |   |   |   |   | 27 € |   |   |   |   |   | 23 € |   |
(A= Couple room ensuite , B=Twin room , C=Quadruple room)



---
Surf lessons
---
(price per day, 2 lessons, surf material not included)


From November to April:         40 €
From May to October:             50 €
---
Week package: 
---
7 nights + 10 surf lessons, surf material not included


| | | | | | | | | | | | | | | | | | | | |
| --- | --- | --- | --- | --- | --- | --- | --- | --- | --- | --- | --- | --- | --- | --- | --- | --- | --- | --- | --- |
|   |   |   |   |   |   | A |   |   |   |   |   | B |   |   |   |   |   | C |   |
|   |   |   |   |   |   |   |   |   |   |   |   |   |   |   |   |   |   |   |   |
| From November to April:  |   |   |   |   |   | 290 € |   |   |   |   |   | 270 € |   |   |   |   |   | 250 € |   |
|   |   |   |   |   |   |   |   |   |   |   |   |   |   |   |   |   |   |   |   |
| May, June, September, October:   |   |   |   |   |   | 350 € |   |   |   |   |   | 330 € |   |   |   |   |   | 290 € |   |
|   |   |   |   |   |   |   |   |   |   |   |   |   |   |   |   |   |   |   |   |
| July, August:  |   |   |   |   |   | 390 € |   |   |   |   |   | 370 € |   |   |   |   |   | 350 € |   |