ABOUT THE SURF CAMP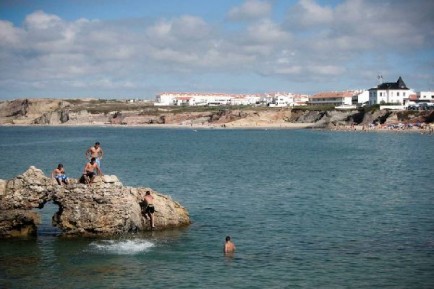 ---
LOCATION AND SURF CONDITIONS
---
The Surfcastle is right at the edge of this peculiar beach. Baleal is a unique place because it has surf spots facing north and also facing south. This special geographical situation makes it excelent for surfing , with any wind direction you will allways have a surfable spot.
The city of Peniche is just 3 Km away from the Surfcastle. It's still one of the major harbours in Portugal and the main industry is fishing. Most of the nice restaurants in the area are located in Peniche. The most famous attractions are the old fortress, the city center and the scenic road that goes around the town called marginal norte.
Our summers are hot and sunny, but despite this Mediterranean climate our northerly winds tend to make summer nights chilly, so bring a nice warm sweater.
The average high temperature in winter is around 17 degrees celsius and we get many sunny days. Although we don't have the warmest winter, we are blessed with world-class waves and predominant mellow offshore winds.
---
CAMP OPERATOR
---
JOAO GAUCHO (FOUNDER & MANAGER)
João was born in 1976 and has a background in business administration. He finished his bachelor studies in 1999 and after that he worked for 6 years in Unilever as a category manager. His main responsibilities in the Surfcastle are finance, sales and public relations. João started surfing 8 years ago and tries to go out at least once every day. He has been living in the Surfcastle since 2007 and is always keen to welcome newcomers and regular guests.
GINJAS (FOUNDER & TECHNICAL DIRECTOR)
Pedro was born in 1975 and grew up on the Island of Baleal where he got his first surfboard when he was five years old, and he's never stopped surfing ever since. In 2001 he finished his bachelor degree in communication and film. During his studies he worked as an actor in a Portuguese soap opera and directed several films and television pragrams. Subsequently Pedro worked in several surfcamps in Brazil and Portugal as a surf instructor before starting the Surfcastle with João.
ACCOMMODATION AND CATERING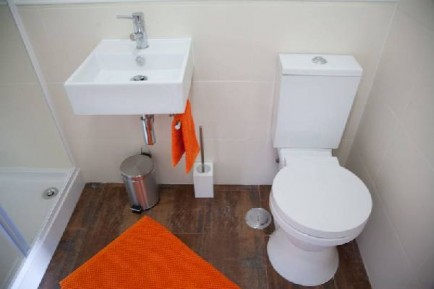 ---
ACCOMMODATION TYPES
---
CASA GRANDE
Casa Grande is the main house in the midde of our property, with all 5 bedrooms offering views across the spectacular coastline. No other house in the area sits in a position like the Surfcastle does; we offer the finest location in Baleal. Since 1922, the house was used as a family holiday residence for many decades and much of the orignal furniture still exists to this day, making Casa Grande an authentic and vintage Portuguese experience. All bedrooms have uninterrupted views of the coastline, and our lounge has four floor to ceiling windows that look out onto Lagide, the famous reef break right on our back yard.
We have a variety of outdoor areas for you to enjoy during your stay at the Surfcastle. Our garden is ideal for football, surf warm ups or yoga and our terraces always catch the sun regardless of the wind direction. The atmosphere in the Surfastle is that of warmth and cosiness throughout all our relaxing chillout areas. Our lounge is the perfect place to watch the surf endlessly from any angle, be it standing on the terrace, or relaxing on the comfortable sofas.


CASA DA GUARDA
The casa da gaurda is located next door to the main house and offers perfect accomodation for groups and families, providing self contained living in a charming house with 3 bedrooms. Guests of the small house have access to all the facilities of the main house. All rooms of casa da gaurda have views of the famous Lagido surf sport or the Beglas coast. The kitchen in particular provides the perfect place to cook a meal with your friends or family and watch the waves. The small house has it's own special atmosphere provided by it's comfortable lounge with fireplace, private kitchen and bathroom. Guests of the small house can also share in the warmth and comfort of the main house, where they will be enjoying breakfast every morning. The small house has it's own back yard right on the cliffs, where you can enjoy the sea views. We also have a variety of other outdoor areas for you to enjoy during your stay at the Surfcastle. Our front garden is ideal for football, surf warm ups or yoga and you can always find a windless, sunny spot on one of our many terraces. 


THE STUDIOS
The studios are located inside the Surfcastle property right next to the main house and offers perfect private accomodation for families, couples and small groups. The modern and stylish apartments provide self-contained living with west facing windows that catch sunshine all day. The atmosphere is that of warmth and cosiness throughout all our relaxing chillout areas. The lounge of the main house is the perfect place to watch the surf endlessly from any angle, be it standing on the terrace, or relaxing on the comfortable sofas. You also enjoy breakfast every morning in the main house. We have a variety of outdoor areas for you to enjoy during your stay at the Surfcastle. Our front garden is ideal for football, surf warm ups or yoga and you can always find a windless, sunny spot on one of our many terraces.


---
CATERING
---
We offer a rustic, continental breakfast with freshly baked bread with cheese and ham, and a selection of conserves (jams) and honey, yoghurt's, milk, cereal and fresh fruit, along with tea, coffee and juices. Our breakfast is famous amongst our guests, and we're sure you'll love it too.
SURF COURSE AND ACTIVITIES
---
SURF COURSE DETAILS
---
The Surfcastle surf school as been working since 2007 bringing unique surf experiences to all our trainees. We take into account both physical and technical characteristics of each surfer who comes to our academy, giving tailored and personalised coaching. Our head surf coach is Pedro "Ginjas" Pulido Valente, who has been surfing at Baleal for the last twenty years and training surfers for the last ten years. All our teachers are very experienced surfers and have been approved by the FPS - Federação Portuguesa de Surf (Portuguese Surf Federation).
We only have a maximum of 6 trainees per teacher, allowing us to offer a much more intimate and focussed surf school service compared with other local schools. We feel strongly that every trainee is different and requires equal attention out in the water. Our coaches see every wave of each student and will monitor progress closely, giving advice and feedback at the beach and also in the water, as well as filming you while you surf to offer feedback in the comfort of the Surfcastle lounge.
We have unrivalled knowledge of the local surf spots, being pioneers in surf coaching in this reigon. Rather than stick to a rigid timetable, you can rely on your coach to take you to the ideal surf spot for your lesson every day, or even twice a day.
A typical lesson lasts around 90 minutes, and you can expect a method of teaching that can suit all kinds of ability, age and knowledge. We try to make lessons as personal as possible, and our surf teachers are trained to give you all the feedback you need to learn or improve your skills.
Surfboards and wetsuits are provided as part of the surf lesson.
We use video to film all our students and help them improve their surfing skills.
BEGINNER
Intro to the surf material
Geography of Peniche and it's influence in surfing
Beach analysis and specific conditions
Paddling technique, sitting and turning the board
Safety rules
Duck diving and eskimo roll
Take off, surf the white water
History of surf
Priority rules
Learn the timing and positioning to catch white waters
INTERMEDIATE
Intro to surfing in Peniche
Surfer's diagnosis
Help on material choice
Drop a wave, bottom turn and surf the green wall
Basic surf techniques
Rules of priority
How a surfboard works
Approach to different wave types and different surf styles
Bottom turn and it's influence on the correct line to draw on a wave
Intro into advanced manoeuvres
Learn the rules of competition
Glimpse on advanced manoeuvres
Basics of surfboard shaping
ADVANCED
Transport to best wave of the day
Tour around the main surf spots of the Peniche area
Guidance and technical support for big wave riding
Access to a wide range of Lost Surfboards
Access to resin and fibre glass to fix your boards
Meet the locals
Video assitance
---
SURF MATERIALS
---
We use the best materials and our teachers are highly qualified in order to provide our guests with the best surfing experience. The equipment selected for you will closely match your surfing ability, and we'll always make sure your progression matches the gear you take out. The Surfcastle surf material is made by some of the best brands in the market and we always try to match the equipment we give you to your surfing abilities. 
We have a wide range of warm, comfortable wetsuits (for children, women and men) and a range of surfboards from soft beginner boards to advanced Lost fibreglassed boards.
For the advanced surfers we have a big range of LOST surfboards with FCS fins. Our head surf coach Ginjas can help make an expert decision about the right board for you depending on your experience and surf conditions on the day.
When you book any full pack at the surfcastle, not only will be provided with the best surf material, you will also be able to use the gear for free surfs on your own when your surf skills are ready.
---
OTHER ACTIVITIES
---
Around the Surfcastle there are plenty of nice activities besides surfing that can complement your holidays. If you are seeking for different activities, then one of the Surfcastle team members can organise them accordingly.

- KITE SURFING
- FISHING TRIPS
- GO KARTING
- BOAT TRIPS TO BERLENGAS
- TENNIS
- GOLF
- POOL & SNOOKER
MORE INFO, HOW TO GET THERE & FAQ
---
SURF CONDITIONS
---
We have temperate waters that range between 14 and 20 degrees celsius throughout the year. In the winter the water is cold and we use a 4/3 mm wetsuit. In summer the water is cool and we surf most of the days with a spring suit a 3/2 mm, although we have some days in summer where you can get out in board shorts.
OUR SEASONS:
SPRING: 21 March — 20 June
SUMMER: 21 June — 20 September
AUTUMN: 21 September — 30 October
WINTER: 1 November — 20 March
---
SURROUNDINGS / REGION
---
OBIDOS
The medieval village of Obidos is very rich in history and is 25 Km away from the Surfcastle… this very old town is surrounded by huge stone walls that were used to protect the citizens from fierce invaders during the medieval age. Nowadays Obidos is a major tourist attraction in Portugal. This place is considered world heritage by Unesco and is one or the best preserved medieval villages in the world.

LISBON
The capital of Portugal is 90 Km away from the Surfcastle. Its worthwhile visit Lisbon in the begining or in the end of your trip because the closest international airport is actually in Lisbon. There are fantastic hotels in Lisbon that we can reccomend to you to make your stay very pleasant. Explore the old neighbourhoods of Alfama; Graça; Baixa, Bairro Alto and Belem.

SINTRA & CASCAIS
We recommend a day trip to this area starting from Cascais. Explore the nice beaches that surround this magnificient town and then take the road scenic road that goes from Cascais to Sintra. In Sintra you will find a fairytale town (world heritage). Palácio da Pena and the muslim castle are both must sees in Sintra.

CALDAS DA RAINHA
This city is just 30 Km away from the Surfcastle and is known for is thermal hospital that used to be frequented by the Queen of Portugal. The therapeutic and medical baths are still very famous in the area. The city center is very nice with cobbled stone streets and quaint shops. There is also a street market in the main square that is well worth visiting, with vivid produce including flowers and farm produce from the surrounding areas.

Activities and facilities
The Surfcastle is conveniently located within reach of many facilities and amenities.
RESTAURANTS & BARS
Baleal has several charming cafes, bars and restaurants that offer freshly made snacks, locally caught fish and a variety of beverages. Many of these have stunning views of Baleal Bay. Peniche, a small fishing city just 4km (5 minutes drive) from Baleal offers many restaurants with fantastic food with the best meat, fish and wine Portugal has to offer. Ask a Surfcastle team member for a restaurant recommendation, and we'll be happy to book a table or taxi for your evening out.

SUPERMARKETS
There is a small supermarket 5 minutes walk from the Surfcastle, and larger Supermarkets in nearby Peniche.

BANKS & ATMS
The supermarket in Baleal has a multi-bank ATM, and nearby towns of Ferrel and Peniche offer full banking facilities.

NIGHTLIFE
During the Summer, Baleal offers fantastic beach-side parties at Bar da Praia and Bar da Bruno; both 5 minutes walk from the Surfcastle.

MEDICAL
The nearby city of Peniche has a hospital, and Ferrel has a pharmacy that is open late until late at night.

---
JOURNEY
---
You can fly to Lisbon, Porto and Faro. Porto international airport is about 250 km away. We have a few guests that fly into Porto, rent a car and drive down. (Its about 3 hours drive by car)
You can also fly into Faro airport which is 365 Km away from the Surfcastle (about 4 hours drive by car).
Lisbon is the closest airport, it is just 90 Km away (60 miles). It takes about an hour to get here by car and there are several busses driving to Peniche.
Take the A8 in the direction of Leiria and drive for 70 Kms until you find exit nº14 to Peniche. Enter the IP6 and follow the direction to Peniche. When you arrive in Peniche you will find a series of rundabouts. On the first 2 roundabouts, you should go straight. On the 3rd roundabout turn right on the 1st exit to Baleal. After 5 minutes driving along the dunes you'll see the ocean on your left side and the Surfcastle right in front of you. The address of the Surfcastle is Avenida do Mar N186 - Praia do Baleal.
There isn't a direct bus from the Lisbon airport to the Surfcastle.
However you can take a taxi (10 Euros) from the Airport to one of the following bus stations:

a) Sete Rios Bus station (10 Euros)
b) Campo grande Bus station (10 Euros)

Just let us know what time your bus arrives in Peniche and one of us will pick you up at the station. Make sure you go all the way until the bus stops in the last & terminal station.
PACKAGES & PRICES
---
PACKAGE A - Main House from 350 € per Week / Person
---
| | | | | | | | | | | | | |
| --- | --- | --- | --- | --- | --- | --- | --- | --- | --- | --- | --- | --- |
| Bed & Breakfast (B & B) |   |   | spring |   |   | summer |   |   | autumn |   |   | winter |
|   |   |   |   |   |   |   |   |   |   |   |   |   |
| 1 night single |   |   | 85 € |   |   | 95 € |   |   | 90 € |   |   | 60 € |
| 1 night double |   |   | 110 € |   |   | 130 € |   |   | 120 € |   |   | 90 € |
| 1 week single * |   |   | 490 € |   |   | 625 € |   |   | 525 € |   |   | 350 € |
| 1 week double * |   |   | 680 € |   |   | 840 € |   |   | 760 € |   |   | 550 € |
|   |   |   |   |   |   |   |   |   |   |   |   |   |
| Full Pack (B & B + Surf School) |   |   |   |   |   |   |   |   |   |   |   |   |
| | | | | | | | | | | | | | | | | |
| --- | --- | --- | --- | --- | --- | --- | --- | --- | --- | --- | --- | --- | --- | --- | --- | --- |
| 1 week single |   |   |   | 690 € |   |   | 825 € |   |   |   |   |   | 725 € |   |   | 550 € |
| 1 week double (price per person) |   |   |   | 540 € |   |   | 620 € |   |   |   |   |   | 580 € |   |   | 475 € |

This package includes:

FULL PACK 7 nights accommodation with breakfast
5 days surf lessons
7 days surf Equipment
Surf Insurance
Welcome dinner
Daily surf transport
B & B Accomodation Breakfast * Welcome dinner
---
PACKAGE B - Small House from 300 € per Week / Person
---
| | | | | | | | | | | | | | | | | |
| --- | --- | --- | --- | --- | --- | --- | --- | --- | --- | --- | --- | --- | --- | --- | --- | --- |
| B & B |   |   |   | spring |   |   |   | summer |   |   |   | autumn |   |   |   | winter |
|   |   |   |   |   |   |   |   |   |   |   |   |   |   |   |   |   |
| 1 night single |   |   |   | 55 € |   |   |   | 70 € |   |   |   | 60 € |   |   |   | 47 € |
| 1 night double |   |   |   | 80 € |   |   |   | 100 € |   |   |   | 85 € |   |   |   | 65 € |
| 1 week single * |   |   |   | 355 € |   |   |   | 425 € |   |   |   | 370 € |   |   |   | 300 € |
| 1 week double * |   |   |   | 510 € |   |   |   | 660 € |   |   |   | 520 € |   |   |   | 410 € |
|   |   |   |   |   |   |   |   |   |   |   |   |   |   |   |   |   |
| Full Pack (B & B + Surf School) |   |   |   |   |   |   |   |   |   |   |   |   |   |   |   |   |
| | | | | | | | | | | | | | | | | | | | |
| --- | --- | --- | --- | --- | --- | --- | --- | --- | --- | --- | --- | --- | --- | --- | --- | --- | --- | --- | --- |
|   | 1 week single |   | 555 € |   |   |   | 625 € |   |   |   |   | 570 € |   |   |   |   |   |   | 500 € |
|   | 1 week double (price per person) |   | 455 € |   |   |   | 530 € |   |   |   |   | 460 € |   |   |   |   |   |   | 405 € |

This package includes:

FULL PACK 7 nights accommodation with breakfast
5 days surf lessons
7 days surf Equipment 
Surf Insurance 
Welcome dinner 
Daily surf transport 
B & B Accomodation Breakfast * Welcome dinner
---
PACKAGE C - Studios from 455 € per Week / Person
---
| | | | | | | | | | | | | | | | | |
| --- | --- | --- | --- | --- | --- | --- | --- | --- | --- | --- | --- | --- | --- | --- | --- | --- |
| B&B |   |   |   | spring |   |   |   | summer |   |   |   | autumn |   |   |   | winter |
|   |   |   |   |   |   |   |   |   |   |   |   |   |   |   |   |   |
| 1 night single |   |   |   | 100 € |   |   |   | 115 € |   |   |   | 105 € |   |   |   | 75 € |
| 1 night double |   |   |   | 130 € |   |   |   | 150 € |   |   |   | 140 € |   |   |   | 110 € |
| 1 week single * |   |   |   | 595 € |   |   |   | 700 € |   |   |   | 650 € |   |   |   | 455 € |
| 1 week double * |   |   |   | 820 € |   |   |   | 980 € |   |   |   | 900 € |   |   |   | 690 € |
| Full Pack (B & B + Surf School) |   |   |   |   |   |   |   |   |   |   |   |   |   |   |   |   |
| | | | | | | | | | | | | | | | | | | | |
| --- | --- | --- | --- | --- | --- | --- | --- | --- | --- | --- | --- | --- | --- | --- | --- | --- | --- | --- | --- |
| 1 week single |   |   | 795 € |   |   |   | 900 € |   |   |   |   |   |   | 850 € |   |   |   |   | 655 € |
| 1 week double (price per person) |   |   | 610 € |   |   |   | 690 € |   |   |   |   |   |   | 650 € |   |   |   |   | 545 € |


This package includes:


FULL PACK 7 nights accommodation with breakfast
5 days surf lessons
7 days surf Equipment 
Surf Insurance 
Welcome dinner 
Daily surf transport 
B & B Accomodation Breakfast * Welcome dinner
---
SURF SCHOOL
---
| | | | | | | | | | | | | |
| --- | --- | --- | --- | --- | --- | --- | --- | --- | --- | --- | --- | --- |
| Surf Lessons |   |   | 1 Lesson |   |   | 3 Lessons |   |   | 5 Lessons |   |   | 10 Lessons |
|   |   |   |   |   |   |   |   |   |   |   |   |   |
| Per person |   |   | 45 € |   |   | 120 € |   |   | 175 € |   |   | 275 € |
---
SURF GUIDING
---
| | | | | | | | | | | | | |
| --- | --- | --- | --- | --- | --- | --- | --- | --- | --- | --- | --- | --- |
| Surf Guiding |   |   | 1 Session |   |   | 3 Sessions |   |   | 5 Sessions |   |   | 10 Sessions |
|   |   |   |   |   |   |   |   |   |   |   |   |   |
| Per person |   |   | 45 € |   |   | 120 € |   |   | 175 € |   |   | 275 € |
---
EQUIPMENT RENTAL
---
| | | | | | | | | | | | | |
| --- | --- | --- | --- | --- | --- | --- | --- | --- | --- | --- | --- | --- |
| Equipment Rental |   |   | 1/2 Day |   |   | 1 day |   |   | 3 days |   |   | 7 days |
|   |   |   |   |   |   |   |   |   |   |   |   |   |
| Fibreglass Board |   |   | 20 € |   |   | 25 € |   |   | 60 € |   |   | 100 € |
| BIC Board |   |   | 15 € |   |   | 20 € |   |   | 45 € |   |   | 85 € |
| Wetsuit |   |   | 10 € |   |   | 15 € |   |   | 30 € |   |   | 55 € |
| Bodyboard |   |   | 7 € |   |   | 10 € |   |   | 25 € |   |   | 50 € |