ABOUT THE SURF CAMP
---
LOCATION AND SURF CONDITIONS
---
Peniche and Baleal have long been among the best surf spots in Europe.
The constantly breaking waves and the peninsula located far in the ocean provide the best exercises for surfers of every level of performance.
---
CAMP CHARACTER
---
The SoulSurfcamp offers you just about everything you need for a perfect vacation.
In addition to our well equipped rooms you have the possibility to move freely on our site and relax anytime, anywhere.
Our House features a huge living room with adjoining kitchen. You'll find a fire station, a flat screen TV, brochures and magazines, a soccer table and a fridge with soft drinks and alcoholic beverages.
On the terrace is lots of room for a nice barbecue, to relax on our deckchairs or play a fun party game with your friends in the cozy seating area.
In the spacious basement we store the surfboards, as well as longboards, body- and skimboards and lots of other fun stuff for you to enjoy.
There is no boredom at our Surfcamp in Portugal!
ACCOMMODATION AND CATERING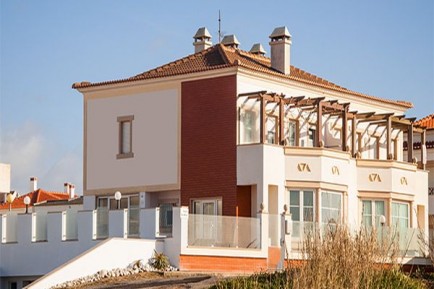 ---
ACCOMMODATION TYPES
---
There are a few options for accommodation at the SoulSurfcamp: the cozy double bedroom with a balcony and beautiful views of the ocean, the coast and of course the waves in the morning.
The other options are our rooms to fit 4 or 6 people, which also offer a beautiful view and are a great place to meet new people and share experiences.
The rooms are equipped with single, double and bunk beds, modern furniture and WiFi.
You'll find a music station in your room and a brochure about Peniche and all the attractions around the fishing village.
---
CATERING
---
When you get up in the morning, a freshly prepared breakfast is already waiting for you. After an adventurous day on the water, we'll serve a delicious dinner.
You'll start your day with a balanced breakfast, which offers everything you can think of. There is bread and buns from the local bakery, as well as jam, chocolate cream, sausages and cheese. Fresh fruits and vegetables, cereal and yoghurt will help you to get ready for your day on the water.
For lunch we recommend one of the many great bistros at the beach of Baleal, which will provide you with tasty snacks and lunch meals.
Dinner at the Surfcamp is freshly prepared every night, starting with an appetizer like a salad or soup, followed by a healthy delicious main dish.
Once a week we'll barbecue on the deck and serve fish, steaks, sausages and vegetables.
SURF COURSE AND ACTIVITIES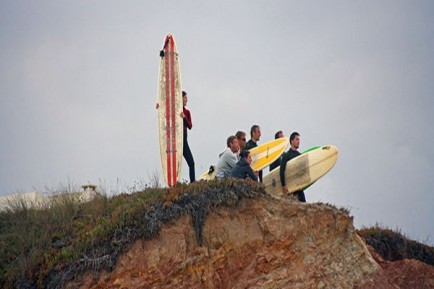 ---
SURF COURSE DETAILS
---
All our instructors are licensed and experienced; they have completed their training at the DWV and/or the Portuguese Surffederation. Every one of our instructors has gone through a sound education, which you'll notice in every aspect of their teachings.
Our team will be there at all times to answer your questions- no matter what's on your mind. We're always happy to help and share experiences with you, because our guiding principle is "Surfing with friends"!
Our surf offers cover every level of performance- the guides will take excellent care of you! The "Surf Package Complete" includes 5 days of practical and theoretical lessons (Monday to Friday) and a surfboard and wetsuit for a full 7 day experience.
You can book the package for an additional 199,- €/ person.
Your surf course starts on Monday and ends Friday, and Saturday and Sunday you can go out on your own and experience the awesome waves yourself!
If you don't feel like a 5 day course, you can always just book single days and see how it goes.
Obviously we want you to spend as much time in the water as possible, but some theory lessons are absolutely essential. Therefor there will be a theory unit every day, either held on the beach or at the Surfcamp. This is the only way for you to build and expand your background knowledge and will help you to be really ready for your next surfing adventure.
Looking for equipment? No problem! You're more than welcome to use ours and book the "Surf material package" for 119 €/ person, which includes a surfboard and wetsuit for the whole week.
We also offer individual pieces if you'd like to just give it a try:
Wetsuit 5€/ day/ person Surf board 15€/ day/ person.
You'll get an extensive training by highly qualified trainers in combination with a friendly atmosphere- that's how we do it at the SoulSurfcamp! Your course starts on Monday and ends on Friday. The material is naturally included in the course. In addition, we provide you the material but also for the rest of the week until your departure available (7 total days incl. 5 days).
*) Individual arrival and departure dates are possible. Surf lessons at our Surfcamp Portugal start on demand.
MORE INFO, HOW TO GET THERE & FAQ
---
SURROUNDINGS / REGION
---
Characterization of surroundings/region
Peniche and Baleal have long been among the best surf spots in Europe.
The constantly breaking waves and the peninsula located far in the ocean provide the best exercises for surfers of every level of performance.
Activities and facilities
Trips and Explorations: A popular part of your SoulSurf program are the different trips we make.
One of the must-see places in Portugal is its capital Lisbon. A beautiful city with an interesting history and many sights. During this full-day excursion we'll show you all the important things, such as the Cable Cars, the famous elevator (Elevador de Santa Justa) and the district of Barrio Alto. Let's discover Lisbon!
Another highlight is the trip to the Buddha Eden about 30 km from the surfcamp. There you'll find all kinds of Buddhas in different shapes and sizes. Also, you'll have the opportunity to participate in a wine tasting.
All in all this trip takes about 3 to 4 hours, which leaves you enough time to start off your day in the water!
Of course the area around Peniche and the village itself are worth exploring as well! We offer you a 2 hour trip to the small town and around the peninsula to discover the coves and cliffs.
Action and Adventure: For those of you who need a little more action and adrenalin in the water we offer kitesurfing lessons. You'll get a great insight into this exciting sport and who knows…maybe you'll find it to be your new favorite hobby! The course takes about 3 hours including theory lessons and practice. The equipment is provided by the SoulSurfcamp.
The water is a great place for a variety of activities! For instance our SUP-tours (stand-up paddle): on broad surfboards with a long paddle at hand, cruising across the ocean and exploring the beautiful coast around Peniche and Baleal. The tour takes about 2.5 hours and includes transportation (if necessary) and the equipment.
If you're familiar with the SUP- boards you can always just rent the material and go on a tour on your own.
You need a little break from the water? No problem- there is a fun go-kart track not far from our camp, where you can feed you need for speed (for either 15 or 30 min)! The whole trip takes about 1.5 hours including transportation.
The hilly area around Peniche offers great fun for longboarding! You can rent longboards at the surfcamp and have a great time with your friends exploring the neighborhood or go on a tour with one of our guides. We'll take you to less frequented routes around the area and teach you how to free ride. The tour takes about 3 hours.
---
JOURNEY
---
Ways to get to the camp
You'll probably travel to Portugal by plane and either arrive in Lisbon or Porto. There are usually pretty good deals if you fly from Germany, Austria or Switzerland.
In case you need help finding or booking a flight don't hesitate to ask – we are always happy to help!
We offer a shuttle service to pick you up from the airport (Lisbon or Porto). The price is fixed for each way; if you travel with your friends, it's cheaper.
There is also the possibility to take a bus to Peniche, in which case we're happy to pick you up from the bus station in Peniche.
PACKAGES & PRICES
---
PACKAGE SoulSurfcamp Surf'n'Chill - from 269 € per week/person
---
This package includes:

7 nights pp in shared room with half board, Free Wifi, Free Shuttle from/to bus station Peniche

High season (July, August, September): 319€
Low season (March, April, May, June, October): 269€

Additional week HS: 279€
Additional week LS: 235€


---
PACKAGE SoulSurfcamp All in one  - from 469 € per week/person
---
This package includes:
incl. all services from Surf'n'Chill package, 5 days surf lessons, 7 days equipment hire, including Surf transfer

High season (July, August, September): 519€
Low season (March, April, May, June, October): 469€

Additional week HS: 479€
Additional week LS: 435€


---
PACKAGE SoulSurfcamp Surf'n'Chill Doublepackage - from 349 € per week/person
---
This package includes:
7 nights pp in double or 2 bedroom with half board, Free Wifi, Free Shuttle from/to bus station Peniche

High season (July, August, September): 399€
Low season (March, April, May, June, October): 349€

Additional week HS: 349€
Additional week LS: 299€


---
PACKAGE SoulSurfcamp All in one Doublepackage - from 549 € per week/person
---
This package includes:
incl. all services from Surf'n'Chill package, 5 days surf lessons, 7 days equipment hire, including Surf transfer

High season (July, August, September): 599€
Low season (March, April, May, June, October): 549€

Additional week HS: 549€
Additional week LS: 499€