ABOUT THE SURF CAMP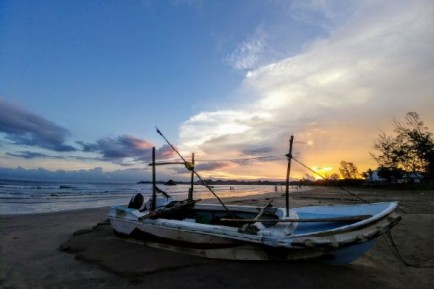 ---
LOCATION AND SURF CONDITIONS
---
Happy Go Island is located directly at the main surf beach of Weligama, a southern Sri Lanka's surfers' paradise, with the ocean just a doorstep away. The main beach is a sand break and perfect for beginners. Intermediates will also have a lot of fun. In swell time also advances surfers will surf at the main beach. Intermediates and advanced surfers can also visit nearby Midigama (10 mins drive) with 5 breaks (some of them reef).
---
CAMP CHARACTER
---
Happy Go Island is a guesthouse with own restaurant 'The Hummus Bar' in Weligama. Our 'happy island' provides an open, friendly and family-like atmosphere and our aim is to create a home away from home for travellers who come to surf, chill-out and explore the beauty of the tropical coastline as well as the nearby National Parks. We are not a closed off camp, so you can enjoy flexibility in scheduling your arrival date, your lessons and activities and you have all amenities for your surf holiday on site.
---
CAMP OPERATOR
---
Happy Go Island was founded by Mo, a passionate traveller and surfer who fell in love with Sri Lanka several years ago. He created Happy Go Island as his home and this 'home away from home' spirit is what you feel from the minute you arrive.
ACCOMMODATION AND CATERING
---
ACCOMMODATION TYPES
---
Happy Go Island features cozy dorms and double rooms nestled in a lush garden with shared kitchen and common areas. The rooftop has a 360-degree view over the ocean and palm trees. You can stay at the NEW double rooms with ocean view and get as close to the ocean as you can get, and with the restaurant just a few stairs away.
Room categories for every budget:
~ 2 dorm rooms (6 beds) with shared bathroom
~ 1 dorm room (4 beds) with ensuite bathroom and AC
~ 2 DBL rooms standard with ensuite bathroom and AC
~ 2 DBL rooms oceanview with ensuite bathroom, AC and private balcony
~ 4 DBL rooms oceanview deluxe with ensuite bathroom, AC and private balcony

Note: Towels are available for rental at 300 LKR per day while laundry is available for an extra charge of 300 LKR per kilogram and there is a 24-hour turnaround.
---
CATERING
---
While staying at Happy Go Island, you will get to enjoy daily healthy tropical breakfast with lots of fresh fruits.
In the on-site beachfront restaurant you can enjoy homemade Lebanese delights for lunch and dinner. The catering is also available for dietary restrictions like vegan, vegetarian, gluten-free. Moreover, filtered water, Ceylon tea, and coffee are free during your stay.
Happy Go Island features a community kitchen where you can store your own food and prepare meals yourself.

included:
healthy breakfasts
Free unlimited filtered water, tea, and coffee
SURF COURSE AND ACTIVITIES
---
SURF COURSE DETAILS
---
 Course includes 
12 surf sessions with an instructor (1.5 hours) Surfboard rental for the entire stay 6 yoga classes (morning or evening) 6 healthy breakfasts Free unlimited filtered water, tea, and coffee 6 nights' accommodation  10% discount on lunch and dinner at The Hummus Bar 1 0% discount on purchases at Happy Shop
Surf lessons can be scheduled indidually according to personal preference :-)!
---
SURF MATERIALS
---
Surf boards and lycras are provided. Wetsuits are not necessary. 
---
OTHER ACTIVITIES
---
In your free time, you can take a stroll along Weligama Beach to the picturesque Taprobane Island, take a short tuk-tuk ride to the beautiful beach of Mirissa, or take a trip to Galle Fort and indulge yourself in the colonial atmosphere of the city. Treatments like Ayurvedic or western massages can also be arranged individually. Additionally, you can enjoy stand up paddleboarding (SUP) rental and guiding or bike rental. Happy Go Island also has a regular event schedule with live music, movie, or barbecue nights that you may join.
MORE INFO, HOW TO GET THERE & FAQ
---
 SURF CONDITIONS
---
Breaks directly at the main spot and at nearby spots
Weligama 

Main beach
Broad sandy bay with lots of space perfect to learn and improve. At main point (in front of Marriott hotel) waves can get big and promise lots of fun also for more experinced surfers.

Beginners and Intermediates

Fishermans Reef
Nice spot left of Taprobane Island. Waves even in Low season from Apr - Oct and good for Longboards.

Beginners and Intermediates


Midigama Spots (5 min drive)
Plantations
Deep sand bottom reef break with fun peeling rights and depending on the swell direction, a nice left.
Advanced beginners and up
Coconuts
Powerful wave offering up fast rights and sometimes hollow lefts. Usually less crowded than its neighbour, Plantations.
Advanced intermediates and up
Rams
After a steep take-off, this popular A-frame provides short, fast lefts and barreling rights. Caution: breaking over sharp, shallow reef.
Advanced surfers only
Lazy Left
Long peeling lefts which mellow out after a steep take off. The waves break over deep reef making it a good introduction to reef surfing.
Intermediates and up

Lazy Right
Mellow rights and lefts and on the right swell conditions, long rides all the way back to the beach.
Advanced beginners and up

---
 SURROUNDINGS / REGION
---
Characterization of surroundings/region
Sri Lanka is a travellers paradise. Very friendly people, stunning landscape and wildlife make it an unforgettable holiday experience besides the surfing. Local transport and food is comparably cheap but good e.g. the train ride from Colombo to Weligama is around 1 €, you can get the national dish Rice&Curry depending on the place from 0,70 € to 2 €.
Local currency is Sri Lankan Rupees. You can exchange money in all banks (closed sundays) but there are numerous ATMs in Weligama.
The majority of the people are Buddhists and people traditionally visit temples on Sunday.
Seasonal conditions
Main season and consistent conditions from Nov until March. Water temperature 27°C all year round. 
Crowd factor and local people
Locals are very friendly and the local surf scene in Sri Lanka is still only starting off. Therefore locals are super nice, share waves and even tipps about hidden spots. You will often find yourself in the water chatting to locals. Spots are in general not overcrowded whereas its gets full in Dec / January over holiday period.
---
 JOURNEY
---
 Ways to get to the camp

Weligama is easy to reach by bus (from Matara or Galle) or by train (from Colombo). From the train or bus station, you can walk towards the beach until you reach the main seaside road (Bypass Road). Turn left and walk along the road for approximately 10 minutes. Happy Go Island is located directly opposite the main surf beach with all the surfing schools. By tuk-tuk, it is only a five minutes' ride from the city center (bus and train station). If you are coming from a neighboring town like Matara, Mirissa, Galle, or Midigama, tuk-tuks are a cheap and fun mode of transport. Here are some average fares as guidance, estimated based on one way: From Matara 500 LKR From Mirissa 300 LKR From Galle 800 LKR From Midigama 300 LKR  
by taxi
Flights land in the capital city of Colombo. The journey is approximately four hours by car. You can hire a taxi at the airport or Happy Go Island can arrange an airport transfer for you. They only work with vetted drivers.
by train
Taking a train in Sri Lanka is all part of the experience. They give you the chance to really experience the culture and mix with the locals. Weligama is on the Colombo to Matara train line. Six train stops are available here daily. A one way ticket to Weligama will run you 190 LKR.
PACKAGES & PRICES
---
PACKAGE A DORM ROOM  - from 395 € per Week / Person
---
This package includes:

12 surf sessions with an instructor (1.5 hours)
Surfboard rental for the entire stay 6 yoga classes (morning or evening)
6 healthy breakfasts
Free unlimited filtered water, tea, and coffee
6 nights' accommodation in a
dorm room
10% discount on lunch and dinner at The Hummus Bar
10% discount on purchases at Happy Shop
---
PACKAGE B PRIVATE DOUBLE ROOM  - from 490 € per Week / Person
---
This package includes:

12 surf sessions with an instructor (1.5 hours)
Surfboard rental for the entire stay
6 yoga classes (morning or evening)
6 healthy breakfasts Free unlimited filtered water, tea, and coffee
6 nights' accommodation in private double room
10% discount on lunch and dinner at The Hummus Bar
10% discount on purchases at Happy Shop