ABOUT THE SURF CAMP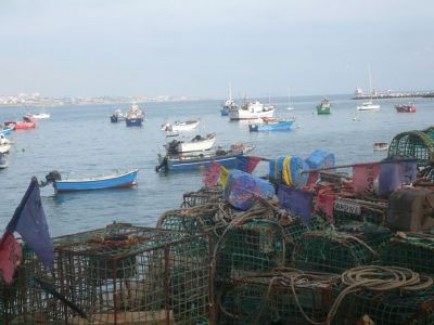 ---
Location and surf conditions
---
The Surf Villa is located in Malveira da Serra at the slopes of the Serra de Sintra, near the beautiful Praia do Guincho - our home spot. Due to the slightly elevated location on a southern slope you will have sun all day.
Immediately adjacent is a nature reserve with mystical forests and seemingly endless trails for mountain biking or hiking.
In Malveira da Serra, a small picturesque mountain village, you will find within walking distance a few restaurants (Traditional Portuguese, seafood, pizza and other snack options), a small bar, a hairdresser, a pharmacy, banks, a bakery and a supermarket.
The nearest little towns are the former fishing villages of Cascais and Estoril, as well as the world heritage Sintra - all reachable in just 15 minutes by car. Even to Lisbon, which offers more diverse opportunities for culinary and cultural experiences, it's only 35 minutes.
In a radius of 20 minutes, there are many surf spots that offer a variety of different waves. First and foremost, of course, is the nearest beach Praia do Guincho. A large and beautiful beach heading north-west with numerous breaks and a memorable view of mountains of the Serra de Sintra. On the other side of the mountains are the beaches Praia Grande, Praia Pequena and Praia das Maçâs. They all work at same conditions as Guincho, but often are a bit more sheltered from the wind. If the waves are too large or the (north / west) wind too strong, the south facing beaches on the south coast, the so-called Linha, like in Monte Estoril, São Pedro and Cacavelos offer perfect conditions for beginners and professionals. For almost every wind and wave direction there is a spot where you can surf.
---
Camp character
---
Relax Camp - a family-atmosphere - Adults
As being a Surf & Yoga Retreat the surf camp aims at participants that are over 25 years old and want to relax. Planned are also also special Girls Camps / weeks with girls only. Due to the limited number of participants (max. 10 persons) there is a more informal and family-atmosphere. All participants will stay in double rooms in the Surf Villa. The offered child care and the fenced pool area make the surf camp family and child-friendly. Dogs are, out of consideration for the other participants, not allowed inside the villa, but under certain conditions possible to join you when staying in one of the separate houses also offered.
---
Camp operator
---
The Yoga and Surf Retreat is run by Jens and Timo, two friends from berlin, who moved to Portugal to join life in the sun by the sea in accordance with work and hobbies. By opening up the Karma Surf Retreat, their mission is to share this feeling and this fascinating region with all its recreational opportunities with as many like-minded people as possible. The entire team consists of course of several surf or yoga enthusiasts, some of them being here for a long time (and "locals"): Alex, Willie and Rasta, the surf instructors, Anett and Sylvia, the yoga trainer, Pedro, the mountain bike guide, Ricarda the physiotherapist and Pilates instructor and Jolante, child physiotherapist, as well as other friends, who help to spread the good karma to you and take care of you having an unforgettable great holiday.
ACCOMMODATION AND CATERING
---
Accommodation types
---
Villa - double room - suite - apartment - house
You will be accommodated in a villa with pool and spectacular sea views. The villa has several double rooms, some even with private bathrooms and also a private balcony or terrace. Also equipped with bed linen and towels, of course.
In a fully-equipped, spacious kitchen you can prepare your favorite dishes and enjoy your meals in the dining room or at the large wooden terrace, both overlooking the sea and the sun set.
The cozy living room is equipped with a fireplace plus you have a television (satellite TV), Home Cinema, DVD player and Internet (WiFi) for your entertainment.
The villa is located on a spacious plot with a gorgeous landscaped garden. The adjacent natural reserve of the Serra de Sintra offers a beautiful hilly countryside with bushes and also dense, mystical poison-ivy rich eucalyptus forests, boulders and hidden places, often giving way stunning views over the Atlantic Ocean.
In front of the house, you can safely park your rental car.
For those in need of a bit more privacy, e.g. families, we can offer accommodation in a separate house or apartment which are but close by (50m). Of course, these accommodations are also fully and even have an own fireplace, pool and also spectacular sea views.
---
Catering
---
Breakfast - packed lunch - BBQ - Drinks - Fruit
Every day in the morning we will serve you a delicious and healthy organic breakfast.
At Noon you will enjoy a healthy packaged lunch to refuel between the surfing sessions.
In the villa you will have healthy fruit, water, coffee and tea at your disposal all day for your free refreshment in between.
For Dinner you can cook your favorite meal in the kitchen of the villa, or you go out for dinner to one of the nearby restaurants.
Once a week we also have a barbecue (BBQ) and South American beef (Picanha) or seafood and vegetables placed on the grill - depending on your taste and season.
In addition, there will be an evening with yet another culinary surprise.
A supermarket and several restaurants (pizzeria, typical Portuguese, seafood, snacks, grilled chicken) are in reach within 10-15 minutes walking distance. 100m close there is even a gourmet restaurant. Cascais, Estoril and Sintra are also only 15 minutes by car and offer a wide selection of culinary delights in the beautiful streets and squares, or at the beach promenade overlooking the sea.
SURF COURSE AND ACTIVITIES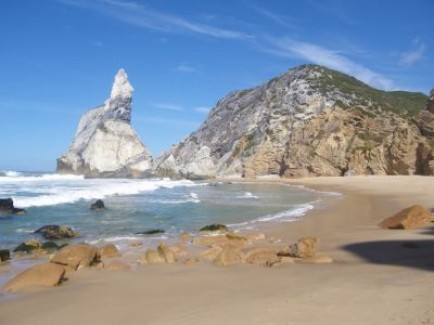 ---
Surf course details
---
The surf lessons take place in small groups (;10 people) and are taught by 1-2 certified surf instructors (multilingual) surf instructors mainly in English. The courses are structured so that within a week you will learn the basics of surfing.
The courses are aimed at beginners, as well as advanced students, adults and children. Safety and fun are paramount, because then you learn to surf quickly and effectively.
The surf lessons take place daily from Monday to Friday, 2 x 1 hour, around noon. Depending on wind- & wave conditions and water level, we will select the best beaches and time for you to surf. All relevant surf spots are all located within a radius of about 3 (Praia do Guincho) to 20 (Carcavelos, Praia Grande) minutes by car.
Between or after the two surfing sessions you have a little break to strengthen yourself enjoying the packed lunch, which we have prepared for you.
You will be picked up and brought back to the villa for the surf course.
For you to learn quickly we will support your efforts with photo and video analysis. Mistakes in movement or posture are shown better on video and make it easy for you to understand how to avoid and improve your surfing.
---
Surf materials
---
The complete material for surfing, such as boards, wetsuits, leashes (connecting surfboard and leg), as well as wax is provided by us, of course. Beginners have both, large foam boards with stability and security, as well as a selection of smaller epoxy boards to choose from. Even for advanced surfers we have appropriate boards ready to use.
Outside the course hours you can also rent material and further improve your surfing skills and internalize the lessons learned.
---
Other activities
---
If you still have some energy left, you will find lots of possibilities for recreational activities right here in the neighborhood, in the woods of the Serra de Sintra and logically in the water along the shoreline. Together with our partners we can organize unforgettable vacation experiences such as horseback riding, windsurfing, kite surfing, mountain biking, hiking, Pilates, physiotherapy, cycling, golf, tennis, diving, sailing, paragliding, parachuting, etc. Of course there are also activities of more calm nature as painting, photography, meditation, etc. Some offers can also be booked with a guide/teacher.
In addition, the region around Lisbon and Sintra, hosts some culturally and historical highlights. You can explore these in organized sightseeing tours as well. Lisbon itself is worth more than just one daytrip. Here, visitors can expect a cultural, culinary, as well as an extensive nightlife offers - for the tireless among you.
MORE INFO, HOW TO GET THERE & FAQ
---
Breaks directly at the main spot and at nearby spots
---
The Lisbon area, with the river delta of the River Tagus, offers good surfing conditions for beginners and advanced surfers the whole year round. The beaches facing west to northwest like Costa da Caparica, Praia do Guincho, Praia Grande and Praia das Maçãs take on the swells primarily from western, northwestern and sometimes northern directions serving almost always good waves. Mostly during winter, when the waves are more likely to get big, the south-facing beaches at the so called "Linha" offer good conditions for all levels.
Guincho beach is our home spot. Only 5 minutes by car, it is one of the most beautiful and most impressive beaches in Lisbon area. Not only because of the picturesque mountains of the Serra de Sintra with its reddish cliffs in the background. Due to its length, Praia do Guincho offers numerous breaks for all levels of surfers.
Praia Grande is located on the other side of the Sintra mountains and can be reached in 20 minutes by car. Likewise, a great and large idyllic sandy beach, it gets a little less windy and also less crowdy.
Carcavelos, at the southern coast of Lisbon is also a long and sandy beach to be reached in just 20 minutes by car. On very big days, when most of the west coast is out of control, it offers perfect conditions for surfing. In addition, you will find more good surfing spots along the coastline in direction of Cascais, of which some are reef breaks with a consistent peeling waves when (north)westerly swells rise over 3m.
Cascais itself has some nice little hidden and picturesque beaches offering good swimming conditions in more calm waters, connected by a beach promenade.
The Costa Caparica is about 35 minutes from the Karma Surf Retreat south of Lisbon on the other side of the bridge of the 25th April. An endless sandy beach, which also gets good waves from the north-west or west swells. Near Lisbon there are numerous spots, which are a bit more protected. Further away, you will find more and more uncrowded spots.
---
Seasonal conditions
---
The average water temperature varies between 19°C in summer and 15° C in winter. In summer, a 3/2 wetsuit is recommended, but also a shorty or no wetsuit at all work on really hot days, too. For all other seasons, a 4/3 wetsuit gives the most comfort while surfing. Of course, we will provide you with just the right gear during your surfing lessons.
In Summer, the average air temperature varies between 28° C and 15° C in winter. In general, the climate here on the Atlantic coast is very mild. Sometimes a gentle breeze from the Atlantic is great on hot days to cool off.
The specific location of the Praia do Guincho and the Serra de Sintra, especially in the summer months of June, July and August, provide thermal fall winds (sideshore) from the Serra de Sintra, thus excellent windsurfing and kitesurfing conditions. Surfers find better waveriding conditions with less wind either on the other side of the mountains, at the Linha or also at Costa da Caparica.
Thank god, we have waves all year long! The biggest swells arrive in autumn and winter. Especially the more experienced surfers know and appreciate this. But also in summer there are always good waves at the local beaches. Don't worry. With us you will always find something to surf.
---
Crowd factor and local people
---
The spots real close to Lisbon are, like at the surf surfing strongholds in the southern Algarve, Ericeira or Peniche, generally a bit more crowded at peak times. But the size of these beaches offers always enough room to find a nice break for yourself. Surfers independently traveling by car always have more options to find nice spots nearby with less surfing "buddies".
In general "localism" is not over-present. Most surfers in Portugal are friendly and with good Karma.
The golden principles in dealing with crowds and locals also apply to most spots around here: Beginners should surf a little off the crowds and always respect the locals and rather give way. This way you avoid most discussions. Other than that, like probably everywhere, the best advice for having a hassle free and empty surf spot is to get up early and hit the water together with first rays of sunlight. ;-)
---
Characterization of surroundings/ region
---
The region west of Lisbon is in our opinion one of the best combinations of nature, beaches and waves, as well as city-life and culture. The area is enchantingly beautiful and the mountainous forests of Sintra offer enough space for hiking or mountain biking, cooling off and adventure, as well as retreats for meditation. You will find many beaches for sunbathing or exercising any kind of water sports. Those who prefer culture or shopping, will be satisfied in Lisbon and surroundings to large extent. The best: We have around 260 days of sunshine per year!
---
Activities and facilities
---
In the water: surfing, windsurfing, kite surfing, wakeboarding, diving, sailing, kayaking, canoeing, swimming, etc.
At land: Tours on the road bike, mountain bike (MTB), quad (4WD), Segway riding, sightseeing, hiking, climbing, tennis, golf, jogging, etc.
In the air: parachuting, flying light aircraft, helicopter, or aerobatic glider.
In Lisbon you can of course also shop to your heart's desire and visit many restaurants, bars and also discos – in addition you will also find some nice shops, several restaurants and even a few bars in the nearby towns of Sintra and Cascais. In Estoril there is also a famous casino.
In summer, there are numerous events and concerts. Some of them are open air at the beach promenade in the lovely fishing village of Cascais. There are even numerous sporting events (sailing regattas, races, etc.) throughout the year. So why not relax a week at our place .after you ran the Lisbon Marathon ;-)
---
Journey
---
Ways to get to the camp:
The nearest airport is Lisbon. Of course, also destination of numerous bus and train connections, in case you have got a cheap flight to Faro or Porto and continue traveling by train/bus to Lisbon.
From Lisbon, we can pick you up (extra cost) in case you don't rent a car anyways. From there it's only 35 minutes by car on the highway to the Karma Surf Retreat.
Recommendable, although if twice as long, is arriving by car using the coastal road "Marginal", which connects Lisbon and Cascais along the "Linha". Following the roads further west and then north you will be directed right up to Malveira da Serra, also passing by Praia do Guincho. It's good to tune into the area and enjoy first oceanic impressions.
If you should opt for a taxi, you will have to count with about 55 EUR (one way).
Of course it is also possible to use public transportation and take the Airport Express bus to Cais do Sodré (train station). Then you take the train also running along the Linha (great views) to Cascais. From there you can take a bus to Malveira da Serra. We'll also be able to pick up there and bring you and your luggage to the villa. For the public transportation system you will have to count with approximately 7 EUR per person and a travelling time of 1.5 hours.
Important details:

- costs for bus transfer/public transport
- travelling times of public transport
PACKAGES & PRICES
---
Surf & Yoga – a perfect combination!
---
Low-season
(Feb, Mar, Nov)
from
749 €
*
Mid-season (Apr-Jun, Oct)
from 849 €*
High-season (Jul-Sep)
from 949 €*
7 days accomodation in double room (suite optioal)
5x2h Yoga classes
5x2h surf classes Surfboard, wetsuit, leash for the surf class
(organic) breakfast
Packed lunch at the beach
Welcome BBQ (seafood / picanha)
Culinary surprise
Surf class shuttle


In addition:
Fireplace
Internet flatrate / Wi-Fi
Video analysis
Daily maid / cleaning service
Home-made marmalade
Daily fruits
Coffee & tea
Water and juice
Welcome drink
Organization of activities
---
Enjoy Surf & Yoga together
---
Low-season
(Feb, Mar, Nov)
from
699 €
*
Mid-season (Apr-Jun, Oct)
from 799 €*
High-season (Jul-Sep)
from 899 €*

7 days accomodation in double room (suite optioal)
5x2h Yoga classes
5x2h surf classes
Surfboard, wetsuit, leash for the surf class
(organic) breakfast
Packed lunch at the beach
Welcome BBQ (seafood / picanha)
Culinary surprise
Surf class shuttle


---
Surf Deluxe – nothing less!
---
Low-season
(Feb, Mar, Nov)
from
699 €
*
Mid-season (Apr-Jun, Oct)
from 799 €*
High-season (Jul-Sep)
from 899 €*
7 days accomodation in double room (suite optional)
5x2h surf classes
1 after surf relax massage or Pilates
Surfboard, wetsuit, leash for the surf class
(organic) breakfast
Packed lunch at the beach
Welcome BBQ (seafood / picanha)
Culinary surprise Surf class shuttle
The Karma Surf Retreat is open almost all year round. You can see the yoga & surf camp dates at our website. Arrival and departure day is usually at Saturdays. The surf courses start every Monday, take 2x1 hours daily and run until Friday (5 days).
The yoga classes, one hour each, are before and after surfing, also from Monday to Friday. Extra classes and sessions can always be booked extra. You are also welcome to stay longer than 1 week to improve your well-being and surfing skills even more. For up-to-date prices / discounts please visit our website.
You can choose various packages including yoga and/or surfing and also other activities (mountainbiking, hiking, horseback riding, kitesurfing, …).