ABOUT THE SURF CAMP
---
Location and surf conditions

---
The Rapture Camp-Crew transports you daily to the Surf Spots. Daily Surf Lessons, all throughout the day. 
Ericeira is known for its fish plates. Next to usual super markets there are many small tourist shops, which do sell traditional craftsmanship, as well as surf shops. Additionally, there are lots of cafes and pubs and one nightclub: Ouriço.
ACCOMMODATION AND CATERING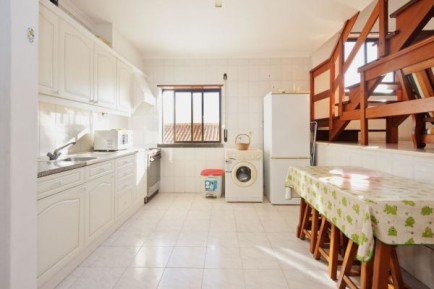 ---
Accommodation
---
You are looking for a small cozy surf camp in Portugal? Then you are exactly right in Rapture Camp Portugal. We are located right on the beach called Foz do Lizandro - near Ericeira - That's about 30 minutes in the north of Lisbon. From the terrace or from the beanbag you can watch the waves. At our camp all skill levels are welcome. Apart from surfing you can play soccer or beach volleyball at the beach. Also Ericeira is accessible by foot in a few minutes. Culturally and in terms of sight seeing there is a lot to discover in the area.
The camp is located in a three-storey house with six bedrooms. The Camp Lounge is the central focus. Here you can watch the waves or enjoy the latest surf DVD's or just watch TV. The large terrace invites you to sunbathe during the day and at night you can hangout with all the other camp visitors. The house is located directly on the Foz do Lizandro. In just one minute you're walking on the beach and in 15 minutes in the city center. The rooms are designed for four to five persons - And even from the bed you can watch the waves on the beach!
SURF COURSE AND ACTIVITIES
---
Surf course details
---
Only the best Surf Spots

Ericeira is known as one of the best surf spots in Portugal, you can shred the entire year. No wonder the most and best Portuguese pros come from Ericeira. These and international pros can be watched by you twice a year in international contests on one of the longest beach breaks called Ribeira d'Ilhas. But not only advanced but beginners will get the best value for money. All breaks are maximum20 kilometers away from the camp.
Surf Guiding and daily Surf Lessons
The Rapture camp crew transports you daily to the surf spots in Ericeira. There you get you money's worth from beach breaks to Point Breaks and Lefts to Rights. Daily surf lessons, which are spread over the day, aim exactly your skills. In the remaining time, you can practice what you have learned and incorporate the tips and tricks of the guides. The swell is very consistent in the summer months. The water temperature is between 16 and 18 degrees - we recommend long wetsuits (3/2 or 4/3 ). If you do not have a board and a wetsuit, you can borrow the surf equipment for a small rental fee at the camp.
MORE INFO, HOW TO GET THERE & FAQ
-
PACKAGES & PRICES
---
JUST ACCOMMODATION A - CAMP COMPLEX - from 29€ per person/night
---
| | |
| --- | --- |
| Dorm | Double |
| €29,00 (Low) | €80,00 (Low) |
| €36,00 (Mid) | €90,00 (Mid) |
| €39,00 (High) | €100,00 (High) |
| *Per person/per night | *Per person/per night |
x 26 Dorm beds 
x 4 Double Rooms 
x 2 Twin Rooms
---
JUST ACCOMMODATION B - APARTMENTS COMPLEX - from 29€ per person/night
---
| | |
| --- | --- |
| Double  | Extra person  |
| €100,00 (Low) | €29,00 (Low) |
| €110,00 (Mid) | €36,00 (Mid) |
| €120,00 (High) | €39,00 (High) |
| *Per 2 persons/per night | *Per person/per night |
x 2 Fully self contained apartments, with direct ocean views.
All include their own private balconies and bbq.
x Apartment features: Double size bed, 2 single beds, kitchen, washing machine,

Seasons:
01.04 – 30.04 (low) x 01.05 – 31.05 (low) x 01.06 – 30.06 (mid) x 01.07 – 31.07 (high) 01.08 – 31.08 (high) x 01.09 – 30.09 (high) x 01.10 – 31.10 (mid)
---
EXTRAS
---
AIRPORT TRANSFERS
Each person each way from-to Lisboa airport €30,00. Starting at 4 persons each €25,00
SURF-GEAR INSURANCE
Flat fee no matter how long €40,00
SURF LESSONS
Lessons + Board + Wetsuit €30,00. If you book the 6 days surf lessons package, you can use materials on the 7th day for free. No surf lessons / guiding on Sundays. Extras booked upfront cant be refunded. Extras booked locally add €5,00 per person per day. Prices per person per day.   
SURFGUIDING
Needs to be organised locally. Customers should book Surfboard + Wetsuit upfront. Transfer costs from €5,00 - €10,00
CANCELATION INSURANCE
Per person per booking €50,00
YOGA LESSONS
Per person per hour €10,00
SURFBOARD
Per person per day €10,00. We provide an extensive range of surfboards, starting at 5"7 up to 9"4 epoxy, softop and fibreglass boards.  
WETSUIT 

Per person per day €10,00. Quicksilver and Roxy wetsuits in all sizes.
---
OTHER AVAILABLE EXTRAS
---
We can organise guided tours to the following Lisboa, Iberian Wolf Centre, Donkey trails, Horse riding in the world surfing reserve and Tapada Nacional of Mafra, Scooter rentals, Mountain and Downhill bike rentals/tour. In the house Massage and Yoga lessons, Longboard Skateboards, Skateboards, Ping Pong and a Football table are available to use at the camp.