ABOUT THE SURF CAMP
---
LOCATION AND SURF CONDITIONS
---
Located within the Sintra-Cascais Natural Park, our hotel has a privileged location as there are many attractions in its vincinity. The Moby Dick Lodge Surf House is the perfect place to start discovering Sintra and Cascais.
We are located near the ocean and the lodge is surrounded by the most exotic beaches of the Lisbon area, namely Guincho beach and Adraga beach.
---
CAMP CHARACTER
---
At the Moby Dick Surf School, in Cascais, we are certified instructors, experienced surfers and above all lovers of the sea. Our history has been closely linked to surfing since it appeared in Portugal, in the 70s. Pioneers in the search for the best wave, we never stopped, generation after generation.

We offer different kind of courses:

1. Surf lessons for "Beginners"
2. Surf lessons for "Intermediate" level
3. Surf to "Advanced" level
4. Private surf lessons
5. Surf lessons for children
---
CAMP OPERATOR
---
Paulo Machado, the owner of Moby Dick, and the brothers were pioneers in surfing in Portugal, long before it was considered a competitive sport or even a modality.
When, in the 70s, the first boys in swimming trunks began to appear, with a board under their arms, through the streets of Cascais, no one understood.
There was no surfing in Portugal and few went into the sea for adventure.
There were no surf suits and surfers of that time would warm up, after the icy sea, in the fireplace of grandmother Esmeralda, in the house of Machado, in front of the beach of São Pedro do Estoril, the birthplace of Portuguese surf.
ACCOMMODATION AND CATERING
---
ACCOMMODATION TYPES
---
We have different knd of rooms 
1. Praia Grande (accomodates 3, private bathroom)
2. Carcavelos (accommodates up to 4, private bathroom)
3. Cabo da Roca (accomodates 2, private bathroom)
4. Cascais (family room, accomodates up to 4, private bathroom)
5. Melville (accomodates 2, private bathroom)
6. Sintra (accomodates 2, private bathroom)
7. Guincho (accomodates 2, private bathroom)

Confortable sofas, barbecue, wi-fi and hammocks. We have it all, even a ping-pong table.
SURF COURSE AND ACTIVITIES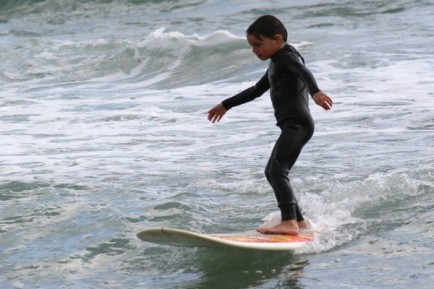 ---
SURF COURSE DETAILS
---
We give surf lessons in a personalized way and according to the knowledge levels of each student. We have 2-hour classes to increase knowledge, instill a taste for activity, give way to progression and guarantee incredible sensations. Individual or group. For all ages, nationalities and with various levels of learning.

· Started Level: "Surf in the Foams"
· Intermediate level: "The Green Waves"
· Nível Avançado: "Surf Guides"

All of our surf lessons last 2 hours.

We want to maximize learning, and the taste for surfing, through a peaceful, safe, relaxed and fun environment. Our surf lessons in Cascais are 2 hours long. We teach people of all ages, nationalities and at different levels.
Our team of professionals always seeks to give personalized recommendations and advice. We believe that each person has their time. With direct guidance it is possible to achieve goals more quickly.
We started by teaching how to gain balance on a board and as each student evolved, in the following classes, we showed some more advanced maneuvers. We transmit the philosophy of surfing with respect for both the other surfers and the sea.
Catching the first wave is a unique and indescribable sensation. But as the technique evolves, in the water, and in the field of the board, the desire to go to the sea increases because all the sensations become more real.
---
SURF MATERIALS
---
1. Rent Surfboard

At any time the sea can call, so at Moby Dick we are equipped and prepared to rent the ideal surfboard for each level and for all types of surfers:
Surfboards for advanced surfers from 5´6 to 9'0;
Softboard boards of all sizes for intermediate surfers;
Surfboards for all types of waves, with different shapes "shapes" for bigger or smaller waves, with strength or "soft" retro boards.

2. Rent Surf Suit

We are available to rent surf suits as we are equipped with the best materials, so that everyone feels comfortable practicing the sport. We have surf suits of all sizes from 4 years old up to XXL.
---
OTHER ACTIVITIES
---
With so many interesting nearby venues you will have plenty to discover. Additionaly, we can provide some extra activities: surf lessons, bike rentals, trips to special beaches around Sintra, visits to Lisbon and much more.
MORE INFO, HOW TO GET THERE & FAQ
---
 SURF CONDITIONS
---
Breaks directly at the main spot and at nearby spots
We have Surf Lessons at Guincho Beach, in Cascais, 3 km from Moby Dick Lodge. It is one of the best known beaches in the Lisbon region and has the best conditions for surf lessons. Being very windy, it is a popular beach for surfing and other water sports. It is the place where we tend to be more often in the summer months, when the waves are smaller. With a very extensive sand, this beach stands out for being a "beach break", that is, it has waves with a sandy bottom, which is safer and more comfortable for students in the initial phase and for children. In addition, it also has the particularity of having long waves inside (foams) which is the place closest to the beach where we give classes to apprentices.
In the summer months we give Surf Lessons at Praia da Adraga, located in the Sintra-Cascais Natural Park, 12 km from Moby Dick Lodge (about 20 minutes). It is one of the most beautiful beaches in Portugal, already awarded several times. It is a place where we surf, mostly, in the summer months, when the waves are smaller. It has waves with a sandy bottom ( beach break ) and is usually fast, which makes the practice a little more difficult for beginners but favorable for the intermediate level. Since there are few surfers it is easier to surf on the outside (area after the surf) of this beach than on another one with a larger crowd , that is, more surfers.
We give Surf Lessons on the beach of São Pedro do Estoril, a small beach surrounded by cliffs. It is located on the Estoril line and is 13 km from Moby Dick Lodge. It is a beach where we usually surf in the winter periods, which is when the waves are bigger and more protected from the swell (movement of the ocean that forms round waves without "breaking"). It is a good beach for surfing at all levels as it has long, easy waves (which can last up to 40 seconds). The bottom is mixed: it has waves with sand bottom ( beach break ) and stone ( point break ). It is ideal for students to practice rowing.
---
 SURROUNDINGS / REGION
---
Activities and facilities
We offer some tours:
1. Cabo da Roca
2. Peninha Sanctuary
3. Adraga Beach and Viewpoint
4. Blue Lagoon and Mula River Dam
5. Azenhas do Mar
6. Penedo
7. Sintra Town
8. Boca do Inferno
9. Cresmina Dune
10. Abano Beach
11. Guia House
PACKAGES & PRICES
---
SURF & YOGA WEEK - from 375€ per Week / Person
---
This package includes:

- 7 Days of stay
- 5 Half Day surfing (5 lessons / 1 time per day x 2h)
- Surf equipment required
- Transport to the beach with better conditions
- Sports activity insurance
- 5 Yoga classes
- Tour
- Shared Room 
---
BEST SURF WEEK OF YOUR LIFE - from 375€ per Week / Person
---
This package includes:
- 7 Days of stay 
- 5 Half Day surfing (5 lessons / 1 time per day x 2h) 
- Surf equipment required 
- Transport to the beach with better conditions 
- Sports activity insurance
- Tour
- Shared Room 
---
INTENSIVE SURF WEEK - from 475€ per Week / Person
---
This package includes:
- 7 Days stay
- 5 Full Day Surf (5 days / 2 lessons per day x 2h)
- Surf equipment needed
- Transport to the beach with better conditions
- Sports activity insurance
- Tour
- Shared Room