ABOUT THE SURF CAMP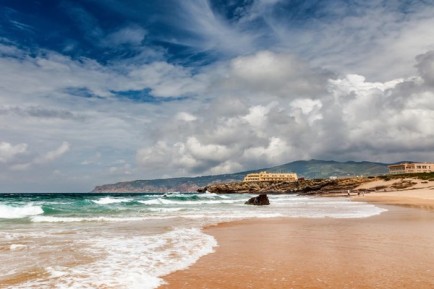 ---
LOCATION AND SURF CONDITIONS
---
With a coast exposed in different directions, Lisbon offers an excellent consistency of Surf, being possible to surf almost every day of the year. Considering the conditions of the ocean our classes are held on the following beaches: Guincho Beach and Carcavelos Beach in Cascais or Praia Grande in Sintra.
---
CAMP OPERATOR
---
André started to surf in cascais when he was 14 years old and has a large experience in the surf world, having surfed the best waves around the world, in countries like Australia, Indonesia (more than 10 times), France, Canary Islands (Spain), Azores, Madeira (Portugal), Cape Verde, Hawaii and Morocco. Having surfed the Portuguese coast for more than 15 years, he always knows where the best waves to practice surf are, depending on the students surf level.
ACCOMMODATION AND CATERING
---
ACCOMMODATION TYPES
---
1. HOSTEL CASCAIS
In this package accommodation is shared in our hostel partner in cascais. Your surf lessons will represent half of your day and then you will have plenty of time to discover Cascais, Sintra and Lisbon. 

2. APARTMENT CASCAIS
Flat apartment that can take until 3 guests in Murches, a quiet village next to the famous Guincho beach. The location is perfect to do some hikes in the nature and relax in Cascais and Sintra Natural Park. The house is equipped with everything you need for the after surf and there are facilities like restaurants and supermarkets next to the house. You will be pick for our lessons at the house.

3. APARTMENT IN ERICEIRA

Nice apartment with sea views just 10 minutes walking from Ericeira Center, where you have everything you need for a memorable surf holiday. The house is situated in a quiet neighborhood and is equipped with all facilities. Check the waves from your balcony, grab the board and let´s go!
SURF COURSE AND ACTIVITIES
---
SURF COURSE DETAILS
---
In our surf lessons, you will have always an instructor next to you in the water. All our students are covered by sport insurance. Everything for you to enjoy a fun and memorable experience!

GROUP SURF LESSON
Above all, these lessons are for those who want to learn how to surf in a safe and funny way. Also, lessons will take about 2 hours.Firstly you will have an introduction to surf, technical explanations and learn about safety.Secondly we will have a practical training in the water. In our Surf School, lessons are limited to five students per instructor to make sure everyone has attention to learn and improve their surfing skills. In addition all the surf gear and insurance are included in the lessons of our Surf School.

PRIVATE
Moreover in order to have a faster evolution in the sport you can book a private lesson in our Surf School with one of our professional instructors. In other words in a private lesson you can progress faster and have a more personalized experience. Also a great option for couples.
---
SURF MATERIALS
---
All our lessons have the surf material included! Furthermore, we have different types of boards and wetsuits for all levels. At Salty Souls Surf School we have a big range of surfboards and wetsuits for all levels and seasons.
From beginners soft boards to the best brands pro surfboards, we have everything you need to surf without worrying about bringing your material. You can pick and deliver the material at our base, at the beach or we can meet you at your accommodation in Cascais/Lisbon area.
MORE INFO, HOW TO GET THERE & FAQ
---
 SURF CONDITIONS
---
Breaks directly at the main spot and at nearby spots

We know where to take our students according to the forecast! The beautiful beaches of Cascais are considered the best ones to surf in the Lisbon area!
PACKAGES & PRICES
---
PACKAGE A - from 325€ per Week / Person
---
This package includes:
- 7 nights in our hostel
- 5 surf lessons with transport
- Cascais and Sintra Tour
---
PACKAGE B - from 180€ per 2 nights/ Person
---
This package includes:

- 2 nights in our apartment
- 2 Lessons with transport
---
PACKAGE C - from 200€ per Week / Person
---
This package includes:
- 2 nights in our apartment in Ericeira
- 2 Lessons with transport