ABOUT THE SURF CAMP
---
Location and surf conditions
---
Country house in perfectly calm rural surroundings; 12km south of Peniche, 65km north of Lisbon, resort "Praia there Areia Branca with cafés, restaurants and nightlife only 2km away, sand beach with several excellent beach breaks 2km away, ideal for beginners, district town Lourinhã (post office, bank, pharmacy, hospital) in a distance of 4km, bus stop 2km away (express bus Lisbon-Peniche).
---
Camp character
---
The average age of the guests in our surf camp is approx. 20-25 years, but there are also younger and sometimes also significantly older people who learn surfing with us. Sometimes even complete families stay with us joining one course. The camp accomodates a maximum of 22 guests; that means it is a rather small house with familiar atmosphere. Due to the quiet area it is easy to relax here. The outdoor area (garden) is very large, so that you will always find a nice spot just for you. Although we are Portuguese, mainly German is spoken. But we also speak English quite well, a bit of Spanish and of course we do speak Portuguese very well. As there is no road traffic nearby, our camp is most suitable for families with children. Dogs are also welcome.
---
Camp operator
---
The surf camp is owned by Daniel Wohlang da Silva, born in Hamburg in 1967, grown up in Berlin with his parents (his mother being a native from Hamburg and his father being a Portuguese from Lisbon). All his life Daniel spent each summer holiday in Praia da Areia where he discovered a passion for surfing only at the age of 20. Him and his wife Ana Lucia founded the camp in 2011 where they live together amongst the guests with their three young children.
ACCOMMODATION AND CATERING
---
Accommodation
---
Da Silva Surfcamp Portugal has double rooms, triple rooms, four-bed rooms and a seven-bed room. The double rooms share a bathroom with shower. Each of the dormitories has its own bathroom. The latest addition to the camp are two super cozy tiny homes with a double bed, bunk bed, small kitchen and en-suite bathroom. So ideal for couples and small families with 1-2 kids. The communal kitchen, where breakfast is served every morning, is located on the ground floor next to the large covered outdoor area, where barbecue evenings take place. In total we have room for 22 guests. But this is spread out quite well, because there are many corners and niches where you can retreat to if you want to read a good book in peace and quiet.
– located in a quiet countryside with ocean view, beach in a distance of 2 km
– double rooms, multi-bed rooms, apartments, bungalows, holiday homes, caravans, tents
– parking space available, internet (WiFi), SAT-TV, table tennis, football tables, skate park in a distance of 3 km
– incl. linen and towels
– no electrical adapter needed
- valuable goods can be deposited
– non-smoking accommodation (smoking only permitted outside)!

Room types

– Cozy Tiny Houses with a double and a bunk bed, small bathroom and kitchen
– Surf hostel (Bed + breakfast)
– camping also possible
---
Catering
---
– daily breakfast included
– twice a week barbecue party with campfire: included in the price
– kitchen for self-catering available
– low-priced restaurant and café only 300m away
– all meals are suitable for vegetarians/food intolerances can be catered for
SURF COURSE AND ACTIVITIES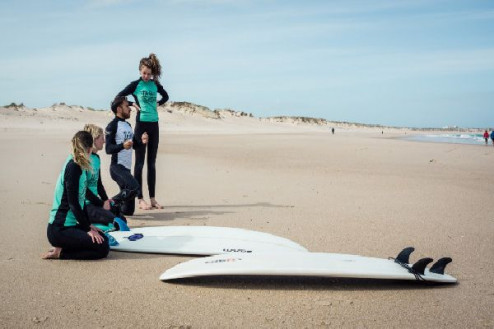 ---
Surf course details
---
Every morning our guests are picked up from our surf camp to be taken to the beach which offers the best waves in the area. The surf course comprises of 20 hours per week with 2 sessions each day. The surf equipment can be used on the weekend. Our surf instructors only speak Portuguese and English. But that's not a problem at all, as mainly practical lessons are given in which most of the things are either demonstrated or explained by using gestures. Until now we have never faced any communication problems between instructors and students. It also possible to book our surf courses without staying in our surf camp.
---
Surf material
---
Our Surf school is equipped with high quality NSP Surf Boards. Surfboards and wet suits are included in the price. We recommend you to bring your own Lycra-shirt with you. Advanced surfers can use our Fiberglass-boards. During the weekend all surf equipment can be used free of charge. Rental fee for surfboards: 3 days  40 EUR / 7 days 80 EUR; Rental fee for wetsuits:3 days 30 EUR / 7 days 60 EUR; short board/Malibu + Wetsuit:3 days 60 EUR / 7 days 120 EUR
---
Other activities
---
After the surf course you are always offered the opportunity of joint activities. There are almost unlimited possibilities as for example: bike tours – skateboard sessions in our new mini ramp or in the skate park of Lourinhã – trips to nearby interesting places (Peniche, Óbidos, Lisbon, etc...) – visit of a surfboard-shaper – boat trip to Berlengas Islands (all-day) – dinner in typical restaurants – campfire with guitar music and singing – spontaneous barbecue parties – visit of popular bars, clubs and discos in the neighbourhood – night hikes – and many things more….. There is no fixed program, but we discuss and decide together which activities will be held. We will then comply with the majority's decision. We are responsible for the trip in our shuttle-bus. Any costs arising at the respective destination are to be borne by you. Everything is voluntary and will be agreed on the spot spontaneously and individually.
Other than going on little trips and adventures to explore the nearby area of the camp there is also plenty of things to do at the camp ground such as table tennis, our balance board and kicker. You can relax and lounge by our pool and have a few drinks with your fellow camp guests and our local friends in our own charming little bar. Our latest addition to the camp is our brand new mini skate ramp. Skating imitates the movements of surfing and is such a fun and helpful way to improve your surfing. If you are a skater already this will let your heart beat faster for sure. If you are a newbie we happily assist you in your first tries.
MORE INFO, HOW TO GET THERE & FAQ
---
SURF CONDITIONS
---
Breaks directly at the main spot and at nearby spots
The sand beach of Praia da Areia Branca is 2km away from the surf camp. The beach extending to more than 5-6 km offers numerous lonely beach breaks. In the north you will find 2-3 bays with excellent reef breaks for advanced surfers.
The water is rather cold (approx. 18°C) – very pleasing at the high temperatures outside. A light breeze – preferably offshore - is often blowing. There are waves at all times. Be sure that we will always take you to that beach which offers the most suitable waves in the whole area.
Our surf spots are not as well-known as the surf spots of Peniche (although they are located only 12 km south of them). Our surf courses mainly take place at surf spots where no other surf school gives lessons and with no other surfers in the water. Therefore confrontations with local surfers are avoided. Apart from the fact that we are locals ourselves and know all people in the water. Advanced surfers who are surfing with us at the respective spots are accepted as our friends and respected by the other locals.
---
SURROUNDINGS/REGION
---
Activities and facilities
65km north of Lisbon, 12 km south of Peniche, culturally very interesting, many castles, palaces, churches and cathedrals, many old towns with town walls etc. Accepted currency is Euro. The living costs are substantially lower than in Germany, particularly with regard to catering. A hospital and several pharmacies are located in the district town which is 3km far away. There is no need of particular vaccinations.
---
JOURNEY
---
Ways to get to the camp
Arrival: flying to Lisbon (65km), then taking the express bus to Praia Areia Branca where we happily pick you up from the bus station. We offer a shuttle service at the price of 80 EUR (price per car NOT per person), a cab ride is just as expensive.
Important details:
No visa is required for members of the EU-states. The costs for going by express bus will be approx. 12 EUR/person. A bus schedule will be attached with the arrival information submitted to you.
PACKAGES & PRICES
---
Surfpackage - from 340€ per week

---
This package includes:


+ 7 nights Bed & Breakfast at Da Silva Surf Camp
+ 2 x 10 hours surf course incl. surf equipment
+ Free Surf Weekend
+ shuttle bus to the best waves
+ 2x BBQ party
+ Beach Cruiser rental
Multiple/Dorm 340 EUR
Double 375 EUR
En-Suite 410 EUR
Single 515 EUR
The surf camp is opened at least from April to the end of October. Bookings at earlier or later dates can only be made on request. It is ideal to arrive and leave on Sundays as the surf courses always start on Mondays. Though, you may arrive at any time. It is also possible to extend your stay – even without surfing course – if sufficient accommodations are available.
---
Surf & Yoga Package- from 400€ per week
---
Yoga is the perfect addition to surfing. It tunes you in harmonic balance with your self, body and nature. Relaxation after a good surf is our priority here!
This package includes:


+ 7 nights Bed & Breakfast at Da Silva Surf Camp
+ 10 x 2 hrs intensive surf classes (2 sessions per day / 2 hours per session)
+ complete surf equipment (surfboard, leash, wetsuit) during the classes
+ Shuttle bus to the beaches with the best waves in our area
+ 5 x 1 hr yoga class after the surf sessions
Multiple/Dorm 400 EUR
Double 435 EUR
En-Suite 470 EUR
Single 575 EUR
---
Surf & MTB Package - from 470€ per week

---
The near surroundings of our surf camp offers a huge playground with countless beautiful mountain bike trails. There are tours through the rustic hinterland past vineyards and olive groves, where you rarely meet other people. Other tours take you over narrow single trails directly along the cliffs and offer breathtaking views over the Atlantic Ocean. Some Secret Surf Spot has already been discovered in this way. There you will also find developed downhill tracks and a bunch of challenging single trails for every taste. In any case, you get to know Portugal in a special way on all tours. We would like to bring the country, the people and their culture closer to you. The athletic demands are not neglected and for sure there is always some adventure and adrenaline as well.

This package includes:

+ Bed & Breakfast at Da Silva Surf Camp
+ 3 days intensive surf classes (2 sessions per day / 2 hours per session)
+ complete surf equipment (surfboard, leash, wetsuit) during the classes
+ Shuttle bus to the beaches with the best waves in our area
+ 3 days guided mountain bike tours (3-5 hours / 30-50 km per day)
+ High Level Full Suspension CUBE mountain bike (29 inch wheels)
+ Shuttle bus to the best MTB trails on the west coast of Portugal
Multiple/Dorm 470 EUR
Double 505 EUR
En-Suite 540 EUR
Single 645 EUR