ABOUT THE SURF CAMP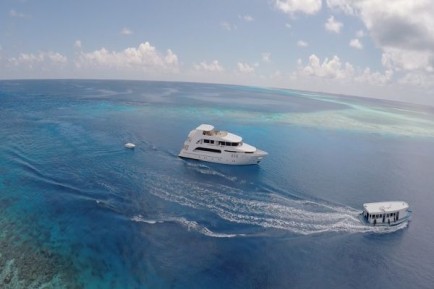 ---
LOCATION
---
The Maldives is blessed by the cosmos. No, we aren't just bragging about our beautiful whitest of white sandy beaches, heavenly blue lagoons and rich marine ecosystem. We are a "protectorate" of the cosmos. No we aren't being delusional here. Let us explain.

Well the Maldives, locally known as "Dhivehi Raajje" and home to around 400,000 people is located in a certain geographical section of the Indian Ocean protected from the direct impact of hurricanes, cyclones, tornadoes and earthquakes Indian. These 26 atolls consisting of close to 1190 islands have a cosmic force-field surrounding it seeking to protect its beauty.

However, we believe that this beauty has kind of been felt only on a superficial level by the average traveller. Sure, we've got $5000 a night ultra-luxurious resorts to local homestays to cruising vessels. You can scuba dive, surf, snorkel, get pampered in over-the-top spas and dine in underwater restaurants. These are great experiences for the average traveller.

We know that our true beauty lies in a much deeper level. Through the local insights and stories of our people, culture, mythology and folklore. Through the mystical songs and dances passed down from our ancestors.

Our history and culture is filled with magical creation stories, black and white magic, sea monsters, demonic beings and other oddities which the average traveller has seldom heard about.

Come journey with us to witness and experience the Maldives like never before. A magical Maldives passed down to us by our adventurous ancestors.
---
CAMP OPERATOR
---
Adventure Maldives is an exciting new branch of Maldives Boat Club. It consists of a group of experienced tourism industry personnel and intrepid adventurers that are trying to show travellers a unique and different side to the Maldives. A Maldives that we as locals have grown to love. A Maldives filled with magic, secrets and an unrivalled beauty, culture and people that will holistically satisfy your personal quest for discovery and adventure.

We have designed unconventional and unique travel experiences as well as revamped the conventional adventure experiences available in Maldives.

We are not a group tour or conventional sightseeing company. We believe in creating an environment which guarantees maximum freedom to pursue individual pursuits.
ACCOMMODATION AND CATERING
---
ACCOMMODATION TYPES
---
MV Adora
MV Adora is a 123 feet luxury tri deck fiber yacht featuring 11 spacious cabins each with an en-suite bathroom. Guests who opt to stay at one of the 4 ocean view suites on the third deck can wake up to a beautiful view of the ocean. Stylishly designed, the yacht provides maximum tranquility at sea. The yacht features a large interior and exterior living space.

Accommodation available in 11 cabins in
Lower Deck/ Standard Cabins: 06
First Deck/ Superior Room: 01
Third Deck / Ocean View: 04
---
CATERING
---
Buffet Style (Maldivian traditional food/ Intercontinental options)
Vegetarian options upon request
SURF COURSE AND ACTIVITIES
---
SURF COURSE DETAILS
Itinerary is for Male Atoll and Meemu Atoll Surf

Day 1
Arrival day; once you land in Velana (Male) international airport, our crew will take you to the mother vessel MV Adora.  You will get to surf in North Male Atoll depending on flight arrival times.
Note: Arrival day check-in allowed until 4 pm.

Day 2
On the first day of surfing, you will be surfing more on Northern Male atoll points such as Chickens, Cokes, Sultans, Honkys & Jail Beak

Day 3
Cruising to South Male' Atoll and Guests can explore surf spots such as Gurus, Twin Peaks, Quarters, Foxys & Raptides

Day 4
Early morning cruise to Meemu Atoll, and explore surf around Veyvah and Muli

Day 5
Surf and Snorkel in Meemu Atoll.  Cruise to Private island and enjoy a beach barbecue on the beach.

Day 6
Relax on the Beach and enjoy some beach activities. By Evening vessel will commence cruise back to Male'

Day 7
Cruise and surf (if time permits on the way back)

Day 8
Departure by 10am
Note: A tour of Male - the Capital, can be provided if requested and based upon your flight timings
---
SURF MATERIALS
---
Equipment Rental Excluded
---
OTHER ACTIVITIES
---
- Embark on a unique surf cruise on board a Liveaboard
- Enjoy surfing, snorkeling & cruising through the beautiful central Atolls of the Maldives
- Rejuvenate on an uninhabited island for a few days
- Fishing and other activities
- A tour of Male - the Capital, can be provided if requested and based upon your flight timings
MORE INFO, HOW TO GET THERE & FAQ
---
 SURF CONDITIONS
---
Surfing in the Maldives is most commonly done in Male Atoll surf area which contains breaks such as:
    Past point
    Lohis
    Cokes
    Chickens
    Sultans
    Jailbreaks
    Honkeys
    Ninjas
    and Twin Peaks

The trip will also cover Surf points in Meemu Atoll such as Muli and Veyvah
Seasonal conditions
The best time for surf trips is from May to October
---
 JOURNEY
---
Ways to get to the camp
Journey starts from Male and ends in Male'. Guests are picked up on arrival on journey start date
Check in: 10 AM arrival date

Check out: 10 AM departure date
PACKAGES & PRICES
---
PACKAGE A  - from 2030 € per Week / Person
---
This package includes:
- Rates are in United States Dollars and Price Per Person on a twin share basis for the duration of stay
- Price is including 12% GST and USD6 Green tax
- Airport "meet-and-greet", transfers to and from the airport before noon, on arrival and departure days only.
- Accommodation in air-conditioned cabins with outside window, en-suite bathroom (hot water), towels and room service
- Full board meals: breakfast, lunch, and dinner served as a buffet
- Unlimited tea & coffee
- Daily surf based on cruising times
- Cruising
- Fishing and Barbecue
- Uninhabited Island Escape
- Nature walk around the island