ABOUT THE SURF CAMP
---
LOCATION AND SURF CONDITIONS
---
Welcome to the unique feeling, the unique experience of being in the best surf spot in Europe and one of the best in the world.

Located by the road which links Baleal to Ferrel, it's safe to say that our surf camp is at the perfect distance from everything you need. Still close enough of the waves, supermarket, pharmacy and other primary necessities, but not too close to the noisy nightclub scene if you're looking for some peace and quiet.


---
CAMP CHARACTER
---
In Surfing, many times it only takes one good ride, one good wave to make a session memorable and get that smile that seems to last forever. But before and after surfing there are other special moments to be had, and those result from the service quality of Ocean Ferrel Surf Camp. With limited vacancies we guarantee the attention you deserve and consequently feel necessary to ensure you are taken care of, because it's your vacation, and therefore you deserve the best! To honor the preference amongst the other Peniche area surfing camps we promise a family like environment, where you don't get lost in the crowds and actually get to know everyone, many times creating friends for life.


---
CAMP OPERATOR
---
Managed by two surfers, and great friends, with more than 20 years of experience, the Ocean Ferrel SurfCamp came together because of this love and dedication for the surfing lifestyle that changes everyone that comes across it. The peninsula of Peniche in sunny Portugal is surely one of the top places in the world to learn how to surf, and by far the best in Europe, so come join us and experience the magnificent feeling that only surfing can give. Let these two, experienced local surfers (along with the rest of the staff), help you enjoy the best Peniche has to offer, live up the surfing dream!



ACCOMMODATION AND CATERING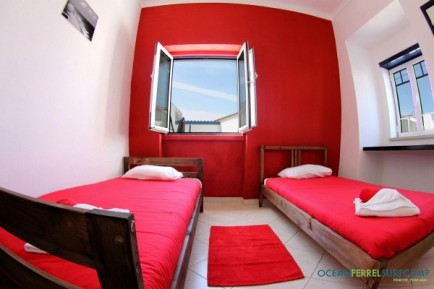 ---
ACCOMMODATION
---
We welcome you to our brand new accommodations situated in the charming village of Ferrel, where the beach and the countryside meet for a mix of sensations just outside our doorstep.
3 bedrooms and a suite, all of them decorated with the love and caring of who aim to receive not tourists, not clients, but friends. Enjoy our swimming pool after a day at the beach, take the salt out of your body with a refreshing dive and drink a glass of wine from our personalized cellar afterwards, all of this while contemplating one of the best sunset views this region has to offer.
A room with a view. And what a view!

We have a modern and fully equipped kitchen at your disposal, a living room with a touch of home for you to feel comfortable, chat and relax in between the many activities we have prepared for you and if you need to work a little because well, sometimes you just have to bring some "homework" with you, don´t worry, we have a quiet lounge so you can concentrate on your private affairs. At the end of the day we want our home to be your home with a magnificent view to all of Peniche´s peninsula and the ocean as a background of a memory to relish for years to come.


---
CATERING
---
We have a modern and fully equipped kitchen at your disposal and free breakfast every day.


SURF COURSE AND ACTIVITIES
---
SURF COURSE DETAILS
---
- The surf lessons have a maximum of 6 students per teacher, so we give the best attention to each student.
- Each surf lesson lasts 2 hours, half an hour for exercises and stretches and 1.5 hours in the water.
- Each day we do two surf lessons.
- All day at the beach is free for students to use the surf material.
- All our instructors are qualified by the surf course instructors and also the lifeguard course.

Beginner's lessons

    - Briefing start lessons
    - Introduction to surf:
        Safety rules.
        Learn to paddling on board.
        The duck-dive (pass the wave with the board).
        Put up the board (take off), surfing in the white wave.
    - What is a surfboard:
        The bottom turn.
        Knowing how to mark a location on land to the sea.
        Balance on top of a surfboard.
    - Video analysis session.

Intermediate lessons

    - Introduction:
        Brief diagnosis to the surfer.
        Recognition of the beaches and streams.
        Revision of the basic techniques of surfing.
        Techniques for paddling and turning the surfboard (tricks, and details).
    - Priority rules.
    - Surfing:
        Distinguish different types of waves and surf to apply in each of them.
        Catch green waves,
        The bottom turn and its importance for success on the wave.
        Techniques to pass the wave (duck-dive);
    - Video analysis session

Private Surf Lesson

    - Private surf instructor;
    - Transport to the beach;
    - Accident insurance;
    - Surf shop discounts;
    - Surfboard and wetsuit.

Surf Guiding

      Transport to the best spots


---
OTHER ACTIVITIES
---
Of course, let´s face it, you will come for the surfing experience. You want a taste of freedom on the top of a surfboard and that´s why we are here for. But our unique location allows you to take some other routes of fun and relaxation while you are staying with us. Go for a run or for a bike ride and discover the soft and rural sceneries of Ferrel countryside with lots of roads and paths by the sea to choose from. go for some wine tasting in the nearby vineyards. We will take you for a tour to Óbidos, a glorious medieval town awarded by the UNESCO or Nazaré and it´s world-renowned big wave surfing spot.


MORE INFO, HOW TO GET THERE & FAQ
---
JOURNEY
---
Ways to get to the camp
The nearest airport is Lisbon, when you arrive at Lisbon airport, the best option is to take a taxi to the bus station "Sete Rios".
The bus to Peniche take about 1 hour and half and costs around €9.
PACKAGES & PRICES
---
ACCOMODATION - from 189 € per Week / Person
---
This package includes:
Accommodation at Ocean Ferrel Surf Camp;
Free Wi-Fi;
Surf shop discounts;
Breakfast included.

Single Bed                       1 night             7 nights            14 nights
   
01 Nov – 31 May                27 €                  189 €                378 €    
01 June – 31 Oct                35 €                  245 €                490 €   


Double Bed                     1 night              7 nights             14 nights
w/private bath

01 Nov – 31 May                60 €                  420 €                 840 €
01 June – 31 Oct                72 €                  504 €              1.008 €


---
SURF LESSONS - from 40 € per Person
---
Surf Lessons
                           1 Day                 5 Days                  10 Days
                                          2 surf lessons       10 surf lessons       20 surf lessons
1 November to 31 May                   50 €                 195 €                    350 €   
1 June to 31 October                     60 €                 240 €                    440 €    
Private Surf Lesson   
                  2h
1 November to 31 May                  50 €
1 June to 31 October                    50 €
Surf Guiding
                           1 Day                  5 days
1 November to 31 May                40 €                    160 €
1 June to 31 October                   50 €                    160 €