ABOUT THE SURF CAMP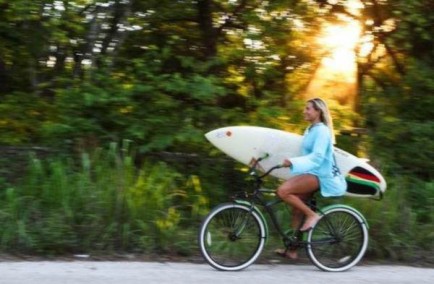 ---
LOCATION AND SURF CONDITIONS
---
Founded in the spirit of adventure, Rip Jack Inn in Playa Grande is known for tropical bliss and friendly ambiance. Back in 2002, owners Dave and Annie Corredor packed their Toyota 4-Runner with their dogs, Ripley and Jack Brown, and trekked south. While Costa Rica was their final destination all along, Playa Grande captured both their hearts and imaginations.
After taking the time to settle in to the community of Playa Grande, Dave and Annie purchased a beach-side hotel. The Corredor's affectionately named the place after their furry companions hence calling it Rip Jack Inn.
It's been more than 10 years since Dave and Annie have opened their doors, and they consider the hotel an extension of their home.  The hotel staff treats guests just like family, ensuring all visitors have a memorable vacation. Whether you choose a standard room or cozy bungalow, this Playa Grande hotel aims to please.
Today the Corredor's, along with their bright-eyed daughter Maggie, extend the invitation to be part of the Rip Jack Inn family.  We are just steps away from Playa Grande's main surf break, and we offer daily yoga classes in our beautiful shala.
If you love to surf, if you love to practice yoga, and if you love great food, you'll feel right at home here.
Year after year, returning guests make their annual trip to this Playa Grande hotel, and new visitors discover what makes Rip Jack Inn the place to stay by the Pacific.
Pura Vida!


ACCOMMODATION AND CATERING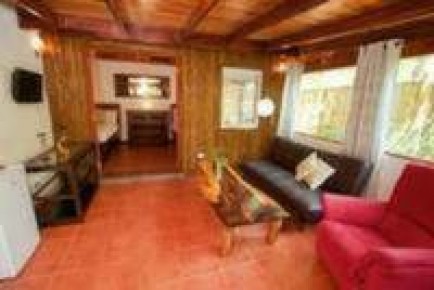 ---
ACCOMMODATION TYPES
---
Before visiting Playa Grande, hotel guests are invited to choose between a variety of rooms at Rip Jack Inn. We invite you to take a virtual tour of each of them. 
Hotel Room - Standard
We have six standard rooms that are located in the main building. Each room has a small patio and hammock hanging out front, which is great for lounging. The rooms have one queen size bed, one single bed and a completely remodeled bathroom. Stay cool in Playa Grande even when it's hot outside with our split-level air conditioning and ceiling fans.
Hotel Room - Deluxe
We have eleven deluxe rooms located in a separate building.  The rooms have one queen size bed and one single bed. The bathrooms have been completely remodeled with open showers that have a cool, river rock floor—we think it feels fantastic under your feet after a day at the beach! Deluxe Rooms come equipped with split-level air conditioning, ceiling fans, in room coffee makers, cable television and a small refrigerator. 
Hotel Room - Bungalow
Tucked away in the garden is the Bungalow, and it's our favorite room by far! The Bungalow has two queen-size beds in a room that is separated by French doors for a little privacy. The front room has a leather sofa that can be used as a third bed and a lazy boy recliner. The bathroom is brand new, complete with an open spa type shower. Let the smooth river rocks flooring gently massage your feet after a day at the beach. The Bungalow comes equipped with split-level air conditioning in each room, coffee maker, flat screen cable television and a small refrigerator. Stay in Playa Grande in style in our Bungalow.
Hotel Room - Suites
We have two brand new Suites this year at Rip Jack Inn. Each have a large living room with a pull out sofa, flat screen TV, kitchenette and bar area.  The bedroom of suite 1 has two king size beds and an additional flat screen TV. The bedroom of suite 2 has one king size bed and a separate area with two twin beds, perfect for families with children. Both Suites have A/C in both rooms, one large bathroom, ceiling fans and an outdoor patio.
Hotel Room - Deluxe Pool 
New for this year at Rip Jack Inn is our Deluxe Poolside Room. Morning, noon, and dusk, our pristine pool is just steps away from your front door, and the beach access is just across the road. The Deluxe Pool Room is perfect for those who want a romantic Playa Grande getaway. This option has one king size bed, flat screen TV, coffee maker, small refrigerator, A/C, ceiling fan and outdoor patio. 


SURF COURSE AND ACTIVITIES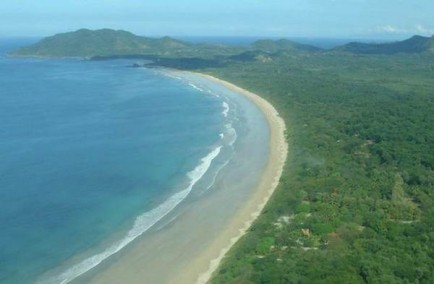 ---
SURF COURSE DETAILS
---
Playa Grande is home to some of the most consistent surf in Costa Rica. Pick up a board and let us help you learn how to catch waves and hang ten—all out in front of Rip Jack Inn. Surf lessons include board rentals, or you can rent your own board independently without instruction. Daily and weekly rates are available!


MORE INFO, HOW TO GET THERE & FAQ
---
OTHER ACTIVITIES
---
Rip Jack Inn invites all guests to enjoy the many activities the Playa Grande area affords its visitors. No matter what time of year you book your stay at our hotel, there's plenty to keep you busy. Let Rip Jack Inn arrange your tours and activities to ensure your friends and family spend the day with knowledgeable, reputable guides and operators. You can book prior to arrival or decide what you want to do once you get to Playa Grande. And always remember, there' s nothing wrong with just chilling at the beach or in a hammock!
We've listed some of our more popular activities hotel guests enjoy while on their Playa Grande vacation.


Yoga Classes
Rip Jack Inn has its own yoga shala where daily classes are held every day for locals and visitors. From beginners to the more experienced, people of all ages and levels will benefit from balancing body and mind here at Rip Jack Inn. The shala is equipped with AC, and yoga mats are provided. We even offer private classes for groups and individuals. Our yoga classes are popular with surfers; check our schedule to see when our surf stretch classes are available.

Massage
After a long day of play, or months of buildup from work stress, treat yourself to one of the best massages you've ever had. Our area masseuse's can accommodate a variety of needs. Whether you need gentle hands to work out daily stress or an intense sports massage, local masseuses are sure to make you feel your best. 

Sunset Sailing
Set off in the early afternoon on a beautiful catamaran into the deep blue sea. Spend the day sailing, snorkeling, eating, and drinking aboard some of the best boats in the Pacific. Explore secluded beaches, islands, and coves and snorkel in some of the best spots around. Equipment is provided and you will have the opportunity to spot colorful fish, turtles, octopus, coral reef and much more! On the way back, enjoy the sound of live music as you watch the sun sink slowly into the horizon—definitely the best seat in town! Food and drink are provided.  
Canopy Tour
Strap yourself in and sail through the treetops on a canopy zip lining tour.  See the beach, waterfalls, and local flora and fauna as you're moving from tree to tree. With 23 platforms and 2 suspension bridges to get you adrenaline pumping, you can see the Costa Rican jungle like never before. These excursions are all day, so pack sunscreen, hats, and the appropriate apparel.
Witch's Rock & Ollies Point – World class surf
We love the surf in Playa Grande, and we're lucky enough to be in close proximity to world- class surf. Experienced surfers can hop aboard a chartered boat for a surf adventure like none other. Accessible by boat only, Witch's Rock enjoys endless offshore winds and fast barrels. Ollie's Point is a right point-break with rides that seem to last forever. 
Leatherback Turtles
Playa Grande is famous its Leatherback turtles. Starting in October, visitors from all over the world come to witness these 800 lb. creatures coming ashore and laying their eggs. Towards the end of the season, guests can take guided tours to see the turtle hatchlings make their way towards the Pacific. Turtle season officially spans October 15 through February 15, though turtles can be spotted all year long off the coast.
Estuary Tour
Climb aboard a local fisherman's boat and spend a few hours floating down the Playa Grande estuary. Listen for the howler monkeys in the trees and keep an eye out for caiman floating in the Rio Mata Palo. Should you want explore on your own, rent a kayak and be adventurous! 

Rincon de la Vieja
Playa Grande is just a short drive to some of the best hiking in all of Costa Rica. Adventurers can pack up their car for the day and make their way to Rincon de la Vieja or Tenorio National Parks. Trek to volcanic craters and secluded waterfalls. If you prefer, we'll hire you a guide to pick you up, provide snacks, and give you a one-of-a-kind tour you'll never forget. Visitors should be advised that parks are closed on Mondays  
Diving
Certified SCUBA divers can explore the depths of the Pacific by booking a charter to the famous Las Catalinas Islands or other popular sites. Swim among schools of colorful fish, spotted rays, and other invertebrates. Never been diving—not a problem! Local dive shops offer certification courses that include your very first open water dive.    
Horseback Riding
Saddle up and giddy up! See the beautiful terrain of Playa Grande and the adjacent area with a horseback tour. We are happy to book daytime and sunset rides along our neighboirng beach Playa Brasalito.  Playa Grande beachfront is a protected zone for the Leatherback Turtles, sorry no horses allowed! 
Sport Fishing
Guests can choose from either a full or half day sport fishing charter out in the open Pacific. Troll for sailfish, Yellow fin Tuna, Dorado, Snapper, and more! Let us book you're a charter with the most experienced captains on the coast. Playa Grande visitors must drive to Tamarindo and Playa Flamingo to catch the boats. 
AND DON'T FORGET ABOUT KICKIN IT AT THE BEACH FOR SOME GOOD OLE FASHION RELAXATION, COSTA RICAN STYLE!


PACKAGES & PRICES
---
PACKAGE A - from 70 € per Night / Person
---
This package includes:


In room safes
AC Units
Flatscreen TV (with the exception of standard rooms)
Daily maid service
Hot water
Coffee maker
Outdoor patio
Security Guard
Parking Lot
Swimming Pool
Yoga Studio
Tour desk
Laundry service


| | | | | |
| --- | --- | --- | --- | --- |
| Room Type        | High Season      | Low Season      | Rainy Season      | Holiday Season |
| Standard | 90€ | 80€ | 70€ | 105€ |
| Deluxe | 125€ | 110€ | 99€ | 140€ |
| Deluxe Pool     | 140€ | 125€ | 110€ | 155€ |
| Bungalow | 160€ | 150€ | 110€ | 175€ |
| Suite | 235€ | 200€ | 150€ | 250€ |
prices do not include tax of 13%
Rates based on double occupancy
$15 additional person

High Season: Nov 16-Apr 13
Low Season: Apr 21 - Aug 31 , Nov 1 - Nov 15
Rainy Season: Sept 1 - Oct 31
Holiday Season: Easter, Christmas