ABOUT THE SURF CAMP
---
LOCATION AND SURF CONDITIONS
---
We are located 500 ft (150mt) from spot where waves are more consistent of our beach-break, Grande offer optimal surfing conditions all year. Best rides from December till April, when off-shore winds blowing.
Grande is also base camp for many Guancaste surf adventures, from famous Playa Avellanas to Playa Negrathrought  the worldwidely recognized Witch Rock (Roca Bruja) we can organize best adventure for you and your friend with local guide to ride the best waves of Costa Rica.
ACCOMMODATION AND CATERING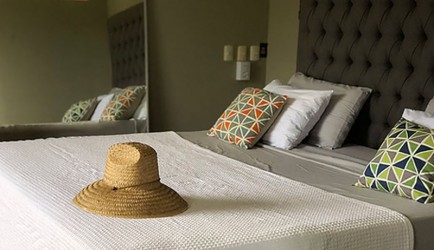 ---
ACCOMMODATION TYPES
---
Each room offers air conditioning, ambient fans, a private bathroom, shower, and hot water. Choose between our double occupancy rooms for two people, larger room for four or our last floor superior queen with private balcony.
---
CATERING
---
You can find a kitchen - for self-catering - in each room. The hostel offers only a breakfast, but this isn't included in the room prices. But depending on your preferences, it's possible, to get a breakfast for little money.
SURF COURSE AND ACTIVITIES
---
SURF COURSE DETAILS
---
There are private as well as group surf lessons available.
---
SURF MATERIALS
---
For a surf lesson, you have to rent a board. Sugar Monkey offers boards for 10$ per day.
---
OTHER ACTIVITIES
---
Life in Grande is built mostly around ocean life. Here there is the opportunity to indulge in beach life, explore nearby beaches, try a yoga class, and visit the beachside "Taco Star" for refreshments.
MORE INFO, HOW TO GET THERE & FAQ
---
 SURF CONDITIONS
---
An experienced surfer will love our one-step spot located at the mouth of our ocean entrance. Here, waves are larger and more consistent,  but an intermediate surfer can find easier conditions within walking distance.
Surf in Grande is best from December through April, when strong off-shore winds bring optimal swell, but it is possible to surf year round!
Grande is also the perfect "base camp" to explore nearby Roca Bruja, Avellanas, Play Negra, Marbella, Ostional, Nosara, and Camaronal. Start here and ride all Guanacaste waves!
---
 SURROUNDINGS / REGION
---
Activities and facilities
Our extravagant ocean sunsets are best followed by turtle tours organized by the Las Baulas National Park. This is particularly fun for families, as children eagerly brave the darkness to discover leatherback turtles emerging from the black ocean and crossing the sand to lay their eggs.
Best discovering our pristine environment early morning dive into pristine nature by exploring the nearby salt-water estuary. This three-hour tour features traditional canoes. Discover the brackish heart of Grande: a world of alligators, monkeys, and dazzling spectrum of birds.
---
 JOURNEY
---
Ways to get to the camp

Liberia International Airport
Situated in Liberia, 40 miles from Playa Grande, is a small charming airport. Direct flights from USA and Canada arrive and depart daily. It is managed by Swissport.

San Jose International Airport
The largest airport in Costa Rica, SJO, is 150 miles from Playa Grand. After arriving, you can finish your journey to Grande by shared shuttle or airplane.

Tamarindo Private Airport (Domestic Flights)
8 miles from Grande is a small airport with basic service. This airport connects to Liberia and San Jose operated by SANSA.
PACKAGES & PRICES
---
Private Surf Package - from 360 $ per Week / Person
---
This package includes:
- accommodation for 6 nights
- one private surf lesson with an experienced instructor
- additional surf lessons can be added easily (Price for one lesson: 110$) 
- board rental (10$/day)
---
Group Surf Package - from 277.50 $ per Week / Person
---
This package includes:
- accommodation for 6 nights
- one group surf lesson with an experienced instructor
- additional surf lessons can be added easily (Price for one lesson: 27.50$)  
- board rental (10$/day)