ABOUT THE SURF CAMP
---
LOCATION AND SURF CONDITIONS
---
France is popular for all levels of surfer due to its endless beaches, the great weather, fun waves and soft sand below the water.
Moliets is situated in the south west of France ,neighbouring the Basque country and northern Spain. It's also very close to Hossegor, which hosts one of the worlds largest professional surf competitions.
---
CAMP CHARACTER
---
The Surf & Yoga DELUXE Star Surf Camps is situated in the beautiful and famous town Moliets on the southwest coast of France. The world famous beach breaks of Moliets-Plage provide some of the best waves in the world and the sand bottomed waves allow for a safe and comfortable learning experience. 

Moliets DELUXE is our whole new Surf & Yoga camp with a quiet and relaxing atmosphere. It offers their guests large tents with a bohemian look and electricity. 

This camp is perfect for couples, surfing beginners or intermediate surfers. Moreover it suits to guests within all ages who look for a relaxed and quiet holiday. 
---
CAMP OPERATOR
---
Star Surf Camps is truly an international surf camp with guests visiting from all over the world and staff that speak numerous different languages like English, German, Dutch, Swiss, French, Spanish and more. The main language spoken is English however for all surf lessons and any camp activity they have translators present to help you in your own language.
ACCOMMODATION AND CATERING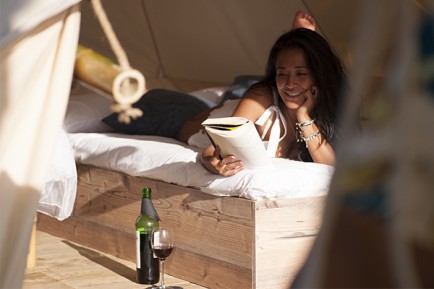 ---
ACCOMMODATION & CATERING
---
With Star Surf DELUXE Surf & Yoga, You're Camping in Style in Moliets, France
During your surf camp holidays in the DELUXE Surf & Yoga Camp, you're staying in our beautiful and new bohemian bell tents. This camp is the more quieter and secluded option compared with the Moliets Main Camp.
You have the possibility to relaxe in the large chill-out zone with our unique "Hammock Hotel", use the Yoga platform or the sunbathing deck. In addition, the camp offers you a tiki bar for relaxing talks with new made friends, an outdoor cinema, a large seating area to eat and provides surfing equipment.
The Moliets DELUXE Surf Camp is part of a big campground with other surf camps. It provides several restrooms and shower facilities, sinks and mirrors which are 24h available. Furthermore, guests can use a football, basketball, tennis and volleyball court without additional charges.
SURF COURSE AND ACTIVITIES
---
SURF COURSE DETAILS
---
All of the coaches are qualified surf instructors and lifeguards, chosen for their individual surfing ability, teaching experience and professionalism. Star Surf Camps only employs instructors with extensive travelling, teaching and surfing experience. The instructors are in the water with you, always helping you into the best waves of your life and not simply observing from the beach.

Star Surf Camps enforces a ratio of one instructor per eight students and employ an assistant for each instructor for extra safety, effectively giving a 2-8 ratio of teaching staff to students. Your instructor and assistant will be assigned to your group for the duration of your stay meaning each day you can achieve personal targets discussed with your instructor each lesson. Each surf lesson lasts 2 hours, and you receive a minimum of 5 lessons each week totalling 10 hours. With Star Surf Camps you receive 10 hours minimum with the option of upgrading to the fastrack course for an additional 5 hours each week.
Al surf equipment is free to use and included in the price so you can practice as much as you like with our instructors at hand, 24 hours a day for tips and guidance.
MORE INFO, HOW TO GET THERE & FAQ
---
LOCATION AND NEARBY SPOTS
---
Moliets is situated in the south west of France ,neighbouring the Basque country and northern Spain. It's also very close to Hossegor, which hosts one of the worlds largest professional surf competitions.
---
JOURNEY
---
You can fly to Biarritz airport where they can pick you up for or take a train to Dax train station. A pick up from Biarritz will cost 55€ , a pick up from Dax 35€. They also work closely with the Quicksilver Express offering bus transport from most German cities. Most guests chose to drive to the Star Surf Camp in Moliets where there are parking spots next to the campsite.
PACKAGES & PRICES
---
PACKAGE A - SURF DELUXE from 469 € per person / week
---
This package includes:
- 12h of surf lessons with surf theory
- accommodation in bohemian bell tents, raised beds and electricity
- daily breakfast buffet, packed lunch and 6 dinners
- 3 yoga lessons
- free French wine and cheese night
- free use of surf equipment within and beyond surf lessons
- free access to surf camp equipment, e.g. balance trainers, beach games and many more
- free goody bag with a beach bag, wristband & 48 page "Learn to Surf" - book


Low Season (19.05. - 21.07.2018 ; 01.09. - 22.09.2018): 469.00 € pp
Mid Season (21.07. - 04.08.2018 ; 18.08. - 01.09.2018): 489.00 € pp
High Season (04.08. - 18.08.2018): 509.00 € pp
---
PACKAGE B - SURF DELUXE UPGRADE - 518 € per person / week
---
This package includes everything from the SURF DELUXE package plus:
- additional 4h of surf lessons during the morning and sunset
- surf photography
- bigger and better Goody Bag


Low Season (19.05. - 21.07.2018 ; 01.09. - 22.09.2018): 518.00 € pp 
Mid Season (21.07. - 04.08.2018 ; 18.08. - 01.09.2018): 538.00 € pp 
High Season (04.08. - 18.08.2018): 554.00 € pp
---
PACKAGE C - YOGA DELUXE UPGRADE - 518 € per person / week
---
This package includes everything from the SURF DELUXE package plus:
- additional 4h of Yoga sessions
- surf photography
- bigger and better Goody Bag


Low Season (19.05. - 21.07.2018 ; 01.09. - 22.09.2018): 518.00 € pp
Mid Season (21.07. - 04.08.2018 ; 18.08. - 01.09.2018): 538.00 € pp
High Season (04.08. - 18.08.2018): 554.00 € pp