ABOUT THE SURF CAMP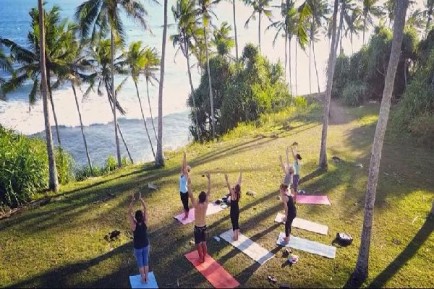 ---
Location and surf conditions
---
Sri Lanka's south west coast is a wave garden with more than 15+ surf spots within easy reach from the camp, with most of the breaks located within 10 minutes.   We have a comprehensive list of surf spots listed here. Every morning we will do a surf check online and with our local surfing friends and decide which beaches to head to. This will depend on factors such as ability level of each group, and the swell conditions. This means that the chances are high that you'll have ideal conditions whatever level of surfer you are.    
---
ACCOMMODATION AND CATERING
---
Accommodition
---
We are housed in a beautiful charming garden. And jungle is our back yard where monkey roam around freely. We have 9 rooms in total as follows, aptly named after few surfing moves and yoga postures.
Cutback – this is the first floor triple room which has marble floor, queen bed, and a extra single bed. It has a private balcony with view across the footpath to the gate.   Balasana – (air-conditioned) this is our family room with queen bed, and single bed, and we can arrange a baby cot on request for an extra fee. It has the jungle view over the fence. This room also has a private balcony with chairs and a couch. The room also have tea / coffee making facility.   Floater – this is a standard triple room with view over the garden. It has a large sofa bed in its private balcony as well. With marble floors and lush view, guests love this room too. The room has a queen bed and a single bed.   Suvasana – (air-conditioned) as the name suggests, this is a comfortable triple room with a private balcony with a nice view over the jungle in the backyard. The room also have tea / coffee making facility.   Virasana – (air-conditioned) this is a wooden cottage double room with a smaller private balcony, and ocean view! This room is ideal for a couple looking for a cozy hang-out.
Aerial – this wooden cottage probably has the best view of the thick jungle and beyond. This is a triple room with a double bed and a single room with extra large private balcony. Jungalow House – Jungalows is located behind our camp. There is a path (through a small jungle) which connects the camp and the Jungalows. There are 3 double rooms in Jungalow house with AC / Hot cold shower, en-suite bathroom and shared kitchen.
SURF COURSE AND ACTIVITIES
---
Surf course details
---
We aim to keep things a bit different. From our fine surrounding at the guesthouse, the surf points near-by, our certified surf coaches / guides, to the equipment that we use, we aim to have the highest regional standard. Therefore we've designed everything on our surf coaching courses to make sure that you get the most out of your surfing during your stay with us.   Our surf programs are comprehensive in that it not only includes plenty of time in the surf, but video analysis & feedback and surf theory classes, delivered by our team over the surfing week. Each surfing session is progressive and goal oriented for each of the participants, and at the end of the surf session, your coach will be discussing with you how you progressed learning that new skill taught on the beach.
---
Surf materials
---
In addition to plenty of time in the water, all of our guests will also receive theory lessons as well. Depending on which package that you book, you also have the option to get your surfing videos reviewed by our surfing team.  
---
Other activities
Vegan Cafe & restaurant, surf shop, chill-out lounge, play carom, cards, Hula-hoop, Skip a rope, hammocks, snorkelling equipment, surf movies, slack lining, & a book library.
We can also organise the following excursions for you: Fishing tours; Whale watching; Turtle watching at night; City tours; Tea factory visits; Temple tours; Diving tours; Airport transfer etc.
MORE INFO, HOW TO GET THERE & FAQ
---
Seasonal conditions
---
The reason to run our surf camp in South Sri Lanka is because of the consistency of the surf as well as its favourable weather and winds. It rarely gets big and it rarely gets flat. There is always soft, friendly white water on the inside for building confidence on specific board skills and typically smooth, 
How to get there

---
  We will happily arrange for a private driver to meet you at the airport if necessary. The guests can reach the camp via public or private transport.   AC Private car / van – Cost USD 80 including expressway passes – Time take 3 hrs   Public transportation   Bus – Take the bus from the airport to Pettah main bus terminal, and take the bus number 2 to Matara (normal way) or Express bus to Matara (depending on availability). From there, you can take a tuk tuk to our camp in Mirissa.
---
PACKAGES & PRICES
---
*All the prices are in USD, gross rate per person. **Delicious breakfast included!
---
Balance


 
 
 
single 
 
 

double

 
 

triple

7 nights
6 surf sessions + 6 yoga sessions +
1 massage
 
 
AC / 585
non AC / 515
 
 
AC / 480
non AC / 427
 
 
AC / 433
non AC / 398
10 nights
8 surf sessions + 8 yoga sessions + 2 massages
 
 
AC / 830
non AC / 730
 
 
AC / 680
non AC / 605
 
 
AC / 613
non AC / 563
14 nights
12 surf sessions + 12 yoga sessions + 3 massages


 
 
AC / 1171
non AC / 1031
 
 
AC / 985
non AC / 880
 
 
AC / 891
non AC / 871
Yogi
 
 
 

Single

 
 

Double

 
 

Triple 

7 nights
4 surf sessions + 8 yoga sessions + 1 massage
 
 
AC / 555
non AC / 485
 
 
AC / 450
non AC / 397
 
 
AC / 403
non AC / 368
10 nights
6 surf sessions + 10 yoga sessions + 2 massages
 
 
AC / 730
non AC / 630
 
 
AC / 580
non AC / 505
 
 
AC / 513
non AC / 463
14 nights
10 surf sessions + 14 yoga sessions + 3 massages
 
 
AC / 1165
non AC / 1075
 
 
AC / 955
non AC / 850
 
 
AC / 861
non AC / 791

Surf Surf
 
 
 

Single

 
 

Double

 
 

Triple

7 nights
8 surf sessions + 4 yoga sessions + 1 massage
 
 
AC / 615
non AC /545
 
 
AC / 497
non AC /457
 
 
AC / 398
non AC / 428
10 nights
10 surf sessions + 6 yoga sessions + 2 massages
 
 
AC / 860
non AC / 710
 
 
AC / 710
non AC / 585
 
 
AC / 643
non AC / 543
14 nights
14 surf sessions + 10 yoga sessions + 3 massages
 
 
AC / 1175
non AC / 1085
 
 
AC / 1015
non AC / 910
 
 
AC / 971
non AC / 851
---