ABOUT THE SURF CAMP
---
LOCATION AND SURF CONDITIONS
---
Around our B&B in South West France, you have everything in the area, starting with the longest most unspoilt beach in Europe which spans 200k's and is bordered by lush green pine forest . The B&B is in Azur, a small quiet village, very close to the beach and even closer to the massive lake of Azur/soustons. We have a new Pub 'Le Last' whom host regular concerts and have a delicious menu. "L'Auberge du Soleil" is a restaurant with traditional local food and we have a classic french boulangerie within walking distance.The restaurant on the beach at Messanges is not to be missed.
The only place on the coast that you can enjoy a beautiful meal on the top of the sand dune overlooking the entire beach .It has a reputation for the sunset meals or drinks,so get there early to enjoy a breathtaking sunset. Also they have a take away ,ideal for beach time snacks and refreshments during the day. Around the lodge, all of the villages have morning markets throughout the week , with fresh local produce  and of course the French love a summer festival . Spain is 40 mins and surfing basque country waves are a must. But before you leave france, you can stop in at the beautiful city of  Biarritz and pictuesque fishing town of St.Jean de Luz,  not to mention the Basque capital of  Bayonne with its magnifisent cathedral and world renowned 'fete de Bayonne'.


---
CAMP CHARACTER
---
A  hundred year old farm house  recently renovated to a high standard, using carefully handpicked local products to keep our aim of a green planet friendly place to stay. Looking after our planet is as important to us as looking after our guests. We have a full recycle program and make sure that everything from rain water to plastics are recycled.Why not take a slow cruise through many of the cycle paths in the forest .Our planet friendly program is due to a solar project in 2013 ,so that we can offer green energy to all .


---
CAMP OPERATOR
---
Troy and Nelly have devoted there life's to the beach and the snow,  with over 40 years of surfing, snowboarding , and skating experience, and as many years of catering and tourism. If you want guided surf trips for small summer waves, the notorious big wave  spots of France, or surfing Basque country reefs, we are here for you . If relaxing in a luxury B&B in France with your family or your friends is your thing, you can do just that. If you want to discover  the  area with our local knowledge, we can point you in the right direction of all the activities  near our holiday accommodation .
ACCOMMODATION AND CATERING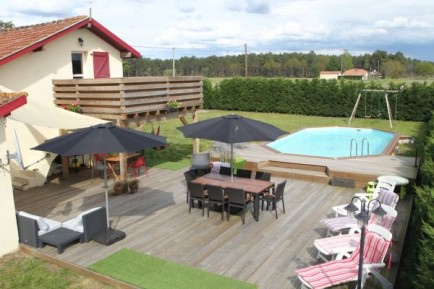 ---
ACCOMODATION TYPES
---
The Lodge
We have five bedrooms, four bathrooms, large lounge area and dining room. Leading out from the lounge,  there are three large sundecks with a 11m x 6m pool to relax around, all set in 1200m of garden with ample free & secure parking for all visitors.
Rooms
Our typical French B&B near Hossegor accommodates twelve people. We have a bunkbed room , double rooms,  a family ensuite room, and  a luxury family room with ensuite, all of which can be changed around to suit you and your group. All rooms come with bedding and shower towels.
Large family en-suite room / upstairs
This room is the largest Eastern facing in the house at 30msq (inc en-suite) . It is one of the two upstairs bedrooms. It has a private sun –terrace overlooking the pool and a luxurious en-suite bathroom, with shower & bath .The bed is a queen size (180 x 200 cm) , and we have  3 single beds that we can put in at an extra charge. The maximum occupancy of this room is 5. Babies under 2 go free of charge and we provide as many cots as are needed. Obviously all linen and towels are provided, and is chambermaid cleaned every morning. This room has been renovated from the farm house's original state and we have kept and restored the beautiful 100 year old beams running though the room.
Family en-suite / upstairs
Our other family room upstairs is 25msq (inc en-suite) and also is East facing. It has a small en-suite and overlooks the garden. There is a normal double bed and a large bun-bed for the kids. The maximum occupancy of this room is 4. Babies under 2 go free of charge and we provide as many cots as are needed. Obviously all linen and towels are provided, and is chambermaid cleaned every morning. This room has also been renovated from the farm house's original state and kept and restored the beautiful 100 year old beams running though the room.
Basque double room / downstairs
Our Basque room downstairs has also undergone a renovation and has original 100 years old Basque 'Laburu' tiles. At 20 msq this room has a normal sized double bed , or two singles. A maximum of 2 in this room. During the blazing temperatures of the region in the summer this room is known to be the coolest in the house as it faces North. It shares a bathroom (next door) with the other double room.  Babies under 2 go free of charge and we provide a cot if needed. Obviously all linen and towels are provided, and is chambermaid cleaned every morning.
Eastern double room / downstairs
Our East facing double downstairs is the closest to the pool. It is 20msq and has also been renovated, leaving the original 100 year old tiles. It has a normal sized double bed or two singles can be arranged. A maximum of 2 in this room. It shares a bathroom with the other double room.  Babies under 2 go free of charge and we provide a cot if needed. Obviously all linen and towels are provided, and is chambermaid cleaned every morning.

Duble bunk bed room / downstairs
This is the smallest of our rooms at 12msq and is also east facing with a view of the garden. A perfect room for the kids , or for the traveller with budget in mind. A maximum of 2 in this room. It has a bunk bed and also has the original 100 year old tiles.  Obviously all linen and towels are provided, and is chambermaid cleaned every morning. This room is also sharing a bathroom.
Lounge area and dining room
The large lounge linked to the dinning room is a comfortable place to chill after a hard day of holidaying .It has four sofas to sit and enjoy the in-house entertainment,sky TV, DVD, and a surround sound on the large flat screen TV. There is also a desktop pc area for all to use, and of course free WiFi throughout the lodge. The lounge links onto the large sundeck as well as the dinning room.
Outside
Stroll out of the lounge onto the 120msq sundeck with hammock area, sun loungers and bbq's, and chill area , all beside the 11mx6m pool .In our luxury French b&b, there is an area for everyone to chill quietly  or mix with other guests, including a play area for the kids . We believe that your enjoyment and comfort outside is just as important as inside.


---
CATERING
---
 All of the breakfasts  are prepared with fresh local products. Breakfast is a healthy continental buffet , consisting of three different cereals, fresh orange and apple juice,an assortment of different muffins, breoch, sweet bread, freshly baked hot croissants and of course chocolatines, freshly baked breads , and a plate of varied hams and cheese .If of course your idea of a perfect holiday is not quite so tuned towards the healthier side ,we can now offer a full fried English breakfast with all the trimmings. Please talk to us 24 hours in advance  if you would like to order. Full English comes at an additional cost. You can help youreself to free tea and coffee all day long.



SURF COURSE AND ACTIVITIES
---
SURF COURSE DETAILS
---
Why not take advantage of our-   learn to surf in France -package and give your surfing skills a real push? Or if you have more of a chilled aproach to your holiday you can book up through us for as many lessons as you like during your stay. At the Messanges surf school , you will receive the absolute best surf instruction in the area, with there emphasis being on proffesionalism and safety.You will experience the best surf spots in France during your lessons. When you feel more confident, you can venture South and experience surfing Basque country waves that break on reef as well as sand . Give us a call and we will book you some lessons with a special offer for all secret spot lodgers .Take advantage of our daily surf report to have an eyeball look at what kind of waves you will be surfing.


---
OTHER ACTIVITIES
---
Golf
Our name "The Secret Spot"  has a well thought out meaning. If you are not familiar with this part of France , then you will be pleasantly suprised by our large variety of World class courses, catering for all skill levels from the pro to the beginer,all within a 20 min drive from our B&B. The climate in this part of the world could'nt possibly be more suited for a golfing holiday . If you need a golf B&B in Landes , then we offer a comfortable , quiet place to come and relax before and after your game.

Thermal Spa
If you came to relax and need a well deserved rest, 15 mins and you are in the truly luxurious "Caliceo". This is not to be missed. Pamper yourself in the various natural mineral hot springs. Inside and outside thermal pool, with jacuzzi, sauna, haman and many other places to chill. €14 /2 hours adult's €11 kids.

Atlantic Waterpark
Located in Seignosse le Penon, ten minutes away from your luxury French b&b, is a massive water park, with many different pool, slides, Jacuzzi and games area including badminton, beach volley etc. €8 adults €6 kids .

Adrenalin Park
To make the most of your french holidays, five mins away from our B&B in Azur, you have paintball, quads and adventure park set in trees. Something for everyone here! Quads are €12 adults-€8 kids, Paintball €19 adults no under 14 years allowed and the hairy adventure park in the trees is €19 adults -€10 kids. Call 0558485662 for details or book through us.

Karting
Located in Magescq (5 mins) , the Karting centre offers three circuits , beginners , kids , and experienced racers. Open all year, call 0558477766.

Horse riding
Just down the road is the horse riding center.You can ride along the beach or the forest on a horse. They cater for all levels of rider. tel: 0558485529

Skating
We are pleased to announce the opening of our brand new skate park just 5 mins from the B&B, in Soustons. We also have another 3 parks close by. So if you have come to learn to surf in France, why not take a roll around after .

Fishing
Fishing trips on the 'Jean b' can be arranged to leave for deep ocean fishing from capbreton port. Half day €40 inc equipment full day €75 inc equipment and lunch.

Nautical Center
Our B&B in South West France is right on the lac de soustons, where the "centre nautique" offers sailing, canoeing and kayaks. So if you have had enough of the beach , call 05 58 41 43 00 for details or book through us.

Shopping
Right here in Soorts Hossegor, you have 'the zone' with every type of big name surf brand outlet store you can think of, all at super discounted prices. For the super chic shoppers, you have Biarritz, 30 mins away from the lodge, with all the luxury brands available to come home from your holidays, and impress !

Plant a tree programe
To follow our planet friendly green ethos here at the Secret spot ,we have devised a simple program for the kids or for whoever would like to participate.
The idea is as it sounds in the title. Basically we are surrounded by one of Europes largest forests , and thanks to the powers that be , we have permission to take willing participants into the forest with a  young tree. We then find an appropriate spot , plant it , map its exact position ,take a photo ,and of course name it . We will then follow the trees progress over the seasons, update this page with a new photo once a year ,and publish all trees progress in our newsletters. The idea is to give people a chance to own a tiny piece of the Landes forest , track its progress over the years and, of course give us all a chance to reflect and learn a little bit more about the importance of a green planet friendly outlook.
MORE INFO, HOW TO GET THERE & FAQ
---
 SURF CONDITIONS
---
Breaks directly at the main spot and at nearby spots

Our lodge is just 8 minutes from the beautiful beach of Messanges, which is one of the best surf  spots in France. For beginners who want to learn to surf in France,why not surf  Messanges with the messanges surf school? The world's top 16 surfers like to surf secret spots whilst visiting for the world championships, this is where you can check them out.
---
SURROUNDINGS / REGION
---
Characterization of surroundings/region
The Secret Spot Lodge, is a typical French b&b near Messanges, is situated in the beautiful village of Azur. Perfectly located  in the Landes area of South-West France, it is ideal as a holiday location being close to the coast, Spain, French Pyrenees and the beautiful countryside of Aquitaine.


---
JOURNEY
---
Ways to get to the camp
The main airport in the area of our b&b is Biarritz, served by both Easyjet and Ryanair who fly here from a number of UK and European airports. Please click on the links below. BMI also fly to Bordeaux, about 1.5 hours away.
Alternatively you may prefer to drive down by car. The shortest route is to sail to Caen or St Malo and take the motorway south. Alternatively use the Eurotunnel and drive through Paris and south from there.
The Eurostar leaves from St Pancras and takes around 11 hours to reach Dax train station (with 1 change in Paris: Eurostar arrives at Gare du Nord, the TGV leaves from Montparnasse).
PACKAGES & PRICES
---
LEARN TO SURF IN FRANCE - from 895 Euros / Week
---
This package includes:
- 7 nights B&B / x2 people
- Double or twin room
- 5 lessons with Messanges surf school/1.5 hours per lesson/equipment included/ x2 people
- Fulle use of facilities at B&B ie, pool, ext. Kitchen, free parking, etc.

This package is based on two guests in a twin or double room. For groups of families contact us for rates.

 
---
SURF GUIDE FOR HIRE - from 60 Euros / half day
---
Everyone has done it , arrived on a surf trip and hoped that judgement will take you to the best spots for that day. Our local surf guide is here to guarantee that you WILL find the best sand banks or reefs for that day. You've come on a surf trip , so take advantage of local knowledge and get the quality waves for that day.

- Dont waste valuable time looking for best waves , get local knowledge.
- Hire for half day (3 hours) or full day (6 hours)
- Up to 4 people, transport provided
- Full day packed lunch included
- Full day includes Basque country reefs , and big wave spots : 90 k'scovered.
- Half day includes Vielle-Saint Girons to Labenne Ocean : 61 k's of best French coast covered
| | | | | | | |
| --- | --- | --- | --- | --- | --- | --- |
| People |   |   | Included Extras |   |   | Price |
|  1-4 people |   |   |  transport |   |   |  € 60 / half day |
|  1-4 people |   |   |  transport |   |   |  € 100 /full day |