ABOUT THE SURF CAMP
---
LOCATION AND SURF CONDITIONS
---
B SURFER surf villa is situated in the beautiful bay of La Punta de Zicatela of the famous Puerto Escondido surfing town, right on the beach with famous world class waves.
---
CAMP CHARACTER
---
Beginner, Intermediate, Advanced
---
CAMP OPERATOR
---
B SURFER surf school is a family of soul mates, who has as their goal to make your dream about surfing come true by showing you how to understand and love the ocean. All instructors are certified and every year, they complete the «First aid and water safety» courses, blending local knowledge of world class waves, many years of surfing and teaching experience. They are real fans of «boards and waves». This will guarantee safety and great results!
ACCOMMODATION AND CATERING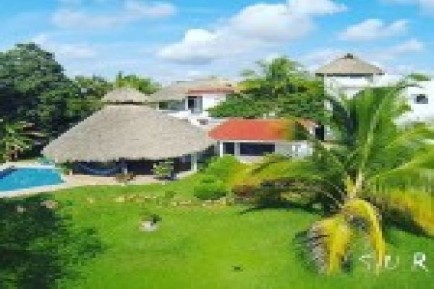 ---
ACCOMMODATION TYPES
---
Our beautifull surf villa owns ocean view (200 meters from the beach and surf spot) with big green territory, hamacas, 2 swimming pools, wifi coverage. The territory of villa has beautiful garden with common area with grill, coffee machine and fridge, spacious pool area with pool chairs and area with hamacas, Internet wifi all over the place. Villa offers standard suites, master suites with private kitchen and two separate houses with 2 and 3 bedrooms. The prices are starting from  50 USD per night for the standard room.
SURF COURSE AND ACTIVITIES
---
SURF COURSE DETAILS
---
Fun and safe. Puerto Escondido surf school B Surfer meets high standards of safety, providing surf lessons on the amazing and light Wavestorm boards, designed for surf lovers who want to catch every single wave, «No wave unridden!».

Certified multilanguage instructors. All instructors of our surf school are certified and every year, they go through the «First aid and water safety» courses, blending local knowledge of beautiful waves, many years of surfing, and teaching experience. They are real fans of «boards and waves». This will guarantee safety and great results! During your surf lesson you can have instructions in Spanish, English or Russian.

All level surf lessons. B Surfer have surf lessons for complete beginners and for intermediate surfers who want to improve their surfing skills and get more knowledge about waves and the ocean.

Flex schedule. Surf lessons are held two times per day: first in the morning between 8 a.m. and 12 p.m., and the second in the afternoon, the sunset session. With this comfortable schedule, they offer you the best conditions to surf, avoiding hot midday hours and the opportunity to choose the best time for early birds or for the ones who enjoy the exciting nightlife of La Punta. Even if you want to have intense surf training of two lessons per day, we are ready to face a surfing challenge with you!

Semi-private surf lessons. Every group surf lesson will be divided into smaller focus groups, depending on the level of surfing skills you have! B Surf guarantees one instructor for two students, to ensure your safety and best learning results.

The surf lessons last two hours, including warm-up, necessary information about surf spots, theory part and practicing in the water. We are not gonna make surfing champions of our students, we gonna teach you the basics, the rest depends on you!

Theory course. The theoretical part includes the basics of surfing, you will learn proper pop-up techniques, surfing etiquette and surfing rules, effective paddling techniques, how to paddle out to line up, make the drop, ride and catch the green waves, how to handle wipeouts and essential moves. If you need more profound and detailed information about each theme and even more, the full seven lessons surfing theory course with a textbook is always available during your stay!

High quality equipment. The equipment for beginners is the best fun soft board in the world! If you don't wanna miss a wave, you will love it! As soon as you master your surfing skills on this amazing board, you will be offered a more maneuverable and fast hardboard, according to your skills.

Photo coach session. Every surfing course of at least 6 surf lessons includes a photo coach session with photos included. During the lessons, pictures of the waves and intents will be shot by a professional photographer and then analyzed and discussed, so you can see your mistakes, understand what needs to be improved and how to do it. You will be able to see not only your mistakes and epic wipeouts, but you'll also get the best shots of your waves with the thrilling excitement on your face!

Waves for all level surfers. The beautiful surfing town and the nearby surroundings offer surf spots for surfers of all levels. From complete beginners to advanced! In case the waves are big, there are magnificent surfing spots with turquoise waters and coral sand on the beach that offer smaller and soft waves for beginners. Intermediate and advanced surfers will be excited to master their skills in the home spot of la Punta, with fast and fun waves.

Free transportation. You won't have to worry about getting to the beach, as B Surfer will transport you to the location that best suits you.

Our students are always happy! Enjoy fun and safe Puerto Escondido surf lessons in Mexico with B SURFER surf school!
---
SURF MATERIALS
---
Equipment included
---
OTHER ACTIVITIES
---
After surf activity: excursions and learning Spanish language programs. B SURFER surf school offers a wide variety of private and group eco-tours and excursions to the outstanding surroundings of Puerto Escondido.

During your free time, you can enjoy with us adventure boat trip, whale watching, fishing tour, snorkeling, diving, breakfast with oysters, visiting coffee plantations in the mountains, bird watching, night swimming in glowing famous towns of Mazunte&Zipolite, tours to waterfalls, zip lines in jungles and surf trips to the secret surf spots!

For the language lovers who is excited about spanish language we offer private spanish language lessons. Your teacher native spanish speaker and absolutely fluent in English will come to teach you in our villa at the most convenient time during your day!
MORE INFO, HOW TO GET THERE & FAQ
---
 SURF CONDITIONS
---
Breaks directly at the main spot and at nearby spots

Bay of La Punta de Zicatela of the famous Puerto Escondido surfing town, right on the beach with famous world class waves.
Seasonal conditions
All year
---
 SURROUNDINGS / REGION
---
Characterization of surroundings/region
Nowadays La Punta de Zicatela is the heart of surfing and «pura vida» life of Puerto Escondido, within the walking distance from villa you will find best restaurants, beach and chill-outs bars and lounges, local markets filled with fresh vegetables and fruits, local cafes with delicious mexican foods, surf and organic shops. Beach volleyball games, sunset walking and surf parties is a part of everyday life in this place!
Activities and facilities
During your free time, you can enjoy swimming, fishing, snorkeling, diving, horse riding, sunset yoga, beach volleyball, dolphins watching or just chilling in hamacas at our flourishing green surf villa with mango and palm trees! The mango season in Puerto Escondido is from April untill September, all these months you will enjoy daily fresh different sorts of mangos just outside of your room, all you need to do is to pick it up from the garden.
PACKAGES & PRICES
---
PACKAGE SURF AND STAY - from 350$ per Week / Person
---
This package includes:
Accommodation at gorgeous surf villa standard room (double room)
Surf lessons

Single Room: 450$
Triple Room: 320$
---
PACKAGE SURF AND STAY + THEORY - from 380$ per Week / Person
---
This package includes:
Accommodation at gorgeous surf villa standard room (double room)
Surf lessons and full theory course.

Single Room: 480$
Triple Room: 340$
---
PACKAGE SURF AND STAY + YOGA - from 380$ per Week / Person
---
 This package includes:
Accommodation at gorgeous surf villa standard room (double room)
Surf lessons and theory course for beginners
Yoga course - Yoga lessons take place 2 times per week, duration 1,5-2 hours includes meditation, breathing techniques, intense flow of power yoga and deep relaxation.

Single Room: 430$
Triple Room: 360$