ABOUT THE SURF CAMP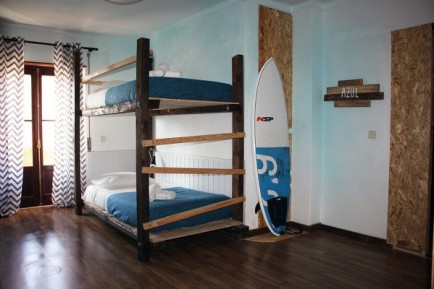 ---
CAMP CHARACTER
---
We love surfing, and our goal is to share this love with you, our guest! Whether it´s your first rendezvous with the magic surf lifestyle, or you´re already a ´hooked´ one, our team cannot wait to greet you on board! Monday to Friday, surf lessons take place at charming Vigia Beach, nestled just 200m away from our surf camp. You will enjoy two surf sessions (? 3 h) daily with a 30min snack (or nap) break in between. The class schedules vary from day to day as they depend on ocean tides and weather conditions, but our team will always keep you updated.
In CSC, every surf lesson is composed in a way that enables joyful, step-by-step and easy-to-follow learning process. Even though each surf session is unique when it comes to feeling and content, there are core principles that form a solid basis for our surf teaching philosophy.


---
CAMP OPERATOR
---
Stefan Inácio
– Owner/Head Manager
"This ist the project of my life, and I wanted to build this surfcamp to enjoy the surf lifestyle and spread it into the world."
Tiago Antunes
– Owner
"The first step to get what you want ist to decide what you want, and I want to make people smile by getting some waves."
Joao Serra
– Camp Manager
"What can be better than work in what you like most? Surf is my passion, is what I need to feel happy and forget the "not so good" things in life."
Johny Viera
– Head Surf Instructor
"Here is where I charge batteries. Where I feel alive, where I feel useful to myself."
Mário Rui
– Surf Instructor
"Never let the best waves in life go by."
ACCOMMODATION AND CATERING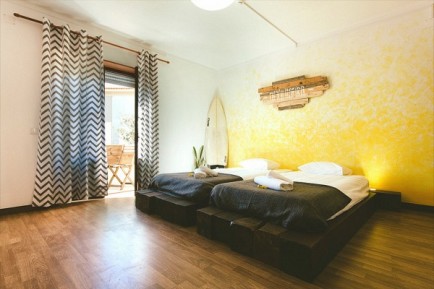 ---
ACCOMMODATION TYPES
OUR HOUSE

A spacious 3-level house with open terraces and glimpses of the sea, 11 originally decorated rooms and its own Lounge & Bar was created to become your secret holiday escape.  We made sure that this place has everything you need for a comfortable and pleasant stay. 

Fully equipped kitchen
Canteen
Bar & Lounge
Open chill space
Free bikes & longboards
Free Wi-Fi

ROOMS

Whether you are traveling alone or with a group of friends, prefer privacy or constant company, opt for surf or not, we have holiday packages for various needs and budgets. Out of 11 originally decorated rooms, choose one that appeals most to your heart: private or shared, with a little balcony or own terrace, a minibar or a bathtub. Every room has its own shower and WC, which means… no morning and after surf queues! Whatever your choice is, you will find yourself in a tasteful interior with maximum comfort.

Please, meet our rooms!

Praia da Mexilhoeira Room

Created in warm yellow colors, this twin room always seems to be filled with sunshine and positive vibes.

Double Bed
Shower & Toilett
Balkony
Wardrobe & Locker

Praia Azul Room

Gentle lagoon-blue tones of this room will make you dream about the ocean even at night.

3 bunk beds
Bathtub
Balcony
Wardrobe & Locker

Praia dos Quarenta Room

Inspired by the cliffs over the blue sky, here you feel the sea breeze and the peaceful of the countryside.

Double Bed
Shower & Toilett
Balkony
Wardrobe & Locker

Praia da Física Room

This petite twin room smells lilac. Almost too tender and delicate, it is a fresh spring corner in our tropic-like summer house.

Double Bed
Shower & Toilett
Balkony
Wardrobe & Locker

Praia do Max Room

Coral sunrise fires up the walls, and keeps burning, burning, burning…

Double Bed
Shower & Toilett
Wardrobe & Locker

Praia do Navio Room

Located secludedly on the top floor, this mini-apartment (rather than a room) with mini-kitchen and own not-so-mini terrace will add a spoonful of intimacy to your stay.

Double Bed
Shower & Toilett
Balkony
Wardrobe & Locker

Praia da Vigia Room

Compact and light-toned, this room boasts a pretty awesome own terrace with oh-so-inviting sunbeds and juicy greens. By the way, where are the drinks?!

Double Bed
Shower & Toilett
Balkony
Wardrobe & Locker

Praia de Sta. Rita Room

Our absolutely cool bunks easily beat a decent kingsize bed when it comes to comfort. Grab your three best amigos or join other travelers and test them

2 bunk beds
Bathtub
Balkony
Wardrobe & Locker

Praia do Pisão Room

Remember constructing your own table-and-blanket 'house' as a child and leading a secret life there until your parents return home? This room, with a sloped ceiling and bedside lamps (for hush-hush planning and late-night reading), is very much alike your hand-made version, but spacious, sturdy and comfy. You'll love it!

Double Bed
Shower & Toilett
Balkony
Wardrobe & Locker


---
CATERING
---
To surf better, one should eat well. This is why Cliff Surf & Yoga Camp serves delicious and diverse breakfast for you every day. Prepared with a traditional touch (and a spoonful of love), our breakfast buffet comprises everything to start a day right: assortment of bread and pastries, cold cuts, muesli, yogurt, jams& jellies, hot & cold beverages, fresh seasonal fruit. The breakfast is complimented with a take-away beach snack (a sandwich, a packet of biscuits, water, juice and a fruit) to keep you energized throughout entire surf session. In case you don't feel like cooking dinner tonight, pick one from our special menu, like BBQ's, Sushi, Vegetarian food and encompassing numerous options from local restaurants, and we will manage all the logistics. Sunrise to sunset, enjoy also yammy smoothies, healthy snacks and fresh salads from our lounge&bar. In Cliff Surf & Yoga Camp we aim to turn meals into uniting and fun way to get to know each other, engage in interesting conversation and dive into cultural diversity. What can be better than sharing an excitement about an upcoming surf session with like-minded people over a morning cup of coffee?


SURF COURSE AND ACTIVITIES
---
SURF COURSE DETAILS
---
Safety first
 
We will introduce you to essential safety and surf etiquette rules; ensure your physical and mental preparation for any kind of situations that may occur on water; tell you about favorable (and not) surf conditions and how to identify them; explain how to deal with surf equipment and make a surfboard your friend. In other words, we guarantee you receive all the critical knowledge and skills to surf safely.

Don´t drop the (theory) base!
 
What is the nature of waves and how do they differ? How does the ocean live (yes, it´s alive!) and behave? How do you climb and even stand up onto that surfboard?! What is the difference between ´greens´ and ´foams´ and soft and hard boards? How do you paddle and turn? Basically, we will tell you everything we know (and even more!) about surfing, because surfing requires profound knowledge and understanding.

Practice makes surfers
 
At sunrise and sunset, at fast pace and in meditation-like mode, first on sand, then on water, you will practice all kind of exercises and techniques to master the art of surf, gradually and joyfully. You will learn how to:
- prepare your body for surf session with a proper warm-up  
- enter the water in right place and right time
- Choose waves
- paddle efficiently and manage breath
- stand up on board 
- hold balance and turn and many more things (we just don´t like listing!).

Each surf session is, therefore, a balanced mix of theory, practice and rest.
---
OTHER ACTIVITIES
---
SURF
Surfing is our core (and most beloved) activity.  Our qualified and passionate surf instructors will guide you into fascinating and magic world of surf, where human connects with the Ocean, Nature and other people alike.

SKATE
Each with a special feel, both fun otherwise, skates and longboards are for your free use to ride those concrete waves. In case you seek some advice, our professional fellow skateboarder is happy to share with you few tricks and tips once a week.

RIDING & BTT
Grab your two-wheel companion and set off exploring the surroundings. We guarantee they are pretty amazing!

PARAGLIDING
Our coast boasts being the best national spot for paragliding. Under the guidance of highly qualified professionals, you have a perfect chance to appreciate breathtaking landscapes and live unique momentum.

YOGA
Introduce yourself to YOGA - a India tradicional discipline, which is all about energy flow, relaxation and reaching equilibrium. 

GUIDED TOURS
Turn head north, turn head south (and east) – you´ll find a bunch of world-famous destinations within 1h drive. Let us take you there and show around!

Buddha Eden Garden - Fantastic garden lavishly filled with pagodas, sculptures, and statues, will keep you surprised at each step across its vast territory.
Adega Mãe - a local winery.Take a peek into the entire process of wine-making and savour a glass or two to give your final verdict.
Lisbon - Immodestly historical and seductively hype, the capital of Portugal is waiting to be explored.
Nazaré - You will be speechlessly amazed facing one of the world´s biggest waves.
Obidos - Visitors love this tiny town for authentic medieval sensation and sturdy castle fortress.
Surfboards Factory - One cannot know alpha and omega of surf without understanding how a surf board is created. Let´s pay a visit to a local shaper and ask him few tricky questions!


MORE INFO, HOW TO GET THERE & FAQ
---
JOURNEY
---
Ways to get to the camp
If you have a reservation in our Surfcamp, we will assure the transfer from Lisbon airport to Cliffsurfcamp, an authorized person will be waiting at the airport in Terminal 1 at the exits.
Transfers from Lisbon airport to Cliffsurfcamp are free only on Sundays, 8:00 - 20:00.
PACKAGES & PRICES
---
Bed & Breakfast - from 20 € per Night / Person
---
This package includes:

Bed & Breakfast

Prices:

Low Season

Shared Room: 20 € per Night / Person
Twin Room: 25 € per Night / Person

Mid Season

Shared Room: 25 € per Night / Person
Twin Room: 30 € per Night / Person

High Season

Shared Room: 30 € per Night / Person
Twin Room: 35 € per Night / Person


---
Experience Yoga Pack - from 325 € per Week / Person
---
This package includes:

7 Nights Accomodation
1 Welcome Drink
Breakfast
2 BBQ
5 Yoga lessons
Surf baptism

Prices:

Low Season

Shared Room: 325 € per Week / Person (Extra Night: 40 €)
Twin Room: 385 € per Week / Person (Extra Night: 45 €)

Mid Season

Shared Room: 370 € per Week / Person (Extra Night: 45 €)
Twin Room: 440 € per Week / Person (Extra Night: 50 €)

High Season

Shared Room: 440 € per Week / Person (Extra Night: 50 €)
Twin Room: 500 € per Week / Person (Extra Night: 55 €)


---
Experience Surf Pack - from 350 € per Week / Person
---
This package includes:

7 Nights Accomodation
1 Welcome Drink
Breakfast and beach snack
2 BBQ
5 Surf days (2 lessons/day)

Prices:

Low Season

Shared Room: 350 € per Week / Person (Extra Night: 45 €)
Twin Room: 410 € per Week / Person (Extra Night: 50 €)

Mid Season

Shared Room: 410 € per Week / Person (Extra Night: 50 €)
Twin Room: 470 € per Week / Person (Extra Night: 55 €)

High Season

Shared Room: 470 € per Week / Person (Extra Night: 55 €)
Twin Room: 525 € per Week / Person (Extra Night: 60 €)


---
Surf Lesson - from 50 € per Day / Person
---
This package includes:

3h Surf Sessions with a 30 min break in between
Surfboard
Wetsuit
Transfer

1 Day: 50 € / Person
2 Days: 85 € / Person
5 Days: 200 € / Person


---
Surf Rental

---
Board: 15 € / Day
Wetsuit: 10 € / Day
Board & Wetsuit: 20 € / Day
---
Low Season
February, November, December, March
Mid Season
April, May, June, October
High Season
July, August, September
from 140 €: all meals inclusive