ABOUT THE SURF CAMP
---
LOCATION AND SURF CONDITIONS
---
We are lucky to be situated in one of the best coast lines of Portugal even in Europe within close reach of beautiful landscapes, extended beaches, Europe's best surf, high quality wine, a great gastronomic offer and a lot of history and tradition. At 65 km North of Lisbon and easily accessible by the A8 highway is located Lourinhã, where we find ourselves in a village called Praia da Areia Branca, that is only 15 minutes from Peniche.
---
CAMP CHARACTER
---
Our goal is to provide excellent services and quality lodging facilities with the purpose of generating satisfaction of our clients and collaborators in a homely feeling, because the famous Portuguese nature and hospitality will do the rest to make your stay memorable.
---
CAMP OPERATOR
---
Steve is the manager and head surf instructor of the camp, and surfing is his passion and lifestyle. With 20 years of experience, his a local surfer that loves the sea and likes being connected with the nature.
ACCOMMODATION AND CATERING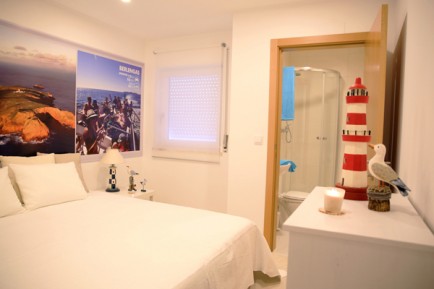 ---
ACCOMMODATION TYPES
---
ZAMBEACHOUSE "Hostel Paradise", is a nice and cozy well decorated accommodation in Praia da Areia Branca with all the essential things for the basic needs, and is only a three minute walk to the beach.
The house has nice and clean areas with sturdy beds and comfortable mattresses that provides a perfect night rest for a comfortable stay, ideal for singles, couples, families or groups of friends.
Inside you will find a reception, circulation areas with toilets. There are eleven bedrooms with different typologies and each with a theme, (three double rooms, three triple rooms, three family rooms for 4 people, one family room for 5 people and one family room for 6 people that can be a shared room for those that don't mind to share a room with new people), all rooms include a bathroom with a shower. A fully equipped kitchen with dining and living areas including a cable TV and free internet access (WIFI) all around the house.
Outside you will find an open outdoor swimming pool with large terraces and leisure areas to enjoy the sun all year round. There are has as well parking areas nearby the hostel for free.
Within walking distance you can find several beaches and also many cafes, restaurants, shopping facilities and a vivid nightlife. And it's only a 15 min drive to the best surf spots in Europe!
---
CATERING
---
During your stay, you will have a delicious breakfast every morning
SURF COURSE AND ACTIVITIES
---
SURF COURSE DETAILS
---
Whether you're a beginner or an experienced surfer, with our help you will easily improve your surfing. We are situated at one of the best and most consistent surf spots of Portugal even in Europe within close reach.
---
SURF MATERIALS
---
We dispose of the best surf gear for all types of surfing levels.
---
OTHER ACTIVITIES
---
Additional services that we can provide:  Local knowledge; Airport transfers; Car our scooter rental; Free ride of bicycles; Surf guiding; Equipment rental; Yoga and other activities, all depending on request.
MORE INFO, HOW TO GET THERE & FAQ
---
 SURF CONDITIONS
---
Breaks directly at the main spot and at nearby spots
This amazing uncrowded coastline at Praia da Areia Branca offers many beach breaks and reefs. With beach breaks in each spot suitable for learning and many waves along the coastline, is a great place to explore without the concern for large crowds.
Seasonal conditions
Praia da Areia Branca gets consistent surf and can work at any time of the year. Works best in offshore winds and best around low tide when the tide is falling.
Crowd factor and local people
Sometimes on the best days you may see some people just on the main beach of Praia da Areia Branca. But only a few meters on the side, you can be totally alone and probably with even better conditions.
---
 SURROUNDINGS / REGION
---
Characterization of surroundings/region
We are located in a region that is full of undiscovered natural and cultural attractions, in which sea and the countryside are linked. With twelve kilometers of coastline with beautiful beaches and jagged cliffs, combined with an interior still characterized by rurality and rich landscape where old mills are still operating. There's a wide range of emblematic monuments characteristic of the region that can be visited, as well as a large paleontological estate at Lourinhã Museum.
Activities and facilities
Here you can enjoy your holiday with good waves, a relaxed atmosphere, great people, and lots of things to see and do.
---
 JOURNEY
---
Ways to get to the camp
There are several ways to reach us. By own car, bus or request an additional transfer service that we can provide. But the easer way if the trip is made by plane or train to Lisbon is by picking a bus.
There are two bus companies that provide several bus rides every day from Lisbon to Lourinhã and Praia da Areia Branca, with a final stop in Peniche. Rede-Expressos has journeys each way from Lisbon's Sete Rios bus terminal ('Jardim Zoologico' subway stop).  Alternatively the 'Rapida Azul' of the Rodotejo bus company runs from Lisbon's Campo Grande bus/ subway station to Peniche. You can buy a ticket to Praia da Areia Branca and we will pick you up for free or you can just or you can even walk to the hostel because it is close to the bus station.
PACKAGES & PRICES
---
PACKAGE A  - Bed & Breakfast + Surf lessons & Courses (In shared room with bathroom)- from 325 € per Week / Person
---
This package includes:

One week Surf Course includes per person:

• 7 nights accommodation
• Daily breakfast
• 5 days surf course
• 20 hours of surf lessons per week
• 2 sessions per day with 2 hours each
• Qualified and certified Surf Instructors
• Transfer to and from surf spot
• Board and wetsuit for the whole day on course
• Proper equipment for each stage of evolution
• Sport insurance (on course days)
• Free Equipment during weekends (depending on surfer's level)
• Free use of Bicycles
• Prices for surf packages in other types of rooms on request
• Carnaval, Easter, Christmas and New Year's eve week prices on request.
THE SEASONS
HIGH - July & August
MIDDLE - April, May, June, Sep. & Oct.
LOW - Rest of the year
SHARED ROOM                      LOW                          MIDDLE                             HIGH
     1 Night                               60,00 €                        70,00 €                             80,00 €  
     7 Night                              325,00 €                       380,00 €                          435,00 €
    14 Night                             590,00 €                       680,00 €                          770,00 €
---
PACKAGE B  - 
ONLY ROOMS & AVAILABILITY -
from 280 € per Week / Person
---
This package includes:

Prices for 1 night per room with private bathroom and breakfast
ROOM TYPE                                      LOW                          MIDDLE                             HIGH
Double Room/Suite (2 People)         40,00 €                         60,00 €                             80,00 €
Triple Room/Suite (3 People)           50,00 €                         75,00 €                            100,00 €
Family/Group (4 Peolple)                  60,00 €                         90,00 €                            120,00 €
Family/Group (5 Peolple)                  75,00 €                        110,00 €                           150,00 €
Family/Group (6 Peolple)                  90,00 €                        135,00 €                           180,00 €
Only Surf Course or Private Accommodations
You will find more information on the provider webpage