ABOUT THE SURF CAMP
---
LOCATION AND SURF CONDITIONS
---
We are located smack bang in the middle of all the best wave setups in South West Sri Lanka, and have our own semi secret left hand point break less than 5 mins walk from your bed. You will also have the benefit of professional guided trips to the many other wave setups of your choice. Distance to the next town Weligama: 5mins with a TukTuk.


---
CAMP CHARACTER
---
Comfort, location, luxuries, security, relaxation and cosiness are our priorities when it comes to accommodation and we provide you with lush rooms to meet your budget. Our target group is 18+ until unlimited age. The camp has a family like atmothsphere with 3 double rooms and 1 dorm room. Our camp owned closed by Tiki Cliff Top bar provides you with the needed action at night and an amazing view for your meals. The camp is very international as our main staff is from Australia, Ireland, Norway, Hungary, Sri Lanka and Germany – a sound mixture of worldwide cultures. 


---
CAMP OPERATOR
---
The owners:
Marc Vanderbent: Australia Experience: 17 years surfing Have taught surfing in 6 different countries (Australia, Sri Lanka, Portugal, France, Morocco, Spain)
Mark Wall: Ireland Started surfing in 2008. Marc has been instructing since 2012 and has taught in Portugal, France and Morocco. He has  also surfed in Nicaragua, Australia and Indonesia among other places. Mark has been travelling the world since 2013, searching for waves and awesome parties.
The two Marcs and Becca met in Portugal working in surf camps 3 years ago and have ever since been searching for the best spot to open their own camp. Marc and Mark found Sri Lanka to be the best place wave-, busyness-, friendliness-, money-, spot-, locals- and basically all aspects you can think of –wise.
The team:
Becca (Camp Manager):
10 years experience in hospitality in 7 different countries (Argentina, Thailand, Spain, Portugal, Austria, Hungary, Germany) 4 years experience running surf camps. Languages: German, Hungarian, English, some Spanish and Portuguese.
Andras (Surf Guide):
Started surfing 2 years ago, 2 years snow board instructor experience, 8 years hospitality experience in austria, hungary and Portugal
Anne (Events):
Is from Oslo, Norway 7 years experience in events. 5 years of customer service experience.
ACCOMMODATION AND CATERING
---
ACCOMMODATION TYPES
---
Your comfort is our priority and we aim to provide you with the best quality accommodations possible. We are a surf adventure and as such we move where the best waves and wind conditions are for that week. For this reason accommodation varies as we move between different hotels and villas. For extra luxury and privacy, try the room upgrade package.
Location: 5 mins walk to the closest surf spot, beach. 2 mins walk to the closest shop. 10mins walk to Tiki Cliff Top bar. 
Room types: 1 dorm room (12pax). 1x standard double room, own bath room. 2x deluxe double room, own bathroom, air-con, hot water. Equipped with Wifi, mini ramp, garden, chill out area, Slack Line. Bed linen, towels, fans, safe are provided. Electrical adapter recommended but not necessary. Non-smoking accommodation (only in outside areas). 
---
CATERING
---
We do offer optional half board at our restaurant just a few minutes from the camp. The main staples of the Sri Lankan diet are rice, coconut and spices. The local curries are some of the best we've ever tasted. Guests with eating restrictions (vegetarian, vegan, gluten-free), please inform us of your eating preferences at least 1 week in advance of your arrival. We will do everything we can to keep you fed and ready for our next adventure.
SURF COURSE AND ACTIVITIES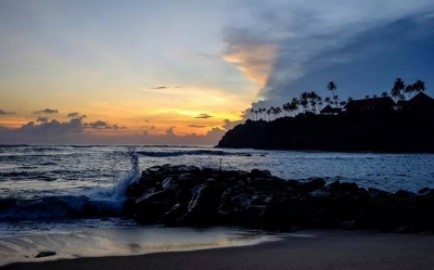 ---
SURF COURSE DETAILS
---
We teach in maximum groups of 8 people per instructor. The course takes ca 2h, and mainly starts in the early morning hours, depending on the conditions. Only course participation for external guests is also possible. 
---
SURF MATERIALS
---
Soft boards and hard boards in all sizes are provided for lessons or available for rent (also apart from the lessons). Participants need to bring warm water surf clothes (boardshorts, bikinis, lycras or t-shirts recommended for skin protection. Soft boards and hard boards in all sizes are provided for lessons or available for rent.
Participants need to bring: Warm water surf wear, shorts, bikini, etc., Reef Boots for those surfing reefs (not necessary if you are a beginner), Swimwear, Beach Towel, Waterproof sunblock and Zinc, Sun Hat, Yoga gear, Light clothing, it's hot!, Some long sleeved and leg-covering clothes to protect from the sun, A personal first aid kit containing disinfectants, band aids, perhaps some antibiotics, A decent deet based mosquito repellent, Bring plenty of Vitamin C against infections, You might also take some general vitamin supplements plus calcium and magnesium to keep your immune system boosted, Comprehensive Travel Insurance including watersports.
---
OTHER ACTIVITIES
---
-Yoga Sunrise & Sunset Sessions, perfect for a pre surf warm-up.
-Massage & spa treatments
-National Park Safaris Experience some of the most amazing national parks in the world where they have elephants, water buffalo, rhino, crocodiles, monkeys and much more
-Tea & Cinnamon plantations – see where tea and cinnamon comes from
-Temples – explore some of the many temples of Sri Lanka
-Snorkeling/Scuba diving – Sri Lanka has an abundance of reefs and ship wrecks and there are amazing guided snorkeling and Scuba tours
-Hiking – climb mountains such as Adams Peak or explore rain-forest and waterfall country
-Beach games Volleyball, Frisbee, Cricket, Beach Tennis etc.
MORE INFO, HOW TO GET THERE & FAQ
---
SURF CONDITIONS
---
Breaks directly at the main spot and at nearby spots
Reef break just a few minutes walk from the camp. Sand break just a few minutes drive. 
Seasonal conditions
Sri Lanka has a tropical climate and is therefore hot and humid all year long. Daytime air temperature ranges from 28º-34º dropping to around 22º-26º overnight.
Peak tourist season in SW Sri Lanka is from November – April, which coincides with the driest months (May – October is the SW Monsoon season). This time of year sees smaller swell patterns but very favourable winds. The waves still don't usually get below shoulder-high however, meaning excellent conditions for beginner and intermediate surfers.
Water temperatures are pretty consistent at 27º-29º so you can surf in board shorts the whole season long. The water quality is pretty good except during storms when the rivers flood out into the sea bringing all kinds of debris to the line-ups.
Crowd factor and local people
Locals are amazing, sharing waves, helping and explaining everybody. Super nice and fun to surf with. During daytime there is barely anybody in the water. 20 ppl is already said crowded. 


---
SURROUNDINGS / REGION
---
Characterization of surroundings/region
Distance to Matara and Galle about 20km. Very friendly, always smiling locals. Sri Lankan Rupees is the national currency. ATM's and Exchange Facilities are plentiful, including in the airport arrival hall. All major currencies accepted. Cost of living is very cheap but luxury articles like Alcohol or Cigarettes have high European prices though. Normal child vaccinations required, no specials. Some will have some problems with the spicy local food at the beginning.
---
JOURNEY
---
Ways to get to the camp
All arrivals to our camp should fly into Colombo International Airport. From here, we have 3 different meeting points; Galle, Hikkaduwa or Weligama. Depending on the wave and wind conditions at the time, you will be allocated a meeting point via email prior to your adventure. More than likely the meeting point will be Weligama where our base camp is located.
There are 3 options for the transfer to your meeting point (you can select one of these by booking):
1. Slow / Find your own way challenge - If you are up for the challenge then there are buses and trains, get ready to haggle and make sure your flight isn't landing when the public transport isn't running.
2. Medium / Guided scenic adventure - Let your guide worry about getting there, just enjoy and experience the beautiful views from the train as it sails down the coastline (1-2 person).
3. Fast / Airport transfer - Up to 4 people, direct from airport via freeway.
Important details
Visas for Sri Lanka are cheap ($30 US) and easy to get, it can be done online before you arrive.
PACKAGES & PRICES
---
PACKAGE BASIC - from 450 € per Week / Person
---
This package includes:

-7 nights accommodation in a dorm room 
-7 breakfasts
-5 dinners
-5 professionally guided surf/beach trips
-Use of surfing equipment
---
PACKAGE DELUXE UPGRADE - 240 € extra
---
(Only 1 upgrade required per 2 people)
This package includes:

-7 nights accommodation in private room  
-7 breakfasts
-5 dinners
-5 professionally guided surf/beach trips
-Use of surfing equipment
-Includes comfortable double bed 
-en-suite 
-air conditioning 
-hot water 
---
PACKAGE PRIVATE ULTIMATE UPGRADE - 500 € extra
---
(Only 1 upgrade required per 2 people)
This package includes:

-nights accommodation in private room  
-7 breakfasts
-5 dinners
-5 professionally guided surf/beach trips
-Use of surfing equipment
-Includes comfortable double bed 
-en-suite
air conditioning 
-hot water 
*** To all Packages the following additional options may be added:
5x Surf Lesson: 100€
9x Surflesson: 170€
Personal Tuk Tuk driver: 100€/week
5x Yoga session 100€
9x Yoga session: 170€


---
--- ONLY ACCOMMODATION --- 
---
Only Accommodation A
350€ /week including half board in a dorm room
Only Accommodation B
470€/week including half board/ person (only if it is 2 people sharing 1 double) – private room 590€
Only Accommodation C
625€/week including half board/person (only if it is 2 people sharing 1 double) – private room 900€
---
--- ONLY SURF COURSE ---
---
Includes:
-Equipment (boards, leash, wax)
-2h lesson
-Certified instructors
-25€