ABOUT THE SURF CAMP
---
LOCATION AND SURF CONDITIONS
---
We are ideally located on a hill, overlooking the Atlantic Ocean coast, of the small Berber fishing village of Tamraght (Oufella), about 14 kilometers north of Agadir, 40 minutes north of Agadir's airport and 3 kilometers from the better-known village of Taghazout. Tamraght is a traditional local village, and is great place to relax, chill out, surf around, discover the local Moroccan life and and admire the sea view from the hill. 
The camp is close to everything by car but away from the noise of the main street (some wild dogs and cats can be around during the night). Down the hill, near the main street, you will find some local restaurants, some little markets, surf shops, and cafes. A Bureau de Change is located in the village also down the hill but Cash Machines ATM are located in the nearly village of Aourir (2 kilometers, 25 - 30 minutes by walk or 5 minutes by car). 
Please note: We are not directly on the beach (and there are no one surf camps directly on the beach in Tamraght).
With over 300 days of sunshine a year and an average temperature between 20° and 29° during days, Tamraght is designed for the perfect surf, dance and yoga trip. The traditional souk (a type of flea market) is held every Wednesday in Aourir village "Banana Village". It's filled with colors and smells of fresh produce, spices, textiles, and jewelry. The distant sound of waves hitting the beach gives the market a pleasant atmosphere.

Nearby places 
Agadir, 14 kilometers 
Banana Beach - 16 minutes' walk 
Crocro Beach - 14 minutes' walk 
Taghazout, 3 kilometers 
Aourir "Banana Village", 2 Kilometers
The nearest beach, 500 meters
---
CAMP CHARACTER
---
Our resort is an eco-friendly holiday property and we assure customers that all elements of our services have been designed with the environment in mind. Our goal from the onset has been to reduce energy costs and waste, thus minimizing the impact on the surrounding environment.
ACCOMMODATION AND CATERING
---
ACCOMMODATION TYPES
---
Living together with other surfers, dancers and yogi is the best way to enjoy your holiday in Morocco.
You will meet a team of enthusiastic people who take every effort to make your surfing, dance or yoga vacation the best holiday you ever had. Our experience will guarantee for quality service and a great stay in Morocco.
Wave & Dance's camp is a friendly surf camp in Tamraght where the team share a passion for yoga, dance and surf. This is a little different than a regular hotel or a big resort with yoga class or well-being treatments;  this amazing camp offers a Swiss-Moroccan lifestyle living experience with a local and professional way to approach surf, dance and yoga as a daily sport life. 

ROOMS
In our House we have 3 rooms with a shared bath with toilet & shower on first floor, one toilet on ground floor and one open hot hawaian shower on the roof terrace. In our house we host maximum 7 guests which grants a personalized attention and a quiet atmosphere. Our rooms options are on private, double or  twin, shared and triple rooms basis. All of the rooms are thoughtfully has been carefully designed and decorated in an exotic, eclectic fusion of east and west to create a stylish and warm atmosphere clean and comfortable. Room with private bathroom can be booked directly with us in a Villa 3 minutes walk far from our camp. 


Shared Room If you want to experience a retreat vibe without compromising the feel of a relaxing retreat, you can share a room. Shared rooms contain three to four large single beds with a shared bathroom (no bunk beds). If you are traveling solo, you will be matched up with two to three great roommates with same sex. Please be aware that the shared bedrooms are small and there are little shelf space to store your belongings.  Twin, Double or Single Room with shared bath Our rooms are designed to help you enjoy a pleasant camp. All of our rooms have extra comfortable swiss mattresses and access to a amazing chilling roof terrace and a common living area where you can relax and enjoy our camp house.
Standard Double, Twin or Single Room with private bathroom
In Villa Solaria artistic designed rooms with a private bathroom, (some with ocean view) will let you relax and unwind in a beautiful garden. Enjoy the beautiful view of the never-ending width of the Atlantic Ocean from one of different sunny terraces.
---
CATERING
---
Each day you will be served a moroccan home made breakfast, packed lunch, and dinner with fruits, water, coffee, and tea available during meals. Enjoy a healthy and balanced diet throughout your stay with meals featuring various traditional staples and delicacies, such as tagine and couscous but also taboule, salads and soup. 
Much of the menu supports vegetarians diets but also we serve chicken, turkey and fish for those who wish. 
Gluten-free or lactose-free meals can be catered for an extra 70 EUR per week is needed to accommodate your needs (or just bring those with you). 
The menu is dependent on the season. Meals are shared with other guests at specific hours and not ordered from a menu or a buffet. Wave & Dance selects produced in season and local.


This list is just meant as an example of the type of dishes served.
Breakfast might be: Eggs, fruits, yogurt, amlou, honey, jam and bread Packed Lunch might be: Taboulé, rice salad, pasta salad, mixt salad, quinoa salad, tuna salad, moroccan salad or sandwich etc. Dinner might be: Couscous, bbq, tajine, soup, pasta, pastilla, grill fish, farm chiken, and a lots of veggy
If you want more information on the menu please send us a request by email or check our meals pictures in our  FB PAGE
SURF COURSE AND ACTIVITIES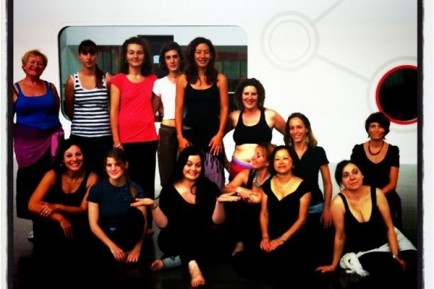 ---
SURF COURSE DETAILS
---
Surfing in Morocco with Wave & Dance's Surf School in Tamraght happens all year round for all skill levels. Our beginner surfing lessons are for guests who are surfing for the first time ever or surfed a few times before and want to improve. We also offer intermediate surf lessons, advanced lessons and surf guiding safari days in our favourites secrets spots.
Each lesson is two hours long and takes place at one of the many beautiful beaches between Agadir, Aourir, Tamraght, Taghazout and Tamri. We choose the beach based on the weather and wave conditions on the day of your lesson. This helps ensure you have ideal waves for learning how to surf! 
More reasons to surf with us:
Choose from group and private lessons
Maximum eight students per instructor - lots of personal attention!
All our instructors are ISA qualified Level 1 or 2
All our instructor are qualified NARS Surf Coach Lifesaver Award
Lesson prices include ALL the necessary equipment for your surf lesson
A detailed video or pictures surf debriefing and analysis is provided after each class for faster progress.
More detail about our classes:
We will not only teach you to stand up (or "take off"), control your surfboard, catch a green wave or give you a demonstration after class, but we will focus also on the dynamics of surfing, ocean safety, surf etiquette, surf culture, and more.
BECAUSE we love and respect the ocean, you'll learn how to surf responsibly and safely, all while having a great time.


Surfing class levels:
From beginner to advanced, we will take your surfing to the next level!
You can choose your level during the booking process. 
When you arrive our professional instructors will evaluate your abilities and together you will work on improving your level.
---
YOGA COURSE DETAILS
---
Daily yoga, postural stretching, yoga nidra and meditation lessons are offered each day in our open air roof terrace or in our tiny yoga studio in the ground floor in Tamraght.
Our goal is explorating and encourages your personal growth during classes.
We shared a variety of disciplines that can introduced you to get immersed into the deep and vast philosophy.
Our daily program could be Hata Yoga, Yin yoga, Vinyasa yoga, Postural Stretching, Mandala coloring Meditation, pranayama or Nidra Yoga.
All levels are welcome.
---
SURF EQUIPMENT
---
We offer our surf students the best brands of boards and wetsuits and we upgrade our equipment regularly. We provide you everything you need to progress quickly and easily with each class.
Daily rental:
- Surfboard 15 €
- Stand up paddle board ( 7'6 to 11'6)  5 € /h  or  25 € / day  
- Hand surfboard  4 €
- Bodyboard + Fins 10 €
- Wetsuit  7 €
- Surfboard + Wetsuit 20 €
---
OTHER ACTIVITIES
---
We'll concentrate on surfing, dancing and yoga. But there are some more attractive activities to share 

Visit Paradise Valley, camel riding, Stand Up Paddle, and more...

•    Additional yoga sessions

•    Belly Dance and Hawaiian Dance classes

•    Spa Treatments

•    Argan oil massages

•    Hammam and Thalasso  Spa Treatments

Please inquire with Wave & Dance for the add-on price list .
MORE INFO, HOW TO GET THERE & FAQ
---
MOROCCAN SURF SPOTS
---
The area is behind a big cape, which funnels the predominantly north winds in an offshore direction. The spots are all easily accessible by road with the waves generally breaking right over sand and flat rock. "Anchor's Point" has the ability to hold huge size and break down the perfectly angled headland for over a kilometre. Under normal conditions, the warm, green walls are powerful yet accessible to intermediates and provide a relatively safe environment for less accomplished surfers to improve their pointbreak skills. 
Just to the north, past the reefs of "Mystery" and "La Source", is another great, righthand pointbreak called "Killer". There are more waves in town at spots like "Hash Point" and "Panorama", and miles of beginner beachbreak running south to "Banana Village" in Tamraght. The north and northeast winds get bent and funnelled offshore by the coastal ranges, but in the summer there are more northwest onshore winds to contend with. 


---
TYPICAL SURF DAY 
(subject to change, based on surf conditions)
---
Wave & Dance surf camp includes professional coaching in small groups composed of eight surfers students per instructor at most. A detailed surf debriefing analysis is provided during the week for faster progress (for classes of 5 or more students). Our surfing schedule changes daily as the surfing conditions change daily but to give you an idea here a typical surf day. There are NO regular classes on Sunday so feel free to book an activity or just chill.
9:00 Breakfast 09:30  Shuttle to the surf spot:  It is time to reach the beach selected for the day  by our private shuttle service to the sands of Taghazout Area. 10:00 - 12:00 Surf class:  After a dynamic pre-surf warmup jump into the H2o for a surf  lesson with our  ISA & Lifeguard certified instructor.  12:00 - 14:00  Fresh lunch at the beach:  Share the morning surf experiences amongst new international friends during your meal with a fresh packed lunch. 14:00 - 16:00 Surf class: Back to the ocean for our afternoon surf session class. 17:00 - 17:30 Surf debriefing at our surf camp: it's time to go back to the surf school for  a video-debrief of your performances of the day. That's the moment where you set new realistic objectives for your next surf session.  19:00 Dinner
---
SURROUNDINGS / REGION
---
Characterization of surroundings/region
Tamraght is a small berber fishing village situated on a hillside over looking the atlantic ocean about 14kms north of Agadir. This is a traditional fishing community which has grown over the years.
There are a number of cafes, throughout the village, a chemist, bakers, butcher, small shops, selling basic provisions, barber.
The village is dry, so no alcohol is on sale here, buy beers etc from Uniprix or Marjane, both in Agadir.
The beaches are excellent, there are kiosks selling drinks, two sections where you can hire a sunbed for 10dhs. There is a cafe, serving sandwiches and restaurant, called Brahims, which serves excellent seafood and is popular with locals, especially at the weekend. There are surf shops. lessons and board hire. Remember that you can usually get a deal on prices, you do have to haggle! Camel rides and horse riding is also on offer, again discuss price beforehand.


---
JOURNEY
---
Ways to get to the camp

The closest airport to fly into is Agadir Al Massira (AGA), this international airport is only 45 minutes away from Tamraght and Taghazout bay. Another option is to fly into Marrakech (RAK), and then catch a bus that connect Marrakech to Agadir in around 3 hours.
Arrival by airplane from Agadir Al Massira Airport (AGA) Book a flight to Agadir Al Massira Airport (AGA). Our driver will be waiting at the arrival hall holding a sign with "Wave & Dance" on it. 
Arrival by airplane from Marrakech Menara Airport (RAK) 
From Marrakech Menara Airport (RAK), travel by bus with Supratour or CTM bus Company or a private taxi to Agadir bus station. Our driver will be waiting at the entrance hall holding a sign with "Wave & dance" on it. 
Arrival by bus from Agadir bus station 
We will pick you up at the bus station.
PACKAGES & PRICES
---
 PACKAGE A - SURF CAMP - from 399€ per Week/ Person
---
From absolute beginners to those who already have the basics but wish to improve their surf style and learn new manoeuvres, our surf camp packages are specially made taking into account all levels of surf students for a surf trip of a lifetime.

This package includes:


Transfer from and to Agadir airport or Agadir Bus Station (under conditions) 7 nights accommodation Full board (from dinner of arrival to breakfast of departure) Water, tea, coffee, or coffee during meals. Free WIFI at the camp Transportation to the surf spots 5 days surf lessons (4 hours a day) Surf equipment rental (surfboard, wetsuit, leash and wax)
1 Surf Debriefing & Analysis (from 5 surfers)
Couscous party (Friday night) BBQ Night (Saturday night)
Prices:
Shared Room 399 € Double Room with shared bath 439 € Single Room with shared 469 € 


---
PACKAGE B - SURF & YOGA - from 450€ per Week / Person
---
Experience the ultimate surf holiday in Morocco by combining the relaxing and stretching benefits of yoga with the fun of surfing the waves on some of the most beautiful beaches. Enjoy learning how to surf and then unwind in a sunset or sunrise meditation.
This package includes:


Transfer from and to Agadir airport or Agadir Bus Station (under conditions) 7 nights accommodation  Full board (from dinner of arrival to breakfast of departure) Water, tea, coffee, or coffee during meals. Free WIFI at the camp Transportation to the surf spots 5 days surf lessons (4 hours a day)  Surf equipment rental (surfboard, wetsuit, leash and wax)
1 Surf Debriefing & Analysis (from 5 surfers)
5 yoga lessons Couscous party (Friday night) BBQ Night (Saturday night)
Prices:
Shared Room 450 €  Double room with shared bath 489 € Single room 509 € 

---
Package C - PRIVATE SURF GUIDING - from 599€ per Week / Person
---
Our Surf Guiding Package is created by surfers for surfers! 
That's why we propose only a Private Surf Guiding Pack
Alone, with your partner or with your friends you will enjoy a private surf guiding to drive you surfing in perfect conditions.
He will suggest you the best about the current and tricky conditions of the surf spot choosen for the session.
There are several surf spots around Taghazout Area and up until Immesuan Village. Depending on the conditions, your surf guide will take you to the best spot according to your skills.


 This package includes: Transfer from and to Agadir airport or Agadir Bus Station (under conditions) 7 nights accommodation  Full board (from dinner of arrival to breakfast of departure) Water, tea, coffee, or coffee during meals. Free WIFI at the camp Transportation to the surf spots 5 days private surf guiding 
Couscous party (Friday night) BBQ Night (Saturday night)
Prices:

Shared Room 599 €  Double room with shared bath 639 € Single room 669 €